CU golf hosts groundbreaking ceremony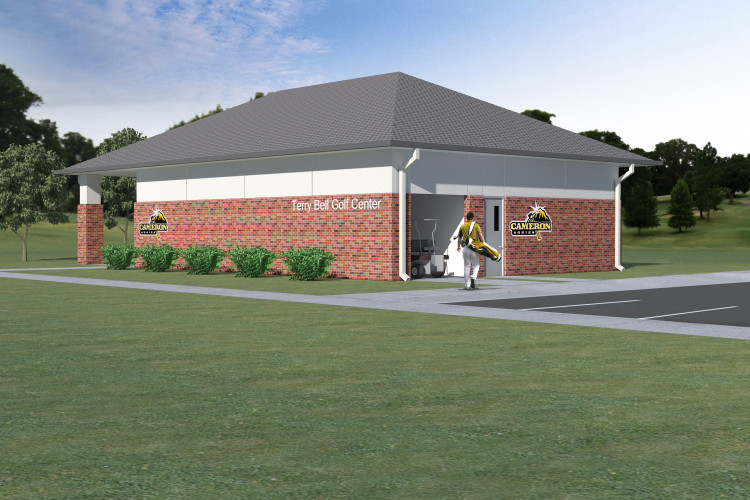 Krista Pylant
Sports Editor
@KristaPylant8
On March 25, Cameron University hosted a groundbreaking ceremony for the Terry Bell Golf Center at the Cameron House driving range.
Featuring bays leading to the driving range, The Terry Bell Golf Center will be an indoor facility housing technology capable of giving golfers the ability to analyze their golf swings and body movement.
The future building is named in honor of Terry Bell, a local business owner and community supporter who established the Terry K. Bell Charitable Trust shortly before his death in 2012.
Trust members Mike Mayhall, Richard Allen and Janice Bell presented a donation of $250,000 to the Cameron University Foundation for the facility, the first gift granted by the trust.
Cameron University President John McArthur opened the proceeding by recognizing Bell's contributions to the new center.
"As technology and training have progressed," McArthur said, "we need to provide the facilities that help these young people meet their potential. He [Bell] had the foresight to create a trust before his death that's going to allow him, in his legacy, to support community activities that are going to make Lawton and Cameron University a better place."
As community members, Cameron students, faculty, staff, athletes and coaches looked on, ground was officially broken when McArthur, Mayhall, Allen, Bell and members of the men's and women's golf teams simultaneously hit divots on men's golf coach Jerry Hrnciar's cue.
For Hrnciar, seeing the indoor golf center come to fruition at Cameron is a dream come true. Hrnciar recalled the first tournament he traveled to as a Cameron golf coach during the program's beginning and referenced how far it has progressed since its origin.
"We went to Clarendon, Texas," Hrnciar said, "and we didn't have a vehicle, so we piled in my 1972 Pontiac two-door; six of us with golf bags and suitcases on a trip. It was quite an experience. From that, the program grew and we've been relatively successful."
Hrnciar said he looks forward to using the new building, especially when the weather conditions are unfavorable for practice outdoors.
The building's completion will designate Cameron as the second Division II campus in the nation to accommodate an indoor golf facility. Even though the target completion date for the facility is not until January 2016, the golf center is already attracting new recruits.
Cameron women's golfer junior Alexis Thompson said the prospect of an indoor golf facility interested her in the Black and Gold golf program long before its construction announcement.
"They've been talking about this facility ever since I was a senior in high school and being recruited here," Thompson said. "Whenever coach would talk about it, it got me excited, so to finally see it happening is a great honor.
"It will be a great recruiting device. Like I said, it wasn't even here, and I wanted to come. So when it is here, we will get a lot of good, elite players. I already know all of us men and women will be racing up here every day to get here first, and we will wear this place out."
You may also like...