Aggies take sustainability to conference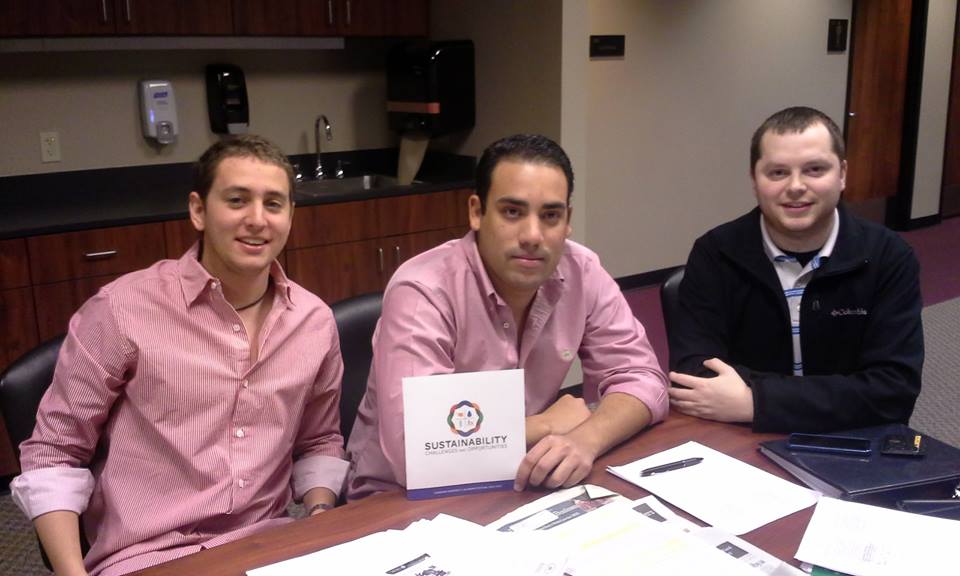 Taking it to Vegas: (From left) Senior business majors Felipe Anzaurt, Juan Martinez and Andrew Koracin take a break from their preparation for the Marketing Educators Association (MEA) conference from April 15-17 in Las Vegas. The trio attended the three-day conference with Assistant Professor of Business Dr. Theresa Billiot to present research on consumer reactions to green cleaning products.
Kaley Patterson
A&E Editor
@KaleyKayPatt
Some of the world's most famous talents performed on the glittering stages of infamous Las Vegas, such as Elvis Presley, Frank Sinatra and Wayne Newton.
Now three students and one Cameron University professor can proudly say they had their moment under the spotlight.
Senior business majors Felipe Anzaurt, Juan Martinez, Andrew Koracin and Assistant Professor of Business Theresa Billiot traveled to Las Vegas for the Marketing Educators Association (MEA) conference on April 15-17. The group presented their research paper over their study of customer reactions to green cleaning products.
"We're trying to figure out how people feel more attracted to green cleaning products," Anzaurt said. "If it's a positive contrast, a positive concrete or a positive abstract message… We're seeing how framing the message could convince consumers to buy or not to buy the green cleaning product. We also look at how they act before and after seeing our advertising, if they would buy or not."
Billiot recruited the three students to work on this project, which wasn't for a class, but for the expanse of knowledge and a chance to act out with Cameron University's Academic Festival: Sustainability.
"The students wanted to play an integral role in Cameron's Academic Festival by conducting research focused on sustainability," Billiot said. "So we studied sustainability research, and we wanted to conduct an experiment that would benefit marketers operating on a small budget to design an effective sustainability campaign."
The team generated most of their research from surveys, reading about various forms of green cleaning products and studying different marketing strategies. But Billiot said none of this would have been possible without the Edward and Lenore Hamra, Edward Men's Wear Endowed Lectureship in Retail Marketing.
"This lectureship is allowing Felipe, Juan and Andrew to test the effectiveness of framing sustainability messages on consumer behavior through four different online advertisements," Billiot said.
"Research can be quite expensive, and this lectureship provides students with a hands-on and valuable experience that goes beyond textbook reading by allowing them to challenge theories, test hypotheses, collect and analyze primary data, make predictions and develop sound marketing decisions that will increase an organization's top-line growth."
At the MEA conference, the students not only presented their research but learned about different teaching strategies used by marketing educators, scholarships that will further their education and they received the chance to network with domestic and international market professors.
"This accomplishment shows how dedicated our students are to advancing their learning," Billiot said. "By progressing their knowledge, these students will better demonstrate to employers that they went beyond memorizing concepts and terms while in college, but they understand systematic research and the importance of collecting and analyzing primary data to discover the underlying psychological, cultural and sociological factors that can impact consumer behavior. This accomplishment shows that these students will surpass our program's expected student outcomes."
You may also like...