A Day in the life: Aggie safety 24/7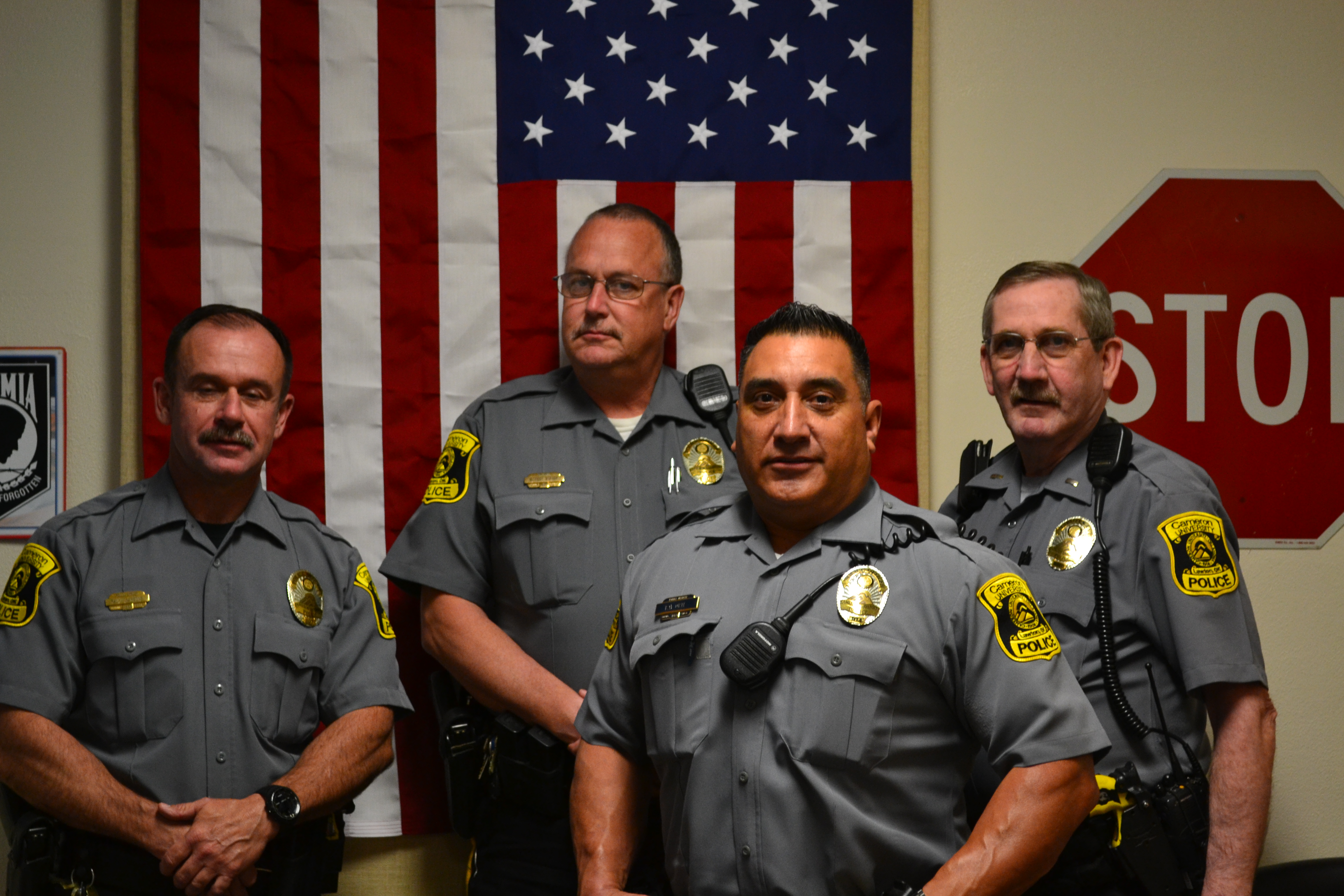 Vicky Smith
Student Life Editor
@pinkwritinglady
Daily dressed in full uniform with a gold badge that reads "Cameron University Police," Ralph Parsons strives to keep the Aggies and their campus environment safe.
Parsons, who has worked in law enforcement for about 27 years, has served as a Cameron University Department of Public Safety officer for over two years.
Prior to his position at Cameron, Parsons' law enforcement involvement extends beyond the borders of the United States.
He's a 22-year retired lieutenant with the Lawton Police Department, and he spent three years overseas as an international police advisor.
Working for Cameron, Parsons said he and his fellow officers perform a range of duties every day, from locking and unlocking buildings to ensuring people off campus do not harass Cameron students on campus.
"Throughout the shift," he said, "we have calls for service. It may be public assistance with jump starts, unlock[ing] vehicles, changing tires, and there may be some offense reports, whether criminal incidences on campus or … reports for informational purposes."
Parsons said sometimes, students simply need someone to help them resolve relational conflicts with other students.
"They sometimes just need a mediator to coach along the conversation because if we're sharing a dorm room together, and I'm mad at you because you used my shampoo, that's not a reason to call public safety. But, if it turns into an argument … and you guys can't communicate that out, then you call us."
Regardless of how "silly" a situation or problem may seem, Parsons said he and the officers are here to help.
"Don't hesitate to call us," he said. "That's why we're here. Sometimes, they [students] are embarrassed, or they don't know who else to turn to, so why not? We're here [as] public safety to assist … Just call us. If we can help them, we'll help them."
As Parsons fulfills his daily duties, he finds joy in talking to people.
"My favorite part [of the job] is just really all the different people that you run into daily [in] different situations," he said.
Because he interacts with a wide range of students, he not only has acquaintances, but he also has many friends.
"As you see them [students] at the first of the year," he said, "they're kind of standoffish, and then later as the school year progresses, they may have to call public safety for something.
"There's actually a little friendship that starts to develop, and they trust you. They say 'hi' to you in the hallway, and they say 'hi' to you outside … [It] is pretty nice to see, especially [with] the international students."
Parsons said some international students do not even have a form of transportation, so the officers have an opportunity to help them.
"They're in a foreign country in a foreign environment," he said, "and sometimes they don't really know who to turn to. It may be simple as a question as, 'How does Wal-Mart work?' or something that we take for granted. So, they call us. We're kind of like their parents away from home."
According to Parsons, in some international students' home countries, police officers are not respected and are actually feared, so helping an international student may change his or her perception of officers in America.
"Sometimes we've taken them to Wal-Mart," he said, "… then they start sharing family experiences and stuff in their country, so it's fun to learn."
Although friendships are built, Parsons said the law remains enforced to all students; he and the officers follow state statute, city ordinance and Cameron policy.
Furthermore, he and the officers' permission to enforce the law crosses the perimeter of Cameron campus.
"Cameron police officers are state certified," he said. "There's a memorandum of understanding between us and the city of Lawton. That means if need be, we can enforce city ordinance or state statutes outside of Cameron, or they can come onto campus and enforce laws on campus."
Although their jurisdiction is broad, Parsons said their primary jurisdiction and focus is Cameron campus, where officers are always present.
"Most generally," he said, "everybody on the Cameron Police Department has 20 years or plus law enforcement experience…We have 12 total full-time [officers], one reserve, and we have a director who's a chief of police for our department.
"We have three shifts with three officers on each shift – 24 hours a day, seven days a week."
Because the officers are available at all times, students can call for help at any time. While on campus, Parsons said students can take wise measures to protect themselves from danger.
"At night," he said, "you stay on the Aggie Mile. You can stay on the sidewalk, and all around campus, there's those call boxes – the white columns …The call boxes are for a communication system. It's for assistance, emergencies, directions, and once they hit the button, it automatically goes to our radio.
"If they feel frightened, or they feel unsure or unsafe, they can stop and hit a call box and go, 'Hey, I just feel kind of afraid to walk back to my dorm. Can someone come over here?' and we'll come over there."
Parsons said he is grateful for every day the Aggies remain safe.
"What we look forward to is, every day, having a good day on campus," he said. "We keep the students safe, and they go to class every day, and there's no issues.
"We don't want to run out there and make a whole bunch of arrests every day. We don't want to go write a bunch of tickets. We would just rather have a nice, quiet day with no property damage, no injuries. That's a good day."
For more information about the Cameron Department of Public Safety, stop by the Office of Public Safety, located on the first floor of South Shelper, or visit Cameron.edu. In the case of an emergency or needed assistance, call 580-581-2911.
Tags FeaturedVicky Smith
You may also like...