A day in the life: a prized poet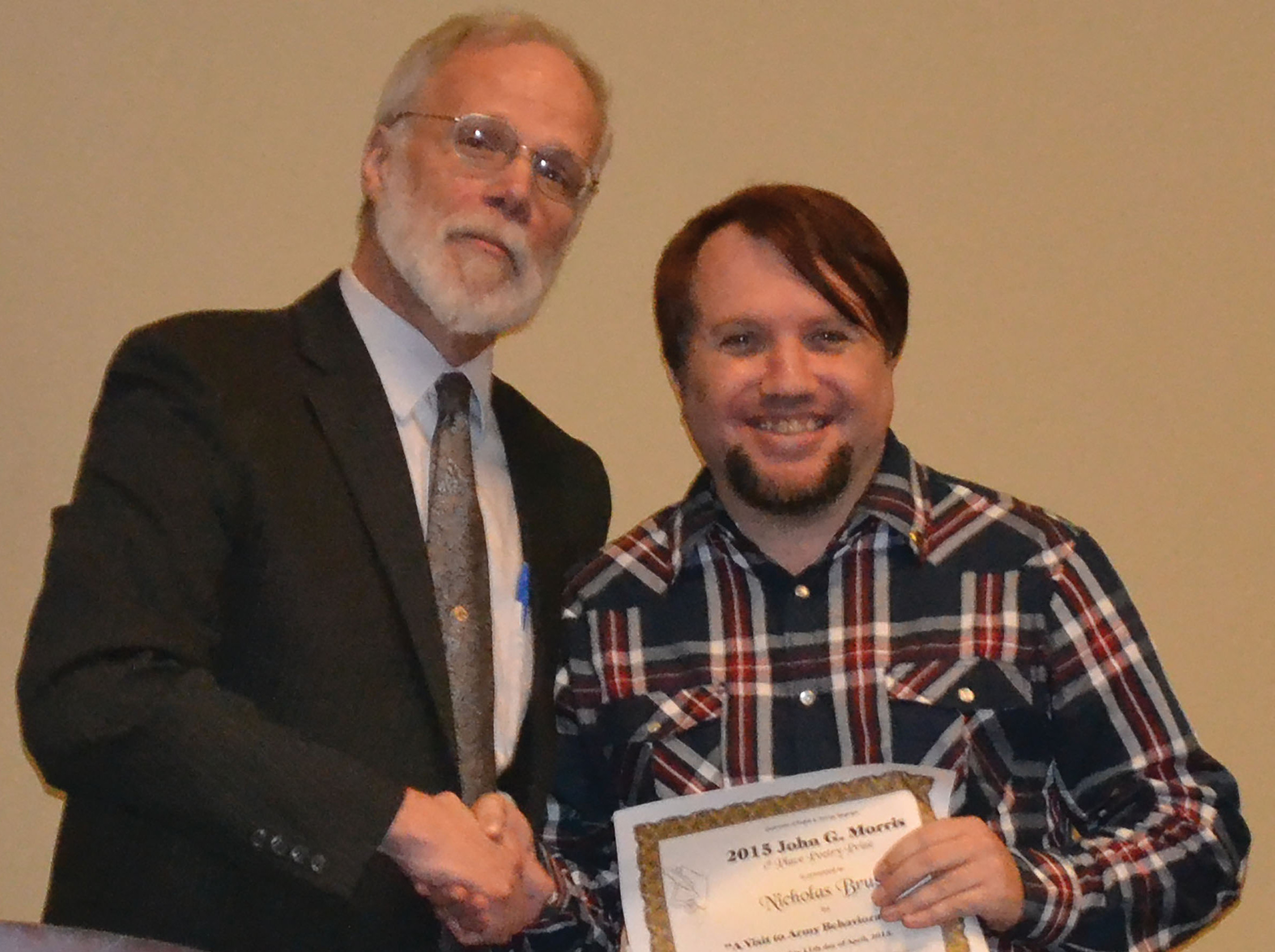 Vicky Smith
Student Life Editor
@pinkwritinglady
After Dr. John Morris announced the first place winner of the John G. Morris Poetry Prize at the Sigma Tau Delta Awards Banquet on April 11, Nick Brush rose to his feet and walked to the front of the room to shake Dr. Morris' hand as fellow Aggies, faculty and guests congratulated Brush with a round of applause.
Brush, a senior creative writing major, received a $250 check as the reward for winning first place for his poem titled "A Visit to Army Behavioral Health."
Brush, who was once in the military, said mental health issues in the military are very important to him, and the content of his poem reflects his view.
"It's about both personal experiences of my own and other soldiers I know who have visited Army Behavioral Health for various mental health issues," he said. "In the poem … the narrator is talking to him or herself about, 'This is what people say. They say I'm crazy. They talk about me. I can hear them whispering.'
"Finally, [the narrator] has a huge mental breakdown in the middle of the poem, then calms down and says, 'We just need help.'"
Brush formed his poem as a sestina, which "follows a strict pattern of the repetition of the initial six end-words of the first stanza through the remaining five six-line stanzas, culminating in a three-line envoi," according to poetry.org.
"If you don't get the right words in the right order," he said, "it automatically no longer fits the form. A famous poet once said, 'It's like being locked in a room with six mad kings.'"
Brush's passion for poetry—and all forms of writing—ignited during fall 2013.
"When I came to Cameron," he said, "I was a chemistry major. I ended up switching to a different major and took a literature course. The first thing we read was poetry, and I said, 'This is what I want to do with the rest of my life.'
"It has completely changed my outlook. I have met new people. I have had wonderful, new opportunities I would never have had if I hadn't thought of exploring poetry."
He said Dr. Morris and the entire English department have helped him improve his poetry.
"They're the ones saying, 'Hey, go read this guy. This guy writes like you do … Read this woman because she's writing in a form that I think you'd like to explore,'" Brush said. "Dr. Morris has been the biggest influence on my poetry and on my writing. He's the one that's pushed me and pushed me and pushed me."
Since Brush has embraced the craft of poetry, he said he's been inspired by a diverse range of things.
"Everyday life is poetry in itself," he said. "You just have to know how to find it … I've written poems as emotional responses to people in my life. I've written poems about used baseball trophies that I found at Goodwill and wondered what the story behind them might be.
"Inspiration comes from everywhere, and you never know when it's going to happen. Why I like to write poetry, though, is I like to share those experiences and those emotions and those people with other people."
Brush said he also enjoys poetry because it gives writers the freedom to do new things with language.
"It's turning nouns into verbs," he said. "It's making words that you would never think rhyme, rhyme. It's just playing with words in ways that you can't do in any other form of writing. That's what I like most about poetry."
According to Brush, his favorite aspect of writing in general is its appeal to creativity.
He is able to work with his hands, either with a pencil in hand or a keyboard beneath his fingertips.
"I write every day," he said. "Sometimes, it's a sentence. Sometimes, I'll write a whole poem in an hour. But, I always try to write something, even if it's just a Facebook post – that's still writing. Everyone writes every day; they just don't realize that they're actually partaking in a creative process."
Dedicated to the creative process, Brush said he would one day like his work to reach outside the campus of Cameron and stand on somebody else's bookshelf.
"I just hope they enjoy it [my poetry]," he said. "I love what I do, and I know not everyone's going to like everyone else's writing, but what I want them to see is [that] I want them to enjoy reading it as much as I enjoy writing it. That's the biggest thing. I want them to have as much as fun as I do."
Brush said after he graduates in the spring of 2016, his current plan is to return to Cameron to pursue a second degree in art.
"I would like to work in an art museum using my writing," he said, "but I'd also like to do that to help support my writing addiction."
Until he graduates, Brush will continue to work as an English tutor at the Cameron Center for Writers.
"They [students] could come in at any point in the writing process," he said. "We can go over ideas, thesis statements, paragraph structure, grammar – you name it. If it involves writing, we can help you with it."
For those interested in poetry, Brush offered a piece of advice.
"Just write," he said. "Just write and write and write. It's just like playing piano. You'll instinctively get better over time."
Tags FeaturedVicky Smith
You may also like...