The new television norm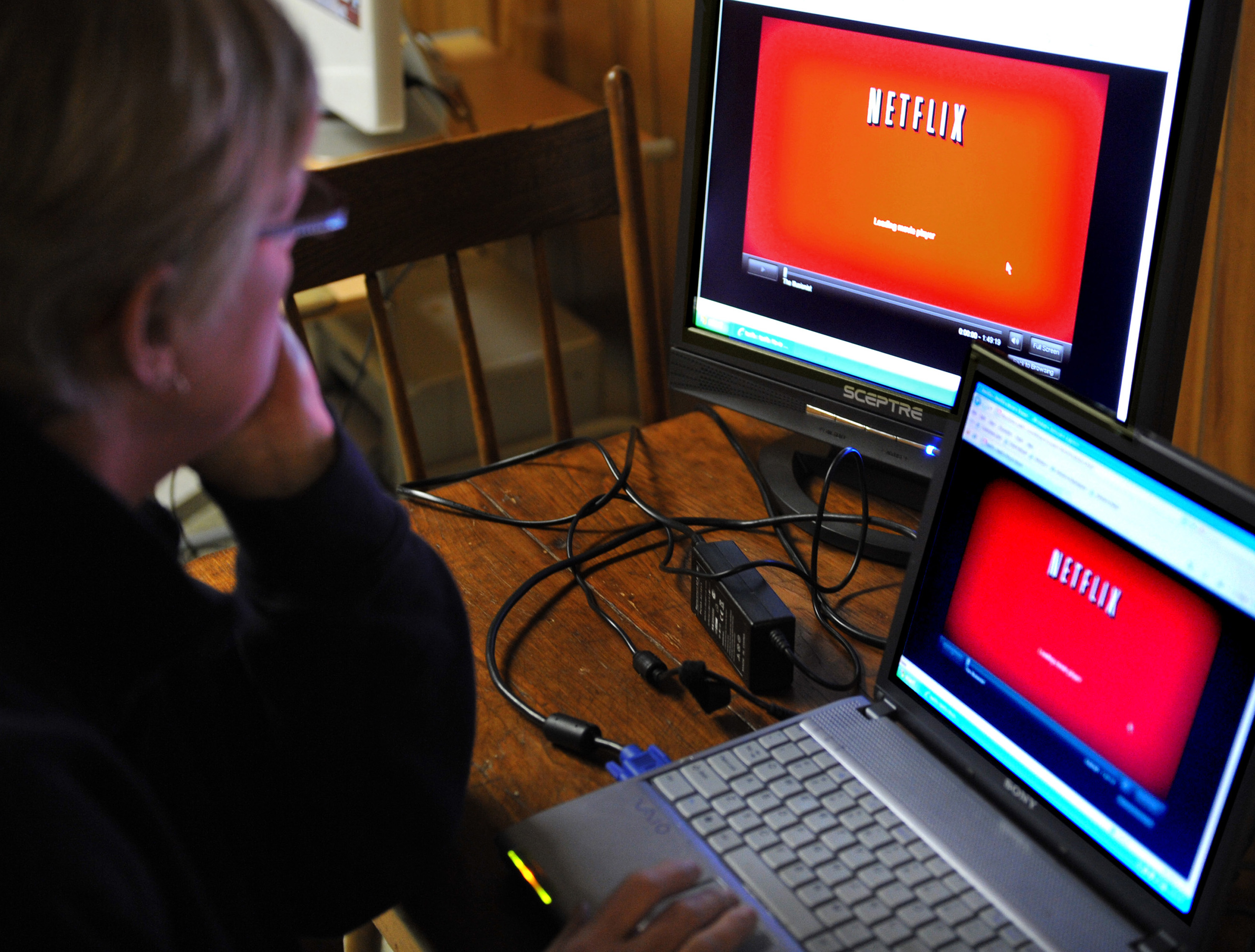 Laura French of Roseville, Minnesota, likes Netflix streaming video service for watching movies and has scaled back some of her other services. (Glen Stubbe/Minneapolis Star Tribune/MCT)
Jacob Jardel
Assistant Managing Editor
@JJardel_Writing
More and more people have been dropping traditional cable providers in favor of monthly subscription services to fulfill their television needs.
A large part of that shift has been because of media subscription service Netflix.
After Blockbuster declined an offer to acquire the rival rental company in 2000, Netflix has been on the rise, providing unlimited DVD and Blu-ray rentals to customers at flat fees without due dates or charges for shipping, late returns or per title rentals.
However, the main service many associate Netflix with is its streaming service, which the company began in 2008. As years moved along, the company signed contracts with various studios to stream movies, shows and specials on demand. At the moment, it offers over 100 thousand titles on DVD and on demand.
Since that time, the streaming service has grown to unprecedented heights. Netflix has amassed over 50 million global subscribers by the second quarter of 2014 and had a total equity of $1.33 billion for the 2013 fiscal year.
But, numbers aside, the monthly subscription service has greatly impacted how the public views television on a daily basis.
Before Netflix, the concept of "binge watching" television shows was foreign to most people who did not own seasons of television shows on some home entertainment medium. As Netflix moved more and more toward streaming as the paradigm for television intake, watching seasons at a time has become the new norm for how individuals consume televised media.
Netflix CEO Reed Hastings told Ken Auletta of the New Yorker that viewers are happy with this new way of watching television.
"Think of it as entertainment that's more like books," Hastings said to Auletta. "You get to control and watch, and you get to do all the chapters of a book at the same time, because you have all the episodes."
Neil Hunt told Wired Magazine that this pattern of binge watching will be the new paradigm in ten years, since the Internet allows users freedom to watch at their own speed without the need for episodes to end on cliffhangers for next week's episode.
In this case, "next week" will mean after a quick bathroom stop and snack run.
Netflix stated in their long-term view that these patterns will be the coup de grace for Internet television to replace traditional "linear" television.
Actors like Kevin Spacey agree with this model. Spacey spoke about the topic at the Edinburgh International Television Festival, saying that Netflix's approach makes it easier for many shows to thrive than on traditional TV with the current pilot-then-production method.
Spacey stars in the critically-acclaimed Netflix original program "House of Cards." Series such as this one and prison comedy drama "Orange is the New Black" have broken into the mainstream alongside shows from traditional television networks.
However, the Netflix difference between these series and the traditional networks is twofold. The lack of commercials keep filmmakers from appeasing advertisers to fund content, and viewers can binge an entire season in their own time, whether weekly or in one sitting.
The last fact shows the true nature of how television has changed in the time of Netflix. According to a 2013 Nielsen survey, almost two-thirds of Americans binge watch shows, while almost 80 percent of Americans watch these shows on their own schedule.
In this way, many television viewers play a more active role in the television watching process, seeking out content instead of waiting for it to happen. Because of this hunt for programming, many users forego the television set and opt to use technology for their viewing.
From tablets to smartphones to laptops of all shapes and sizes, the mobile device and the personal computer are now the television screens of the future. Media and technology analyst Richard Greenfield told Auletta that this shift has made a new modern paradigm for TV.
"We now live in a world where every device is a television," Greenfield said to the New Yorker.
Tags Jacob Jardel
You may also like...
Sorry - Comments are closed