Sustainability one egg at a time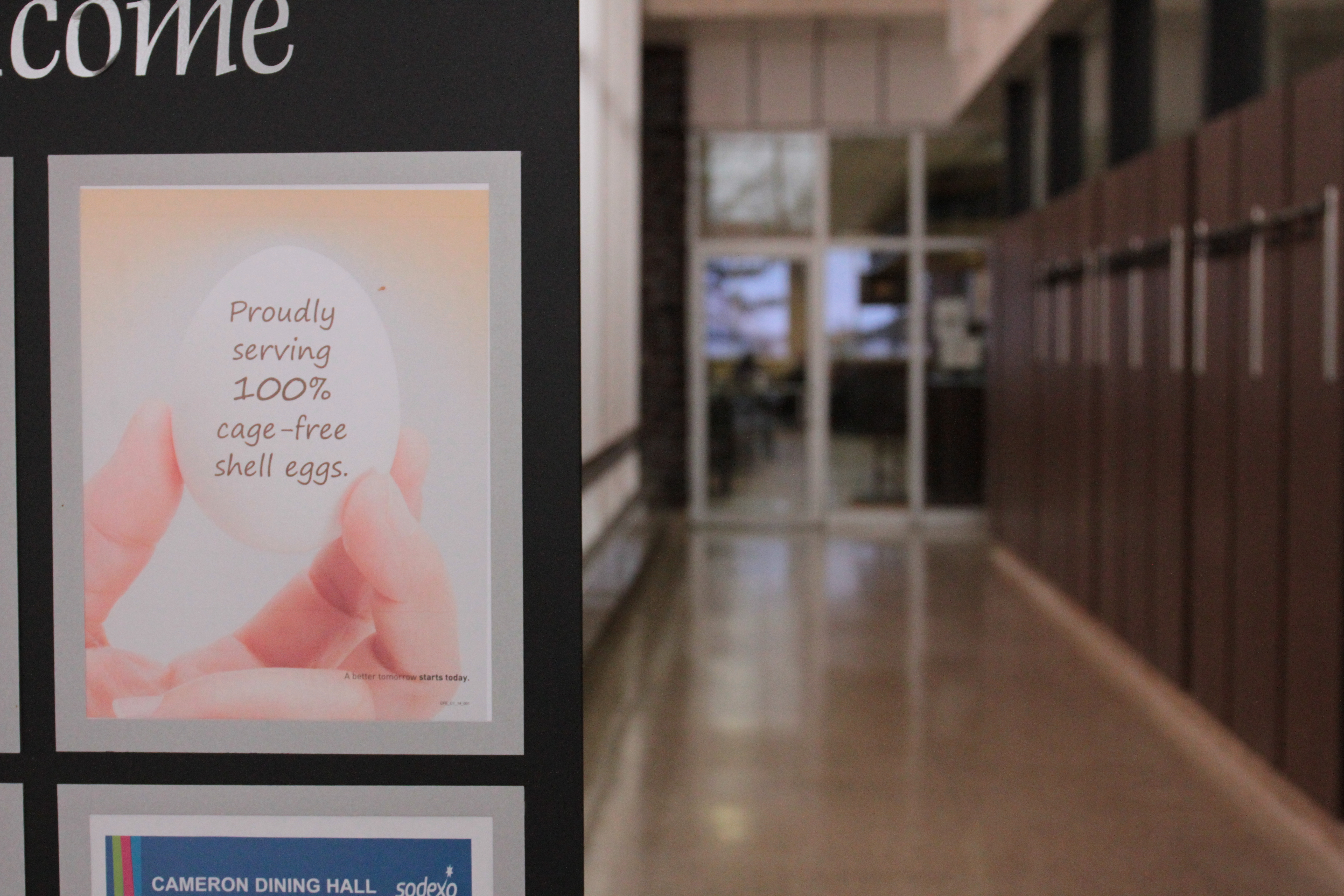 Kaley Patterson
A&E Editor
@KaleyKayPatt
This year's Academic Festival of Sustainability has expanded across campus in various aspects from academia to the kitchens of Sodexo.
On Feb. 19, the national food service company, Sodexo, announced it would fully supply their eggs from cage-free hens by 2017 – eliminating those suppliers who use veal crates. Sodexo also extended its previous commitment to their sourcing of liquid eggs, which is set to be fully cage-free by the end of 2020. Sodexo current sources about 20 million pounds of liquid eggs annually.
Wayne Pacelle, president and CEO of the Humane Society of the United States (HSUS), said this move towards animal welfare by Sodexo was praise-worthy.
"By committing to source all egg products exclusively from cage-free hens," Pacelle said in a press release, "Sodexo has built on an already strong set of animal welfare policies, with this latest pledge affecting the removal of 750,000 hens annually from extreme confinement in battery cage systems. We appreciate the company's prior commitments to source shell eggs from cage-free operations … but today's [Feb. 19] announcement is surely one of the biggest decisions in the food sector from an animal welfare perspective."
Food Service-Sodexo general manager at Cameron University Daniel Ghrayyeb said Cameron kitchens have fully served cage-free shell and liquid eggs since November or December of last year.
"Sodexo started the initiative in 2012 to start providing cage-free eggs," Ghrayyeb said. "So it took two years, just a little bit longer than two years, to finally get fully switched over."
According to Ghrayyeb, the reason why it took Cameron two and a half years to become completely cage-free is because the demand for cage-free eggs was so high. 6,000 Sodexo clients – universities, hospitals, schools, etc. – were affected by Sodexo's humane initiative in 2012.
"We could get them [cage-free eggs] before," Ghrayyeb said, "but it was kind of hit or miss. But now they're in supply all of the time so we're able to purchase them. We purchase different kinds of eggs; precracked, which just comes in cartons, and we purchase whole eggs, which are in the shell still. So we have two kinds of eggs and they're both cage-free."
Prior to Sodexo's announcement on the expansion of their 2012 initiative, The Humane League, an organization advocating against animal cruelty, created a petition on Change.org to further expand Sodexo's 2012 initiative for cage-free eggs from just shell eggs to liquid eggs as well.
The Humane League Campaign Coordinator Taylor Ford informed Aggie Central in an email that dozens of colleges and universities across the United States had launched a campaign to kick Sodexo off their campuses and informed that one would launch at Cameron University soon. Ghrayyeb said he never had any students at Cameron complain.
"As far as students, no, not eggs in particular," Ghrayyeb said. "We've always had conversations on campus and more of our focus has always been about paper goods… As far as food, there hasn't been as big of a concern… We focus more on local and whole foods, like that. The college students seem to want less processed and more whole foods and that's been our focus, not necessarily the eggs."
You may also like...
Sorry - Comments are closed