Sing along with Centennial Singers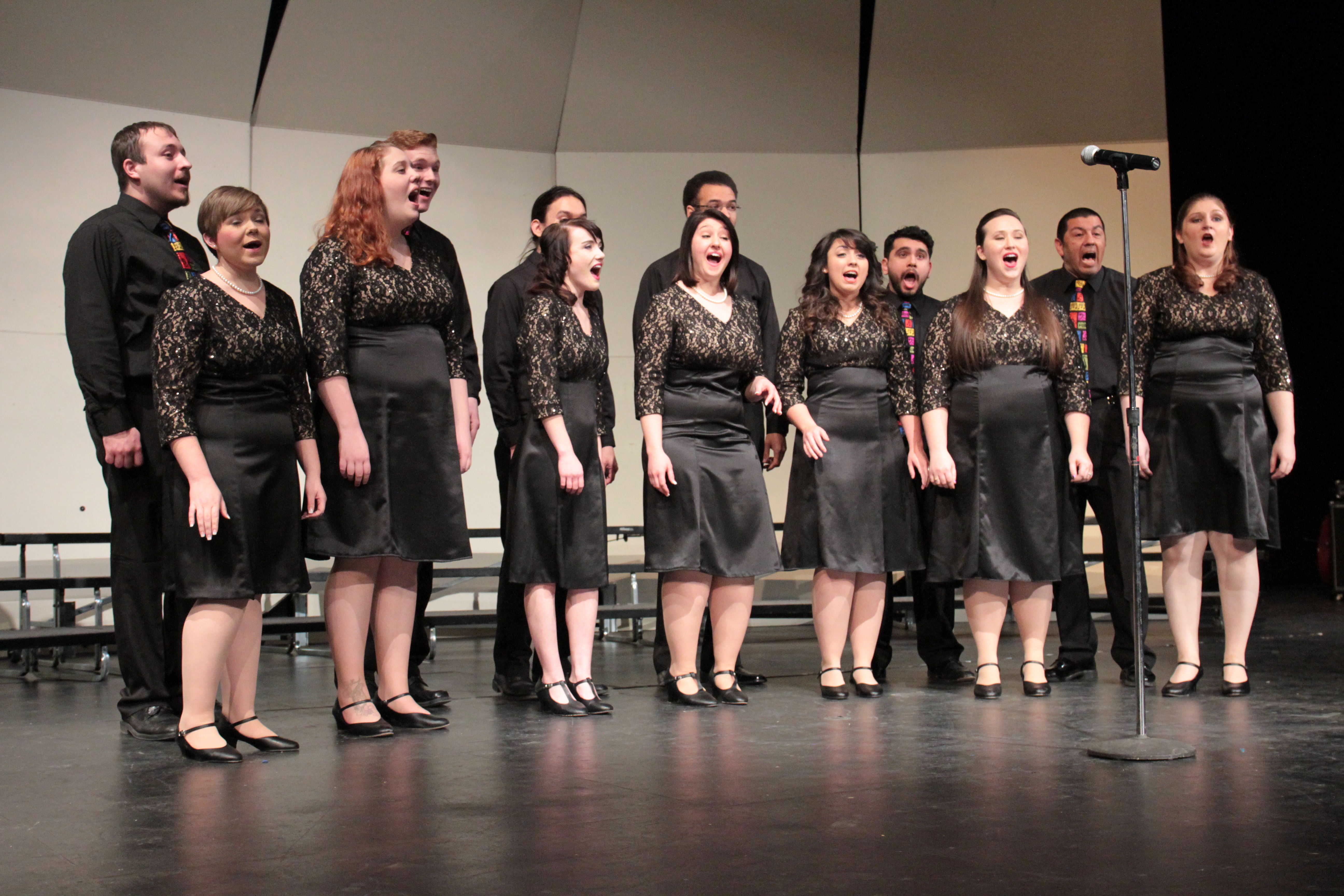 Jacob Jardel
Assistant Managing Editor
@JJardel_Writing
In 2008, the chair of Cameron's music department asked Doris Lambert, adjunct professor of music, to create a small choral ensemble.
This choral ensemble was to be small enough to travel around for various special functions. Lambert gathered some of the best music students to make this troupe.
With that, the Centennial Singers were born.
The group came about as the university reached its centennial – a time in which the Cameron Concert Choir was the only vocal music ensemble at Cameron. Lambert said that, while this choral group was important, students needed a way to sing more than just classical work.
"There was no vehicle for the students to sing vocal jazz, Broadway, pop – those kinds of things," she said.
On top of that, the group also takes a more active approach to their singing.
"We also do more movement on stage," Lambert said. "We don't really choreograph, but there's more staging and more movement and things – a lot more interaction with the audience and such."
Freshman Vocal Performance major Lorenzo Butler corroborated this statement.
"It's us and the audience having fun," he said. "It's not like us looking at our music. It's us having interaction with not only each other and the pianist but also the audience. It gives us that extra dimension to entertain."
However, Lambert added that the members of the Centennial Singers excel outside of the spotlight of the stage, taking their talents into the classroom and to the public.
"They are the picture in the community of the Cameron music department – and they represent Cameron University," she said. "These are extremely talented singers and students … so this group is the cream of the crop."
The current lineup for the Centennial Singers includes sopranos Prudence Rivera, Jessica Fernandez and Stacia Prucha; altos Aly Hays, Natasha Snavely, Chelsea Jenkins and Alyssa Yates; tenors Butler, Peter Macias and Jose Rodriguez; and basses Nathanael Butler, Gabrial Caron and Kirk Prucha.
All members have to go through an audition process toward the end of the spring semester to get a spot on the roster for the next academic year. They need to be music majors or minors maintaining a major grade point average of 3.0 and an overall GPA of 2.75. Members also need to be able to read and learn music quickly.
However, Lambert also said that she looks beyond the students' musical abilities during audition.
"Part of their audition is a visual because singing is a communication art form," she said, "so they have to show me that they can be expressive with their faces and bodies as well as their singing."
Snavely, a junior vocal performance major, said that the auditioning process enhances the experience as a Centennial Singer.
"It's nice that everyone is really good," she said. It helps you grow as a musician."
Lambert added that this growth makes the experience fun not only for students but also for her.
"I love working with these students," Lambert said. "I can push them and challenge them to sing extremely difficult music. They're doing music that's extremely fun, but it's also really hard, difficult music. Doing that grows them [as] singers and as musicians."
According to Butler, this style of music combines with other facets to make the experience as a Centennial Singer unique.
"It gives you another way to broaden your musicality," he said. "It's fun because we're a smaller group, too; so we have to make sure everything's just right."
According to Lambert, this assurance of excellence in performing applies to all the students in the group. However, she also mentioned that this attitude extends to more than just the performance realm.
"They're preparing to be professionals, so they've decided at this point to act like that," she said. "They don't do that just for me – they do that for all their music classes."
Lambert has noticed this pattern in her ever-changing group since she started the group in 2008. While the dynamics change based on size and individuals within the group, she continues to have fun amid the hard work.
She said that this atmosphere keeps her enthused, no matter the iteration.
"We have such a good time together because we're all focused on the same thing," Lambert said. "I don't think I'll ever get tired of it."
Tags Jacob Jardel
You may also like...
Sorry - Comments are closed