School aims to break stigma on mental illness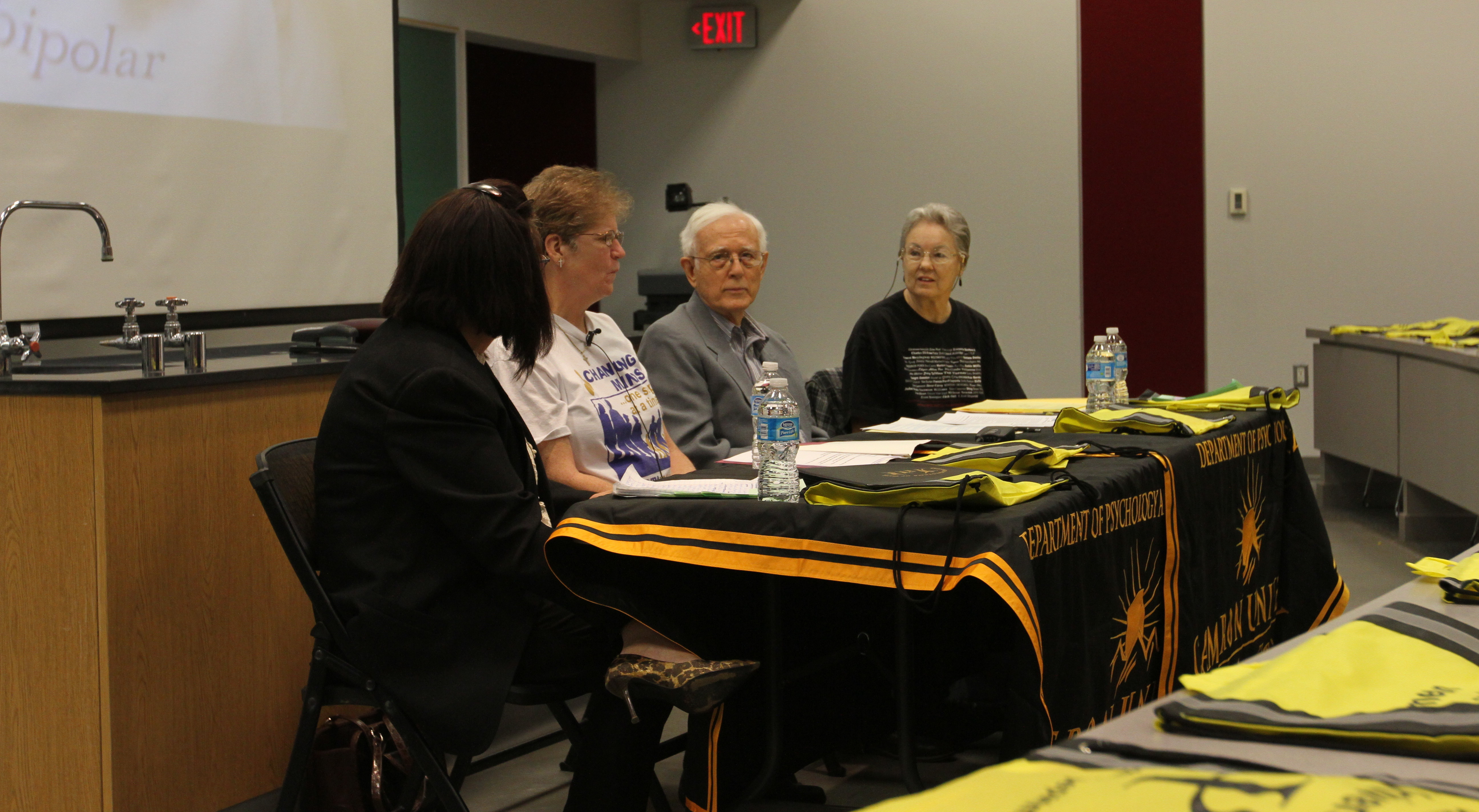 Jacob Jardel
Assistant Managing Editor
@JJardel_Writing
The School of Education and Behavioral Sciences encouraged the Cameron community to stand up to the stigma during their seminar on March 11 in the Goodyear Lecture Hall.
The event, titled "Sustainable Communities are Mentally Healthy: What Can You Do to Help," featured four speakers from the community who live with mental health issues or care for someone who does.
Dr. Lisa Huffman, dean of the School of Education and Behavioral Sciences, said that this discussion approached the Academic Festival topic of sustainability from a community standpoint, particularly addressing mentally healthy communities. She noted the change in perspective the event brought.
"The event was really to talk about mental health and frame it in the terms of mental health versus mental illness," Huffman said, "and to illustrate that people live happy and productive lives even if they have mental health issues."
According to Huffman, between 20 and 25 percent of individuals suffer from depression during their adult lives. With this information in tow, she believed that the course of action to accepting it is to stop hiding what she feels is a common occurrence.
"I think if we talk about it, share it and show people that are productive, then we're standing up to that stigma that mental health is something we don't talk about," she said. "We can't be mentally healthy unless we deal with health issues."
The event started with Jane Bowers, a member of the community living with bipolar disorder and growing up with a learning disability. She shared letters from someone she knew that addressed her experiences with bipolar and the disability.
Following Bowers were former Cameron professor Dr. Leigh Holmes and his wife Sally. They shared their experiences caring for their son with bipolar disorder with schizoaffective symptoms, particularly the misdiagnoses from his graduation from the University of Oklahoma to his proper diagnosis in 2007.
The two now work closely with the National Alliance on Mental Illness (NAMI) by way of Family to Family, a free educational program for family and friends of those living with mental illness.
Sally Holmes' experiences with the mental health field have taught her about the nature of these sorts of disorders.
"Mental illness adds behaviors and problems, and it takes away a lot of things [people] used to have," she said. "You're not ever going to recover from a mental illness, but you can learn to cope with it."
The final panel speaker was Kim Bartlet, a woman diagnosed with paranoid schizophrenia at the age of 30. She credits the identification of the disorder as a major step toward proper treatment.
"This diagnosis probably saved my life," she said.
She also reiterated Huffman's words, emphasizing the need to speak up to bring understanding to others.
Jill Melrose, director of the Student Wellness Center followed Bartlet and talked about the various services the Wellness Center provides.
Chair of the Psychology Department Dr. Mary Dzindolet followed Melrose, adding that talks such as these were the next step toward destigmatizing mental illness. Assistant Professor of Psychology Dr. Joanni Sailor reiterated that statement, noting the importance of demystifying mental disorders in order to provide care to those in need.
"Stigma is one of the primary issues with which we are challenged," Sailor said. "We look at mental illness like it's a contagion and move away. We need to do the opposite. There's no difference between a mental illness and a broken leg [or a] heart attack."
Huffman said approaches such as Sailor's are the first steps toward creating a mentally sustainable community.
"When people are supported, people can be very successful," Huffman said. "Being a good community is a supportive community – a community that supports us being physically healthy and mentally healthy."
You may also like...