Little Libraries open across campus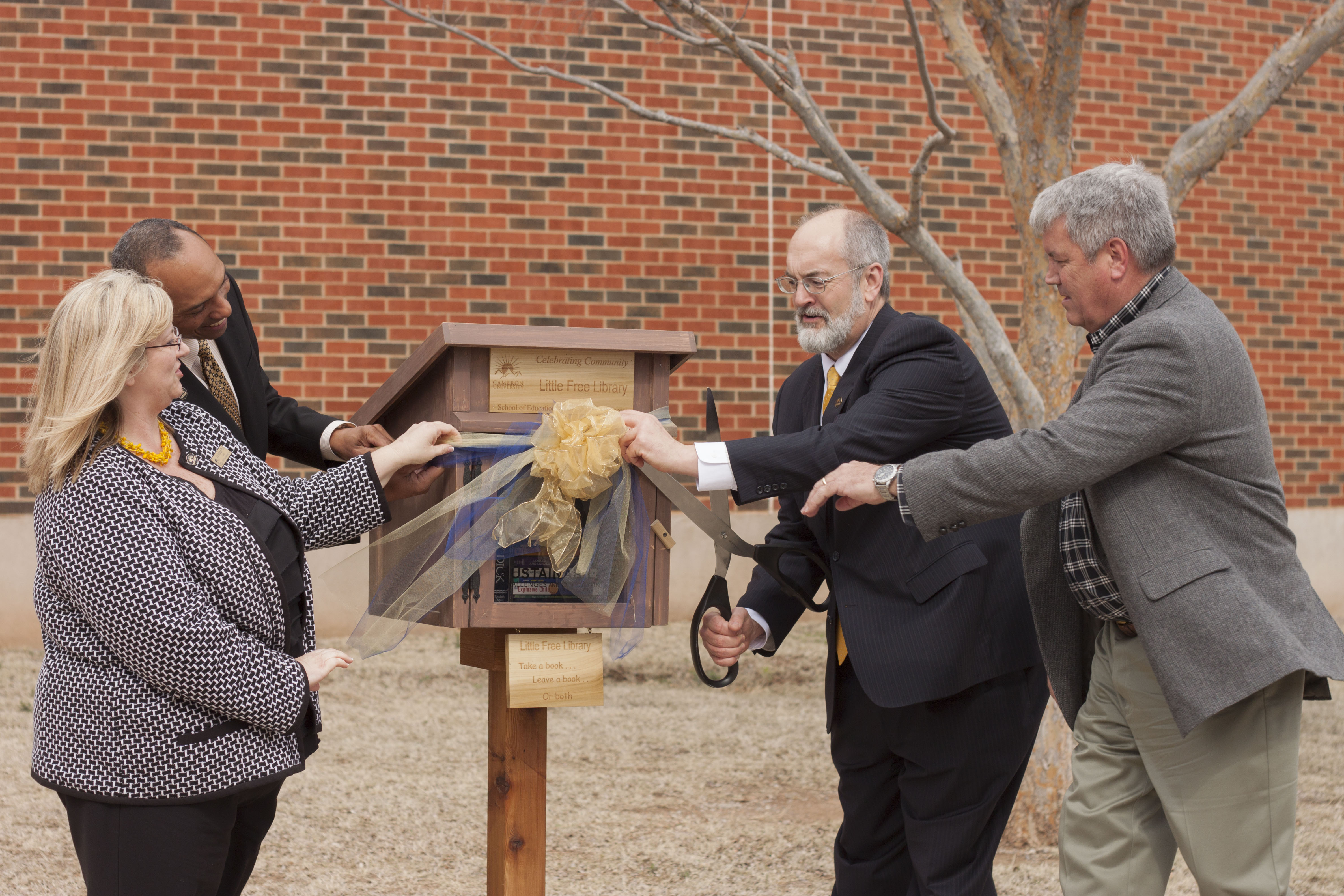 Charlene Belew
Managing Editor
@CBelew15
Aggies and community members are invited to a free library service found alongside the Aggie Mile trail, provided by the Department of Education.
Cameron University opened Four Little Free Libraries across campus in the "take a book, leave a book, or both" initiative. The ribbon cutting, held at 2 p.m. Feb. 20 in the Bentley Gardens, commemorated the establishment of the community libraries and furthered the university's endeavor in celebrating this year's festival theme of sustainability.
The Free Little Libraries originally started in 2010 in Wisconsin, according to a press release. The Duncan community in Stephens County recently opened their own Free Little Libraries, Holy Cross Lutheran Church of Lawton has their own active program.
Both have the same intentions as Cameron's: people can look through the library, take a book and also donate their own books.
While some may mistake the libraries as bird houses at first sight, the treasure troves actually offer hassle-free checkout systems where library cards are nonexistent and due dates are a worry of the past.
Dr. Lisa Huffman, Dean of the School of Education and Behavioral Sciences, said she would like to see the libraries bring more attraction to the university grounds.
"I hope that we get more people to come to our campus and explore our beautiful campus," she said. "I hope we develop a bigger culture of people who love to read – be healthy, take a walk and discover a love of reading."
A variety of genres will be available for those interested and will accommodate not only adults but also children. Titles such as "Tuesdays With Morrie," "There Was an Old Lady Who Swallowed Some Books" and "The Hiccupotomus," are available, according to a press release.
"You never know what you get when you open that door," Huffman said.
The libraries are a result of the McCasland Foundation's continued support.
Huffman said the installation and sustentation of the book houses strengthens education, reaches out to the community and helps foster love of reading in those of all ages.
"I want people to see Cameron as part of the community," she said.
The four Free Little Libraries can be found in the Charles S. Graybill, M.D. Courtyard, the Jesse Davenport Unity Garden, the Louise D. McMahon Fine Arts Courtyard and the northern area of Bentley Gardens.
You may also like...
Sorry - Comments are closed