Leal's journey from beyond the arc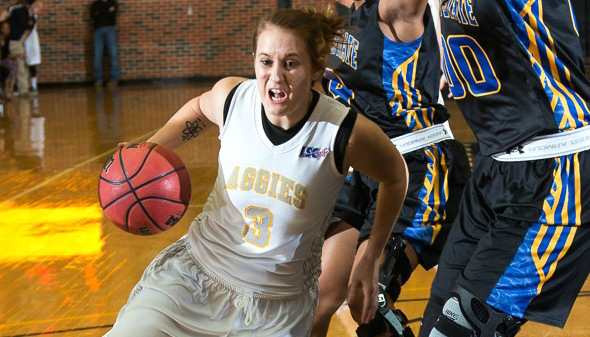 Krista Pylant
Sports Editor
@KristaPylant8
Before Brandi Leal started playing basketball for the Lady Aggies, she almost lost her left leg in an ATV accident during her junior year of high school.
On Sept. 6, 2010, Leal traveled with some friends to ride ATVs on a ranch two hours outside of her hometown of Amarillo, Texas.
Toward the end of the trek, Leal rode down a hill that had a ditch at the bottom. As she neared the trench, she decelerated too quickly, causing the four-wheeler to tip to the left. Leal stuck out her left leg in an effort to stabilize the machine, but the weight of the ATV overpowered her as it flipped, causing the brake handle to drive through her leg.
Gasoline began to pour out of the four-wheeler onto Leal. As she turned the key off, she realized her friends already went over the next hill.
"The guys are in front of me, and I don't know how I keep my cool," Leal said. "I'm just chilling there because they are ahead of me. I can't scream. There's no hearing my voice over their motors.
"Luckily, they turn around and see me. They come back and we're just sitting there, like, 'What do we do?' We know it's really close to my artery. I have no idea if my bone is broken because my adrenaline is going."
Leal used her shirt as a tourniquet to stop the blood flow while her friends worked to pull her from the ATV. Despite the serious situation, Leal said she found humor in the process.
"The funniest moment though," Leal said "was I was looking at the four-wheeler, and I see flesh hanging off of it, and we just look at that, and we start cracking up. It kind of helped the moment because I could really see in their faces that they were really panicked. I was really thankful for that. Somehow, it just enlightened it."
Once freed, Leal began the trek back to Amarillo. Not realizing the seriousness of the injury, she went to an urgent care clinic before going to an emergency center that was packed.
Eight hours later, doctors called Leal back to clean the wound. During that time, Leal said she began formulating an apology for her parents who warned her not to ride that day.
"Everything is good," Leal said. "I'm thinking, 'Mom, Dad, I'm just a hardheaded girl. In two weeks, I'll be back in basketball. I'm sorry I did this.'"
Nurses suggested Leal stand up and move around, but when she did, she became sick and her leg began to swell. Ten minutes later, a CT scan revealed her wound developed gas gangrene, a bacterial infection that eats muscle tissue.
"It's like Grey's Anatomy," Leal said. "My doctor's in my room, and he's like, 'All right, we need a decision now. I never had a gas gangrene case. [If] we medivac her to Dallas, she immediately loses her leg because her life is going to be on the line by then. The gas gangrene with be past her hip and moving to her heart, but they are the most experienced with it, or you can leave her here just in case something happens.'"
Leal's family elected to keep her in Amarillo in an effort to save her leg. She went straight into surgery, but complications arose. After Leal's lung collapsed during an attempt to put PICC lines in her heart, doctors placed her into a medically induced coma for five days.
When Leal awoke from her coma, her mother explained to her that her leg was still not guaranteed, but her condition was stable. During the healing process, Leal said she wanted to see her leg, but the hospital staff refused.
"I asked so many questions," Leal said. "I was curious, but they were so afraid. My nurse told me, 'We can't show you anything because we're just so worried that if we show you, you're just going to give up.' I still didn't understand because I was kind of young, but I got better."
After spending over a month in the hospital, Leal's leg improved enough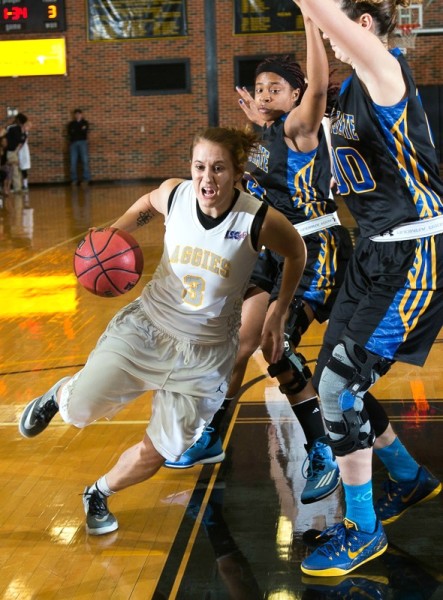 that doctors could stitch up the wound. Shortly thereafter, Leal was released from the hospital and began physical therapy.
Even though she had to relearn how to walk, Leal said she was back on the basketball court that December.
"I remember the first time," Leal said. "We went to a Mansfield Tournament right after Christmas, and my coach put me in to shoot a three. So, I go in, shoot the three, and I make it. I wobbled back to the bench, but I was on the court that year. Now, I'm here. I love the journey."
Now a junior at Cameron University, Leal averages 13.4 points a game and is the program's single season three-point record holder.
Leal said she strives to keep her lively attitude everywhere she goes.
"I found after my accident that positive energy is highly important in life," Leal said. "From ball, to class, to faculty, Cameron as a whole provides the energy I need to continue the journey."
You may also like...
Sorry - Comments are closed