Lawton students visit CU to learn about college life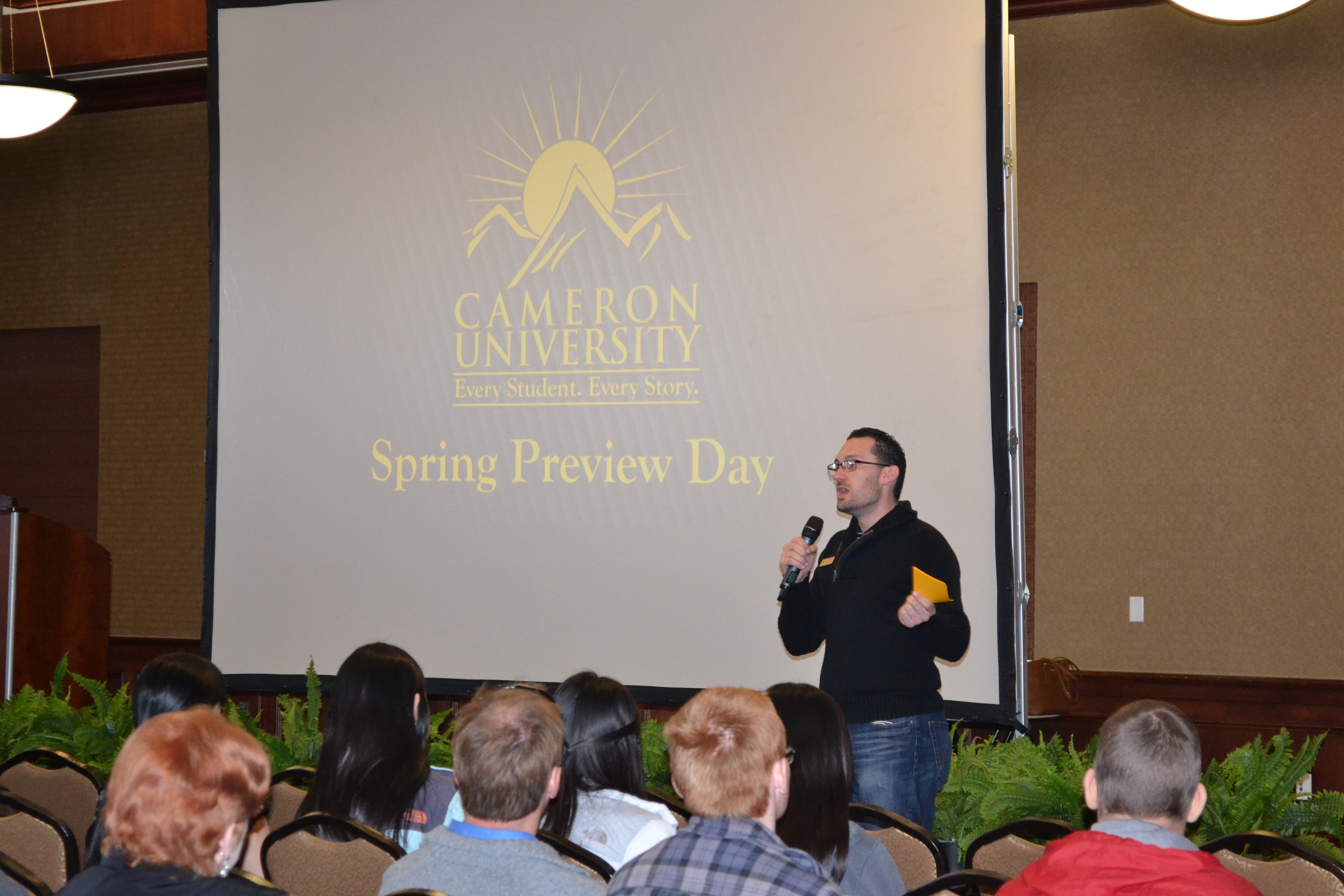 The next chapter: Dean of Students Zeak Naifeh talks to prospective Cameron University students about the experiences CU can offer to its students. He discussed athletics and other extracurricular activities students can become involved with throughout college.
Joel Frambes
Copy Editor
@JoelPole12
On March 7, high school students gathered at Cameron University in the McMahon Centennial Complex to attend the spring preview day.
Interested juniors and seniors and their parents attended the event to learn more about the university, explore what CU offers to students and how the school is affordable for families.
The event kicked off at 9 a.m. with a brief speech by Associate Director for Enrollment Management Frank Meyers.
Meyers discussed the opportunities students have to make their time at Cameron more affordable, more successful, and more wholesome.
More specifically, he mentioned the work-study programs, scholarships and free tutoring labs offered to all students to enhance their college experience, should they choose to attend Cameron.
Dean of Students Zeak Naifeh expanded upon the experiences Cameron offers to its students. When talking about athletics, disc golf, intramural sports, the Aggie Rec Center and food, Naifeh never failed to mention the magic word – "free."
He also talked about the extracurricular activities available to all CU students, including Greek life, study abroad and cultural clubs, and he encouraged the high school students to join these organizations to make the most out of their lives on campus.
"We will make sure [students] have the opportunity to be involved and do a lot of cool, awesome things that we're going to have in the future," Naifeh said.
After Meyers and Naifeh introduced the prospective students to Cameron from the podium, Aggie ambassadors led small groups of students around campus on tours to all of the major departments.
This is where the high school students got to interact with current Cameron students and ask questions about the personal experiences Aggie ambassadors have had while living on campus.
Aggie ambassadors are the first mentors for students interested in Cameron. This relationship can become a long-lasting personal connection.
Meyers emphasized how influential this first interaction with a Cameron student can be.
"It's a big deal," he said. "My very first tour, his name was Charles Stanley… he was the best man at my wedding."
Current Aggie ambassadors understand this association because they experience it themselves. In her first preview day tour, sophomore computer science major Tobiloba Aromira experienced an immediate and deep care for one of her students.
"I made a friend!" she recalled. "She learned about financial aid. I think it's good that she learned about the options."
Aromira felt this pride in a broader sense as being part of the people who helped make spring preview a memorable experience for everyone involved.
"It's been nice being an ambassador," she said. "It's been great helping students out with problems and finding solutions to their problems.
Tags Joel Frambes
You may also like...
Sorry - Comments are closed