CU Livestock Judging returns after three decades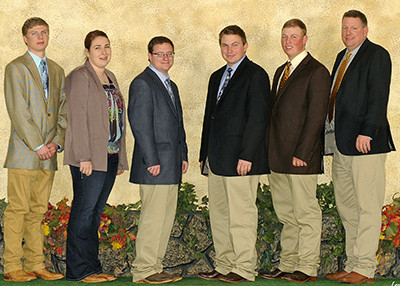 Kaley Patterson
A&E Editor
@KaleyKayPatt
Cattle, sheep, swine and goats are lining up to be judged by the newly reinstated Cameron University Livestock Judging team.
Two years ago the Cameron Agricultural Department hired Justin Rogers as its livestock judging coordinator/coach. After 32 years of dormancy, Rogers is hoping to revitalize the program at Cameron and give students a new learning outlet.
"Livestock judging is basically teaching students how to evaluate both marketing and breeding of livestock – cattle, hog, sheep and goats," Rogers said. "And we teach the major priority traits of each of those species and each gender of those species. Then they learn to defend their placement or reasons."
A collegiate judging contest consists of 12 classes mixed with cattle, sheep, swine and goats. The students present their conclusions from the classes to the officials and are judged based on how well they describe the classes and how they present their case.
Even though Rogers has worked at Cameron for two years, this is the team's first season to compete. When he arrived at CU, Rogers focused on building the program, generating interest and recruiting students to participate.
"When I got here there was nothing," Rogers said. "There was no team. There was really no students that were even remotely interested. Its been hard because we have no tradition. So we're working on getting some scholarships together that we don't have… We have to have a reason for them to come here and scholarships would be one. Hopefully the SAFAC committee will go to work our way this time."
For awhile, Cameron was the only school in the state with an agricultural department without a livestock judging team. Rogers believes the revitalization of the program will benefit department recruitment and student participants in the long run.
"Employers are looking for livestock judging participants," Rogers said. "Because they have to be a committed person on the team. They've got to give up some weekends and some time away from friends and family. But the rewards of it, the job skills of decision making, oral communications skills and learning to get along with a team is priceless.
"There's no degree that can tell you that they can teach you that like a judging team can do. That's what sets a graduate apart. If an employer has the chance to hire an agricultural graduate who has or hasn't been on a judging team, the judging team will always get that nod because of them going the extra mile."
CU's new livestock judging team consists of five students from the agricultural department. The group placed 13 out of 27 competitors at their first competition in January. There are no separate divisions in collegiate livestock judging, so the Cameron team competed with major schools such as Oklahoma State University.
Chair of the Agriculture Department Dr. M.L. Fischer said the department was tickled with the way the team performed. Fischer said the livestock judging team has a long history before it was sidelined after the 1983 team which former Oklahoma House Representative and Cameron alumnus Don Armes competed on.
Fischer is hoping the livestock judging team will show prospective and current students that the Cameron agriculture department can provide them a quality education in their interests of study.
"We are one of the only ag colleges in the state that doesn't have a team," Fischer said. "Most all of the junior colleges have a team. At all the contest they go to there's both a junior college and a senior college division. For us to attract some of those junior college students that are judging, we need a team here. A lot of these teams in eastern Oklahoma and northern Oklahoma have competed at the junior college level, and most of those people are going to go to OSU or somewhere unless we can do something to attract them here. So we're trying to provide it as a means of recruiting and retaining the students that we got here."
Tags Kaley Patterson
You may also like...
Sorry - Comments are closed