Cameron student explore Germany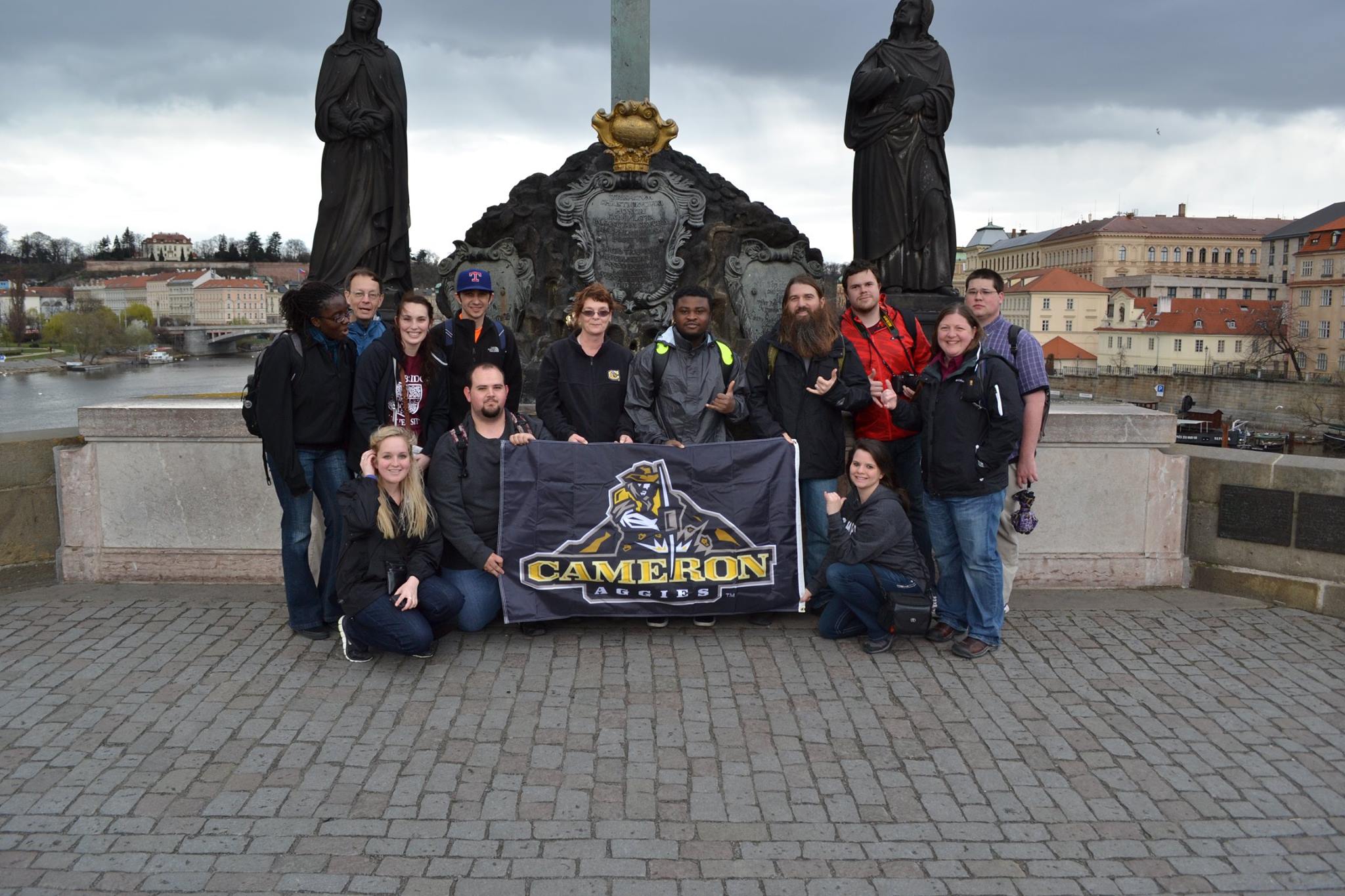 Pictured are (bottom row) Taylor Barrett, Aaron Bevington, Sarah Vrla, Mandy Husak (top row) Mariama Abramson, Ron Gaines, Cierra Kelly, Dane Swinford, Loree Gaines, Demilade Adenuga, Dr. Mike Husak, Joe Coleman Mandy Husak, and Holden Rowe.
While some students will travel home for spring break, whether the destination is located in- or out-of-state, fourteen Cameron students will travel overseas to Berlin, Germany, as part of the Cameron University Study Abroad Program. The students will depart from the states on March 12 and return on the 21st.
The trip, which also includes visits to Leipzig, Potsdam and surrounding areas, is combined with UNIV 4213, a course the students have been taking this semester.
According to the Cameron website, "This interdisciplinary course (UNIV 4213) and its embedded study abroad tour of Berlin will introduce [students] to many of the significant … developments in Berlin since World War II as it redefines its position within and beyond Germany."
Cameron University Director of Academic Enrichment Dr. Tony Wohlers, as well as Dr. Von Underwood and Ms. Lani Malcolm, have been teaching the students the course and will accompany them on the adventure.
The students and faculty will explore various sites, including the New Jewish Synagogue, the Holocaust Memorial, Sanssouci Palace and the Deutsche Oper Berlin.
Wohlers is German and moved from Germany 19 years ago; he visited Berlin in both 1987 and 1991 and said the country had changed over those four years because of unification.
"For me," he said, "it will be very interesting to see what has changed over the last 15 years – how Berlin has grown … I'm looking forward to kind of seeing the architectural changes, whether the vibe has changed [and] people's perspective on Berlin."
Wohlers said the trip will enable students to make a connection between their in-class experiences through coursework and their hands-on experiences through visiting Germany, which he believes in the most rewarding aspect of the trip for students.
"That [connection made] is the powerful high impact educational experience that you get out of this kind of study abroad tour," he said. "You will be fully immersed in the culture by visiting some of those places, which have often a very profound historical background."
Compared to previous study abroad destinations, Wohler said the trip to Berlin will be especially diverse in terms of the linkages made among different aspects of the culture.
"It's not just a historical or political context but there's the architecture [and art] in there," he said. "I hope students will learn some of the major developments of Germany after WWII and especially after the unification."
Wohlers said while abroad, students will not only build bonds quickly with one another, but they will also grow individually.
"For the faculty perspective," he said, "the most rewarding one [aspect] is to see the growth of the students. The growth when they arrive, they are kind of unsure about the place, how to act, how to find things, and then, after a few days, you will see that students become more and more confident about a place.
"You can literally observe it. You see it. You see it [not only] by the way the students interact with one another and the faculty but also the things they will talk about eventually."
Zoie Timothy, a junior English and business dual major, will be attending the Berlin trip, her first time to study abroad.
She said one assignment in the UNIV 4213 is to write a research paper, in which three pages of it "explore the city in text."
"In Berlin," she said, "we are supposed to read the history and the architecture … so I think it will be interesting to apply literary skills and analysis onto a city."
Timothy said she would have been grateful to study abroad anywhere, but she was especially excited for this trip because of its focus on history.
She said she enjoys reading about the history in class and is eager to learn even more while she is in Germany.
"There's a lot of German symbolism in everything," she said, "and they're very sensitive to how you read the German symbolism, so I'm looking forward to probably their WWI memorials [the most]."
Timothy said she appreciates the hard work of her professors who make the trip possible.
"Dr. Wohlers has been really, really helpful in making a lot of these things happen and getting us ready for this trip," Timothy said, "and Lani Malcolm – she's been really good about travel advice, and Dean Underwood is the one who talks about 'city is text' all the time; he's so excited about that part."
According to Wohlers, the study abroad trips in the past have been successful, saying that previous feedback was "all extremely positive."
"[Traveling abroad, the students'] perspectives have already broadened dramatically – that they're now open to new options," he said, "so just that awareness is sensitized."
For students who would like to study abroad in the future, Wohlers said scholarships are available, and the doors of the office of Academic Enrichment are open for students who have questions.
According to the Cameron website, "To participate in study abroad programs, students must be enrolled full-time during the semester of the program, not possess any curricular deficiency in English or reading at time of program, and maintain a minimum GPA of 2.5."
For additional information about studying abroad or other international opportunities, students can also contact their academic advisors or visit cameron.edu/studyabroad.
You may also like...
Sorry - Comments are closed