Cameron golfers swing into season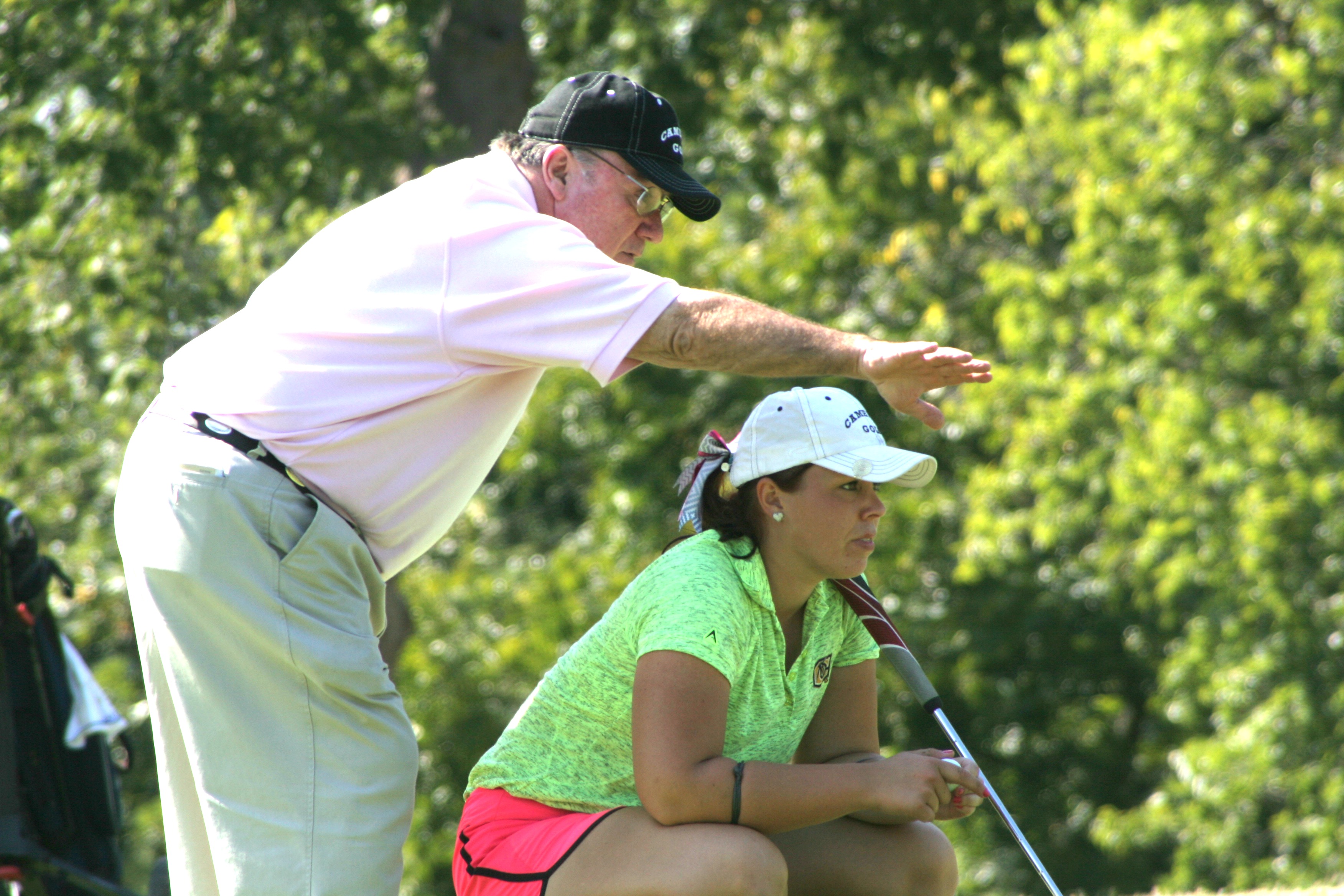 Kaley Patterson
A&E Editor
@KaleyKayPatt
The Cameron men's and women's golf teams are gearing up to start their spring seasons. Despite the icy weather, men's head coach Jerry Hrnciar and head women's coach Rick Goodwin believe the Aggies are prepped and ready.
Hrnciar has coached for the Black and Gold for 41 years. The men's golf team is ranked at 23 on the Golf Coaches Association of America national poll.
Hrnciar says he takes a practical approach to coaching.
"I always coach from the philosophy that you're only as good as your sixth person," he said. "We play 5, but if that sixth person is playing good then that means the other five are being pushed and that's usually when you do the best, and I think we're in that position."
Hrnciar has high hopes of the Aggies men's golf team making it to national competition this year, but they have a full schedule of tournaments to get through before they get there. Before each tournament, the team goes through a qualifier to decide who will play in the next tournament.
"We play so many rounds, and then I take the lowest five players that qualify," Hrnciar said. "It really falls on them. It's not objective opinion, except after the first tournament then I have a procedure where they have three ways to make it – play good in the tournament before, re-qualify or be lucky to get picked."
When the weather permits, the Aggies practice at the range by Cameron House or at the Territory Golf and Country Club in Duncan. But the golf teams will be receiving a long awaited addition to their practice range at Cameron House; they will attain a range shelter that will allow the Aggies to practice in unpredictable Oklahoma weather.
"This has been a dream of mine for a long time," Hrnciar said. "It would be really beneficial if we had it right now. It's got three indoor bays and so that means if it's raining or something we can open the doors and hit from the inside out… If it's cold, we would pull the doors down, drop the nets and we can hit into the nets. Then we'll have a putting area behind it. Then we'll have one outdoor bay which in the heat of the summer, we can get in there with the ceiling fans and be in the shade and hit balls out…
"It's a great recruiting tool. As far as I know, we'll be the only second division two school in the country with one on our campus. So that will be a big asset in the recruiting."
While the Cameron golf teams receive new amenities, they will be losing one of their solid rocks; coach Goodwin will retire this year after a decade of coaching the women's golf team.
"I started the program ten years ago," Goodwin said. "I had actually worked with Jerry [Hrnciar] in the men's program when I was out at the country club [Lawton Country Club], and he was there too while running the program. So we both worked there together before he came over here permanently. So I had that kind of background going in."
The women's golf program came about when Cindy Ross was still president of Cameron. Cameron established along with the cross country team, which gave the university ten women's athletic programs and ten men's.
The women's golf team started their spring season a little earlier than the men with a tournament on Feb. 16. Goodwin and the Lady Aggies have been training since the fall season.
"We had a fair fall campaign," Goodwin said. "It wasn't what we would've liked. We opened two [three] weeks ago in San Antonio and caught terrible weather down there… We've got a pretty strong team – pretty solid one through five with good players. So it's just putting it all together and then you fight the elements this time of year."
The Lady Aggies women's golf team has a stacked schedule this spring season, and coach Goodwin anticipates a profitable year.
The women's team plays next in the Midwestern State Invitational on March 16-17 in Wichita Falls, Texas. The men's team will travel to the Lubbock Christian Chaps Invite on March 16-17 in Lubbock, Texas.
You may also like...
Sorry - Comments are closed