Aggies react to racist SAE fraternity chant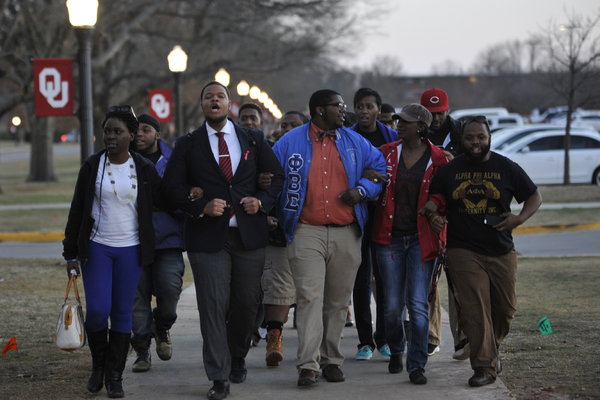 Rally against degradation: Protestors marched Tuesday, March 10 to the Sigma Alpha Epislon House. OU's President David Boren ordered the fraternity to shut down.
Charlene Belew
Managing Editor
@CBelew15
A plethora of outcries from Greek Aggies took over Facebook on Sunday, March 8, after an explicit video of a neighboring fraternity was posted, tainting not only the image of Greek life as a whole, but also the state of Oklahoma.
The video consisted of fraternity members from the University of Oklahoma's now dis-banded Sigma Alpha Epsilon chapter fist-pumping while singing racist chants that refer to lynching and the non-admittance of black students to their organization,  demonstrating that the issue of racism is still prevalent in today's society.
The nine-second video brought immediate media attention to the issue, and even higher ups including OU's University President David Boren and National President of the SAE fraternity Brad Cohen stepped into the spotlight to shut down the offensive student actions.
Boren, who caught wind of the scandal via Twitter from Unheard of Movement, an OU organization, said an immediate investigation was under way and, in no time at all, had ordered the closing of the fraternity house after Cohen had ordered the SAE fraternity brothers to an immediate "cease and desist."
"You are disgraceful. You have violated all that we stand for. You should not have the privilege of calling yourselves 'Sooners.' Real Sooners are not racist. Real Sooners are not bigots. Real Sooners believe in equal opportunity. Real Sooners treat all people with respect. Real Sooners love each other and take care of each other like family members," Boren said in a statement.
Orders from Boren made students vacate the once Greek home by no later than midnight Tuesday, March 10, and two of the students were expelled from the university. Jermaine Ford, Sergeant at Arms for Cameron University's Alpha Sigma Phi fraternity, said Boren's actions were completely sanctified and provided justice against something hateful and degrading.
"Racism breeds violence, in some form or fashion, as evidenced by the recent SAE house vandalism," Ford said. "For those SAE singing students, the fraternity, it's house, to stay and have a presence would've only been a time bomb waiting to happen. Students pay for class to learn, not to be called racial epitaphs. President Born was spot on with his sanctions, and I support him. Not as a black student, or even a student, but as a human."
Ford continued on to say the Aggie community can bind together with organization heads and other faculty to ensure an incident of this nature can be "neutralized." He says this offense against the Greek community, along with the UVA rape scandal and several others create a "black eye" around the lifestyle.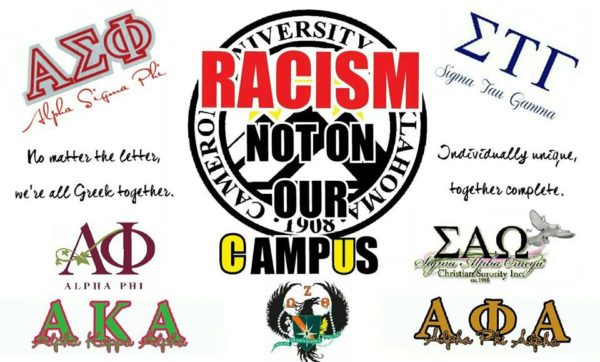 Graphic courtesy of Jermaine Ford
"One video can completely shadow the countless hours of community service, philanthropy and every other positive aspect Greek life has and promotes," Ford said. "It's going to take a while for the 'life' to overcome it's latest assault, but it will, and with it comes every organization and chapter with diversity training of some sorts: the big positive."
Other CU Greek members, such as Colton Rancourt of Sigma Tau Gamma and Taylor Hutton of Alpha Phi, have voiced their opinions on the matter, agreeing the act was reprehensible and disgraceful.
Hutton, who comes from a long line of Greeks and has met some of her dearest friends through the sorority scene, knows SAE's actions have provided a negative message on the lifestyle.
While the action was "wrong and disgraceful" according to Hutton, she hopes that members of the public will understand one Greek organization doesn't represent the rest of them in the nation.
"Greeks do so many great things, and I would hope before anyone jumps to conclusions they would look at the whole picture," she wrote in a recent blog post, titled "No Matter the Letters."
Hutton, who has been extremely moved by the derogatory actions of the old SAE members, argued that Greek life doesn't promote partying, alcohol abuse, rape, sexism or racism.
"There are programs developed in the organization to handle the safety of their members," she said. "Greek life is a community, and we look out for one another. I feel safer with my friends who are Greek than I do with those who are not."
For more on Hutton's opinion, visit http://taylorhutton.com/no-matter-the-letters/.
You may also like...
Sorry - Comments are closed