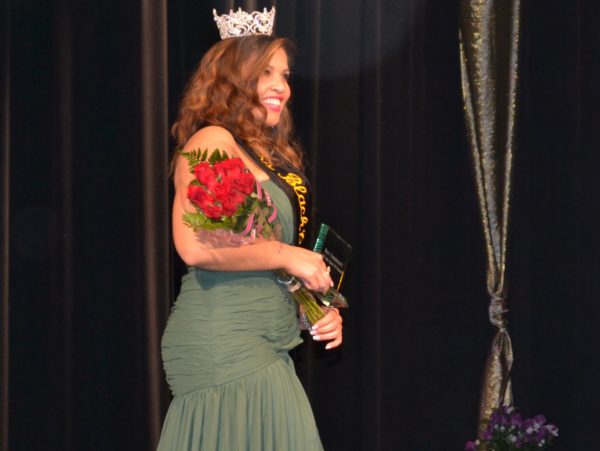 Haley Swinford
Staff Writer
At 7 p.m. on Feb. 7 in the Cameron University Theatre, the lights dimmed and the audience sat in silence as the curtains opened for the 36th annual Miss Black CU Pageant "Perfectly Imperfect".
Senior elementary education major Marissa Williams received the title of Miss Black CU 2015, and her fellow contestants voted her Miss Congeniality.
Although Williams said she didn't have any idea she would be chosen, she is grateful for the opportunity to be Miss Black CU.
"I was just hoping for the best," she said. "It feels like my greatest accomplishment for me so far."
Freshman chemistry major Taylor Calvert received first runner up, as well as the Business Women Award. Ja'Lyn Yarbrough, a junior family and child studies major placed third runner up.
The three contestants started the pageant with an opening dance number. Following their performance, the contestants took the stage one-by-one to introduce themselves. Each young woman told the audience her major, platform and the reason why she is okay with being perfectly imperfect. Reasons varied from professing they're who God created them, to how adversity and diversity are not slowing them down or holding them back.
During the next phase, contestants honored black women in history, including Aretha Franklin, Maya Angelou and Marjorie Lee Browne, by portraying their lives to the audience; the contestants dressed up like the women and shared their historical accomplishments.
Following the representations, the contestants tried to capture the attention of the judges by showcasing their talent. They each had a brief moment to win the judges over. One contestant sang, while the other two performed monologues.
The final phase of competition consisted of eveningwear and an onstage question. Each contestant modeled the dress of her choice to portray her personality. The dresses varied from flowing fabric to sparkle-adorned designs. During the portion of onstage questioning, each contestant was asked a random question and had to give an answer on the spot.
The pageant concluded with the final walk of the former Miss Black CU Oluwakemi Olurotimi and the crowing of Williams as Miss Black CU 2015.
Williams said when she heard her name called, she just tried to remain calm.
"Don't cry, don't cry, don't cry," she said to herself. "You're going to ruin your makeup."
Besides attaining the crown, Williams said her favorite part of the pageant was bonding with the other girls.
"I didn't even expect to become such close friends with them," she said, "but they are just such great girls."
As Miss Black CU, she will receive the opportunity to transform her platform, "Rerouting Minority Students to Overcome Negative Statistics," into a program and talk to students about it.
Visit Cameron.edu to find out about future opportunities to see Miss Black CU 2015.