The taste of victory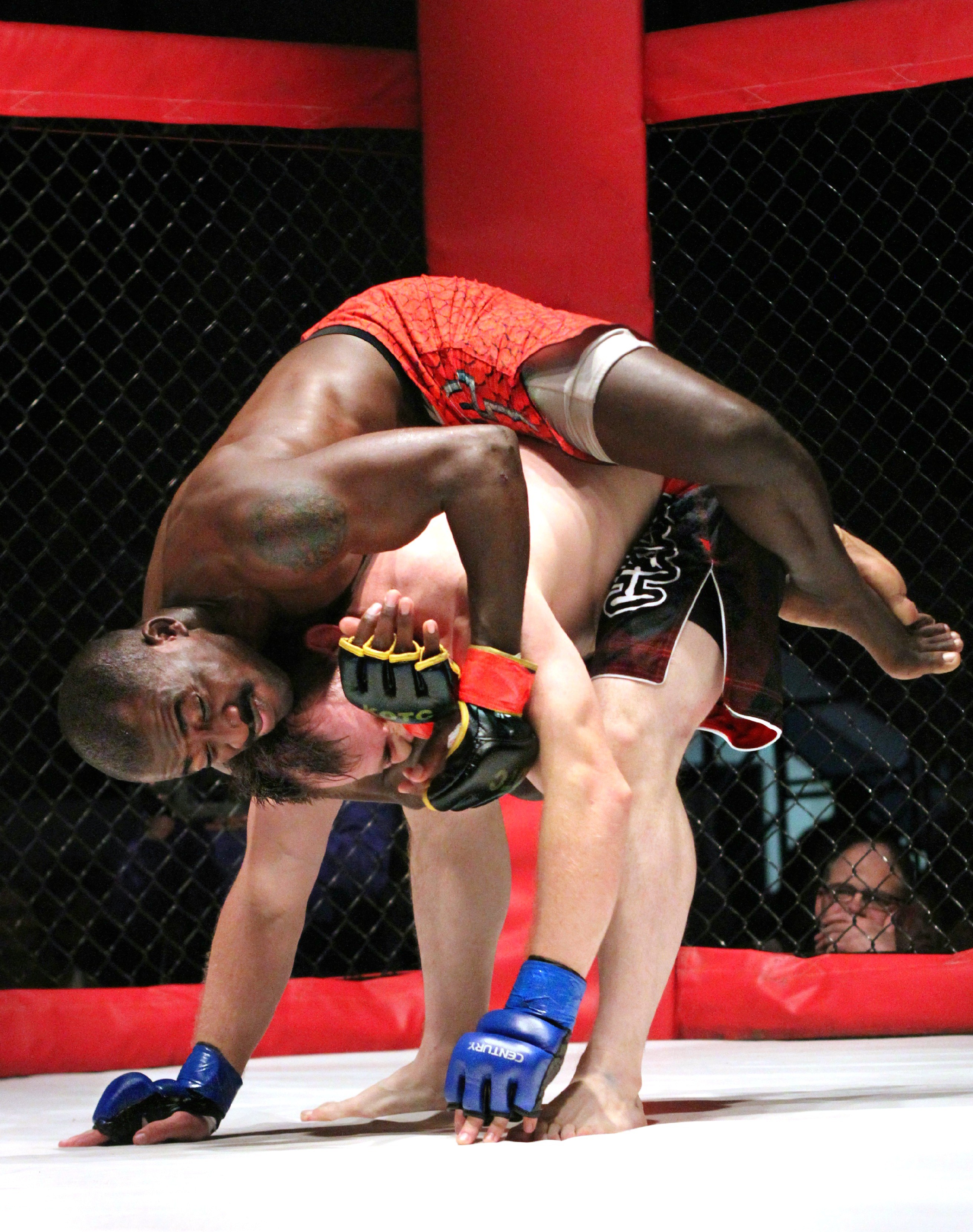 Krista Pylant
Sports Editor
@KristaPylant8
Fight fans flocked to the Great Plains Coliseum for Fists of Fury #5 hosted by the Oklahoma State Athletic Commission on Jan. 31 in Lawton.
Fists of Fury #5 featured eight amateur bouts and three professional fights, each fought Mixed Martial Arts (MMA) style in a caged octagon.
Of the 22 fighters, eight represented Lawton, two of which took home the prize.
On the main card of the night, Lawton native and Cameron alumnus, Rodney "The Christian" McSwane looked to defend his heavyweight title against Wayne Cole of Norman.
Once the bell rang, the fighters squared off and turned around in the cage. Cole went in for the first punch with a right cross but missed, allowing McSwane to counter him into the cage. McSwane let him go, and once more the two moved about until McSwayne landed a left jab to Cole's head. Cole returned with a blind left swing, but McSwane ducked for the miss and immediately grappled Cole, taking him to the floor.
Flipping Cole to a rear mount, McSwane applied a rear naked chokehold, but when he realized he could not fully complete the submission, he added a cross-face knocking Cole's mouthpiece out.
The referee paused the fight to replace the mouthpiece, and McSwane took the advantage to re-slip his arm underneath Cole's neck to complete the submission and win the fight by tap to retain his championship title in just one round.
Lawton's other win of the night came from the amateur heavyweight bout featuring former Lawton High football player and wrestler Theo Rogers versus Jerrad Goode of Altus.
Originally, Rogers was supposed to fight a 400 pound super heavyweight opponent, but Goode took his place with only two weeks' notice for his debut fight. As a result, Rogers said he felt confident going into the fight, despite limited knowledge of his opponent
"I knew next to nothing about him," Rogers said. "It just so happened that he was a southpaw, which I found out only the night of the fight. He was a debut guy, so I figured he was going to adrenaline dump on me. My plan was to just feel him out and weather the storm and let him get tired, which I did, but I finished him a bit quicker than I wanted to."
Rogers and Goode traded punches around the octagon, before taking the fight to the floor in the first round. Rogers locked Goode's arms down in a side hold, adding several blows to his head before pressing Goode into a hold for the victory.
Bout seven presented the women's MMA contest where Lawton native Sabrina Ali went toe-to-toe with Rachel Johnson from Lubbock, Texas, in her debut fight.
Going into her first fight, Ali said she was nervous to perform in front of a large crowd, but physically she felt great. She accepted the invitation to fight three weeks prior and prepared by working on cardio and sparring.
After the opening announcements, the fighters advanced to center cage to touch gloves, but as soon as the gloves made contact, Johnson came quick to land a punch on Ali. The move surprised Ali and struck her as dirty, but she said a fighter has to expect anything.
"I just stuck to my game plan and got in and took her down," Ali said. "All three times in the beginning of the rounds, I guess I did kind of freeze up at a moment on the ground. I don't know what got into me, but I did start to work on my jujitsu on the ground.
"I did almost land two good arm bars, but it was one of those 'saved by the bell' moments for her. I wish I had 10-15 more seconds. I was very upset when three elbows were thrown and they weren't called even when I yelled 'elbows!' A good hard knee to the head should have been called too."
Despite losing the fight, Ali said she looks forward to her next fight and will work to be more aggressive on the ground and box more.
The remaining Lawton fighters who closed out the night included Donald Maddox, Adam Stumblingbear, Ken Perry, Jason Day and Tyson Southern.
You may also like...
Sorry - Comments are closed