Prized journalist discusses civil equality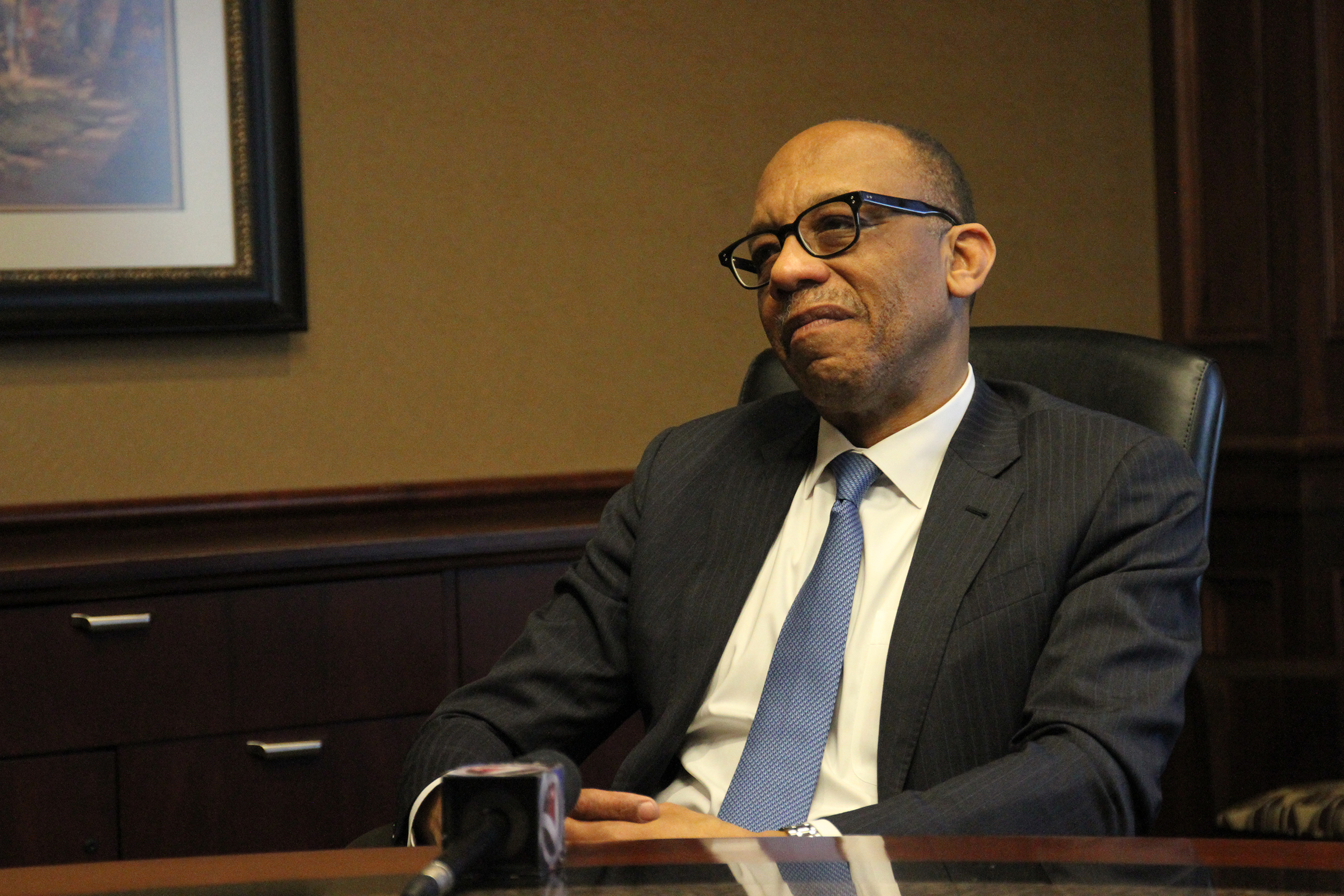 Vicky Smith
Student Life Editor
@pinkwritinglady
The 31st annual Dr. Martin Luther King Jr. Celebration Banquet, sponsored by Cameron Campus Ministry (CCM) and Cameron University, featured keynote speaker Eugene Robinson at 6:30 p.m. on Jan. 19 at the Aggie Rec Center.
Pulitzer Prize-winning journalist Robinson has worked in numerous positions during his three-decade career at The Washington Post. He currently writes a twice-weekly column on politics and culture, which also appears in The Lawton Constitution.
In his address "We're Someplace We've Never Been: Race, Diversity and the New America," Robinson spoke to Lawtonians about his journey from childhood, living in the segregated South, to adulthood, living in integrated America.
Born and raised in Orangeburg, S.C., at the end of Jim Crow segregation, Robinson endured the harsh conditions of a society characterized by discrimination.
"When I grew up," he said, "African Americans who wanted to go to the one movie theatre in town had to sit in the balcony and not on the main floor. We were expected to enter the downtown stores through the rear entrances, rather than the front entrances. The schools, of course, were strictly segregated, so I went to all-black schools until high school."
As a teenager in 1968, Robinson witnessed the events leading up to what is known as the Orangeburg Massacre, in which police troops shot protestors who were against racial segregation, wounding 27 people and killing three young black men.
"Keep that image [of the violent massacre] in mind," Robinson said, "and let's fast forward to election night 2008."
Robinson was a member of the MSNBC family on the night of the election, and he called his parents during a break.
"I got to tell them they lived to see the election of the first African American president," he said. "That's a moment that I will never forget. My dad was born in 1916, and just to imagine the world he was born into and the world he departed from … It's just mind blowing."
Robinson said it is true that America has changed enormously.
"Black America is not your father's or your grandfather's Black America," he said. "It's more economically, socially and culturally diverse than it was 50 or 60 years ago."
However, Robinson said the issues of 1968 are still the topics of conversation today.
"We're talking about voter ID," he said. "We're talking about Ferguson, we're talking about Staten Island [and] we're talking about mass incarceration."
In his book "Disintegration: The Splintering of Black America," he says the African-American population can be divided into four groups: the Mainstream middle class, the Transcendent elite, the Emergent and the Abandoned poor. He explains that each group is distinct from the other, characterized by its own thinking and understanding.
Speaking of the Abandoned poor, Robinson said he believes issues of race and economics are intertwined.
"Dr. King, who was our great prophet," Robinson said, "saw [economic issues] so clearly five decades ago," and they were becoming the central focus of his ministry and activism.
At the time of his death, King was in preparation for a huge campaign, which Robinson said was "a big deal for jobs and justice, and his [King's] thinking was, very specifically,
'This is not just for African Americans … This is for Native Americans. This is for poor Appalachian whites. This is for poor people. This is against inequality. This is for opportunity.'"
Robinson said measures of inequality in 2015 are nothing like they were in King's day, yet King "saw the inequality that existed in those years as intolerable … Dr. King had his eye on the prize. Dr. King saw the central challenge.
"It's his work and his direction that point us in the direction that we should move right now," Robinson said, "We have to address Abandoned Black America. We have to address inequality."
Although Robinson said confronting economic issues is not easy, inexpensive or, at times, politically popular, it's still necessary.
"Where do we begin?" he asked. "Well, that's very simple: ballot box. Fifty years ago this year, one of the great pillars of civil rights legislation was passed – the Voting Rights Act of 1965 [that] secured the vote for everyone in this country.
"So my closing message to all of you," he said, "to honor Dr. King's legacy, to honor his work and to bring it forward into this new century [is to] go out and vote."
Co-director of CCM Galeda Jones announced the two winners of the Dr. Martin Luther King Jr. Essay Contest: McArthur High School student Henry Walton and Cameron University student Matthew Bissalara. They were both awarded $300 and a signed copy of Mr. Robinson's book "Disintegration."
Reverend Philip Jones recognized the recipient of the 2015 Humanitarian Service Award: Ruby Peters. Peters holds degrees from different universities and is currently a Cameron student working on the educational leadership track. According to a nomination letter shared at the banquet, Peters is a "dedicated educator, mentor, leader and political enthusiast."
At 6:30 p.m. on Feb. 6 in the MCC Ballroom, CCM will host "Continuing the Conversation," in which police chief James Smith and at least two Cameron students will discuss how to create and sustain healthy relationships in the Lawton community.
---
To view the Q & A with the MLK Celebration Panelists, please click here.
Tags FeaturedVicky Smith
You may also like...
Sorry - Comments are closed