Business fraternity presents charter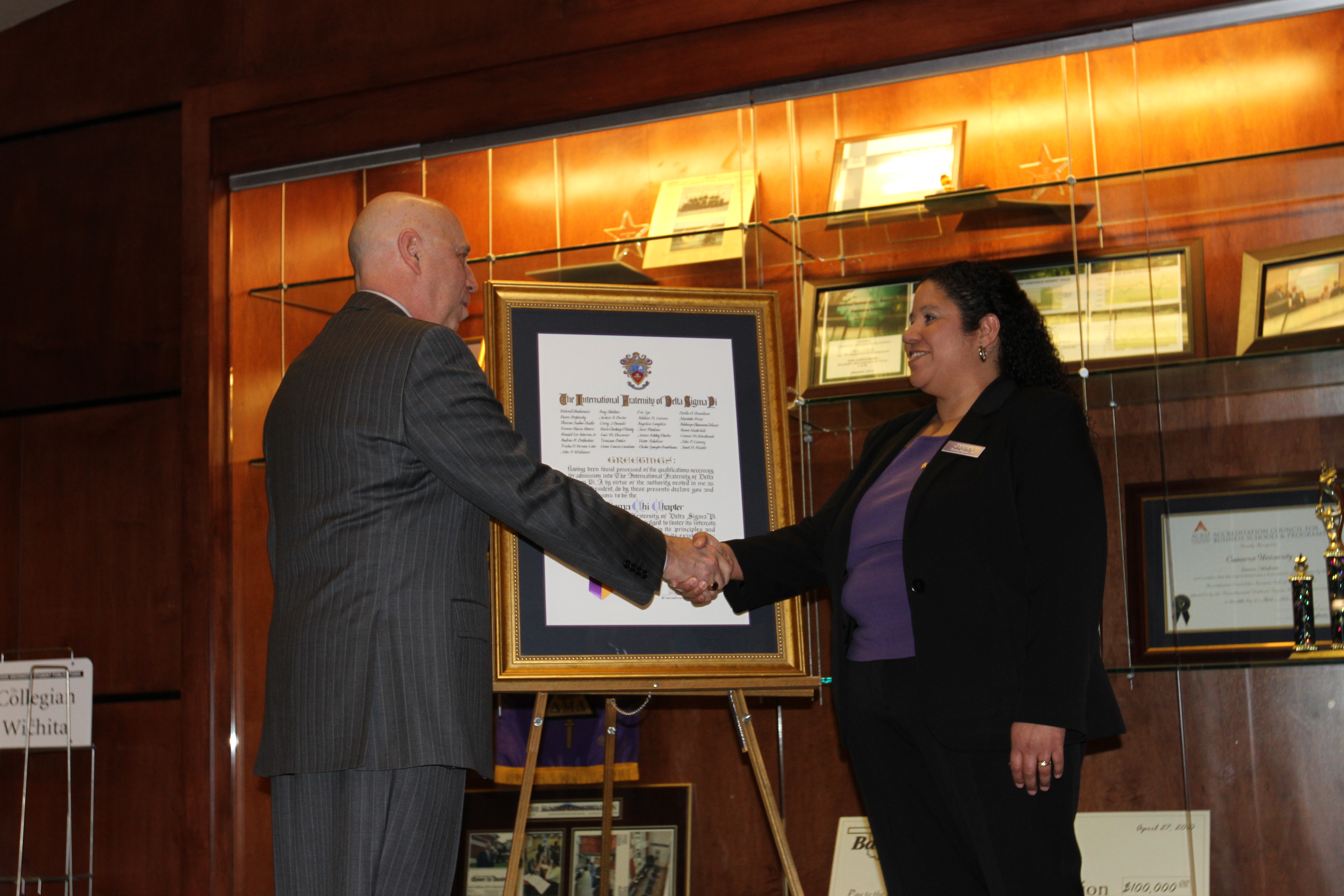 Jacob Jardel
Assistant Managing Editor
@JJardel_Writing
The Sigma Chi chapter of Delta Sigma Pi showed they know how to take care of business over the last few years.
Cameron's chapter of the co-ed fraternity for business majors presented their charter plaque to the School of Business at 6 p.m. on Jan. 29 in the lobby of Ross Hall. The ceremony culminated an almost three-year road toward official recognition.
Master's of Business Administration student John Williams, Vice President of Community Service for Delta Sigma Pi, voiced his joy both for being in the organization and for being able to present the charter.
"It's an awesome thing," Williams said. "It's been a great opportunity."
Senior accounting major and Vice President of Chapter Operations Yvonne Moore was one of the original members of Delta Sigma Pi when it petitioned to become a fraternity in Feb. 2012. After three years of work, she felt that it all paid off when they presented the charter.
"To finally present the actual charter to the School of Business has just been a major accomplishment," she said.
Moore presented the charter along with a copy of the petition the original members sent to the national office and a scholarship key plaque. The scholarship key plaque commemorates those graduating seniors with the highest GPA in the School of Business.
Scholarship and similar opportunities are what make Delta Sigma Pi participation a unique experience according to Moore.
"We provide professional development and community service," she said. "Scholarships are available, and we just have a lot of fun being together."
Williams added that these experiences differentiate this fraternity from other forms of Greek life.
"We try and focus on the personal and professional side of development," he said. "We do have socials, we do get together to do community service projects and we also do professional development events every semester."
However, he made sure to differentiate the experience of Delta Sigma Pi from an honors society such as Delta Mu Delta, the honors society for business majors.
"There isn't a GPA requirement," Williams said. "As long as you're meeting the criteria to be a good-standing student at Cameron University and are majoring in a Business major, you're eligible to join."
Joining the organization would put a student in a position to be one of over 250,000 members in Delta Sigma Pi, spread among the over 250 national chapters. Moore noted that the makeup of the Sigma Chi chapter offers an experience unique to Cameron University.
"We are a wonderful mix of traditional and non-traditional students," she said. "We have the youthfulness of the incoming younger students and the maturity, connections and networking abilities of the older students."
Williams added that it brings this diverse student population together under a common thread.
"It's a great opportunity for fellowship among students of commerce and business," Williams said. "It gives them the opportunity to meet and intermingle."
He said one other advantage of Delta Sigma Pi as an organization reaches beyond the walls of the classroom and board room.
"By us creating more organizations like this on campus," Williams said, "it gives more exposure to Cameron and increases the opportunities for people coming to school here."
Tags FeaturedJacob Jardel
You may also like...
Sorry - Comments are closed