A double take on 'The Theory of Everything'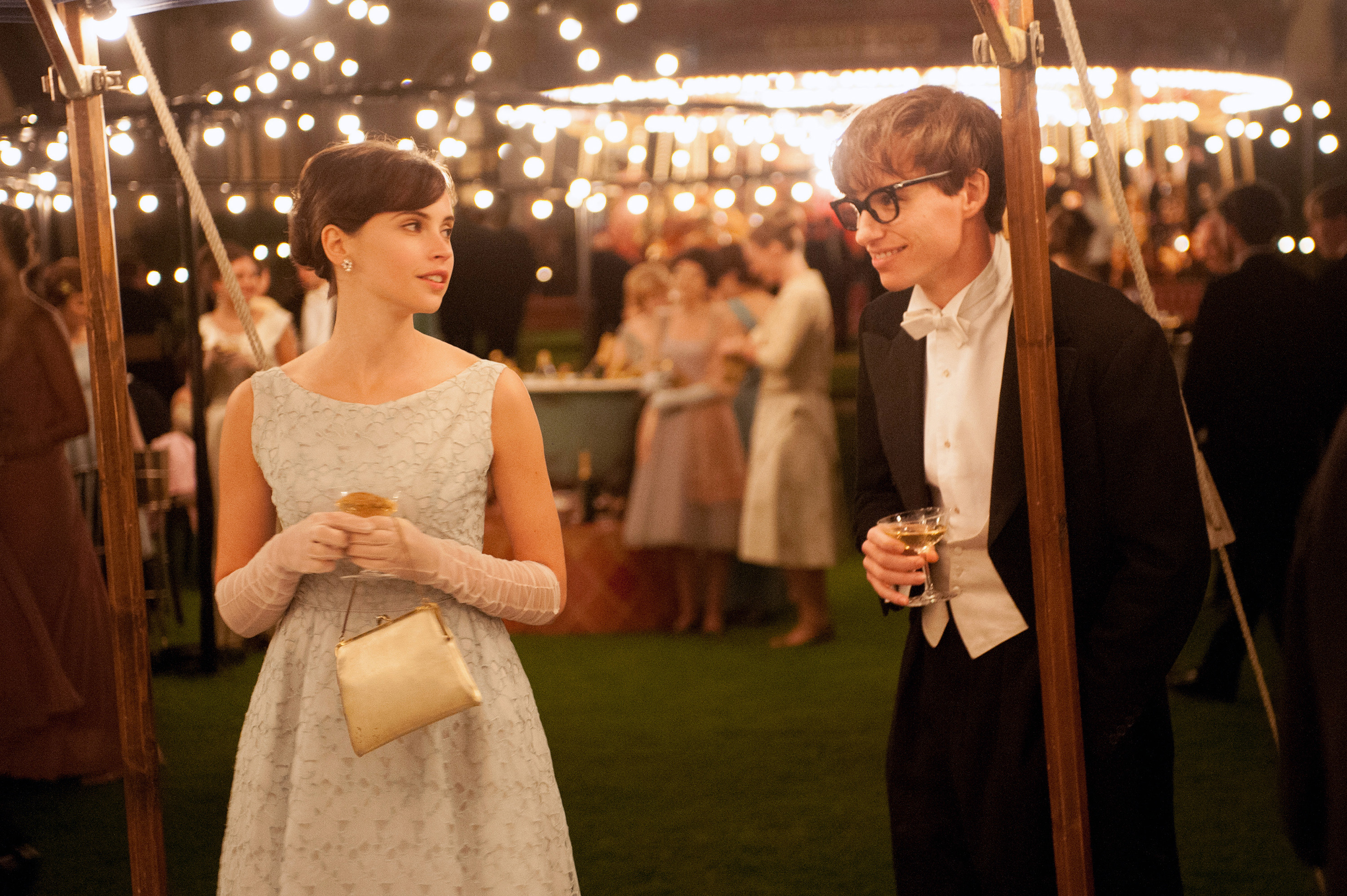 "The Theory of Everything" is nominated for Best Picture in the 87th Academy Awards. Felicity Jones, left, stars as Jane Wilde and Eddie Redmayne stars as Stephen Hawking in Academy Award winner James Marsh's "The Theory of Everything," a Focus Features release. (Liam Daniel/Focus Features)
Warning: The following reviews of The Theory of Everything may contain spoilers.
Kaley Patterson
A&E Editor
@KaleyKayPatt
Tick. Tick. Tick. The second hand moves round the clock. When it stops, nobody knows. Well, it will stop when the battery life runs out – out of time. But when did it begin? Time. When or why did the tick start? Those are questions Stephen Hawking is still trying to answer.
Warning: this review is subjected to spoilers of "The Theory of Everything," starring Eddie Redmayne as Stephen Hawking and Felicity Jones as Jane Hawking.
The previews of the movie advertised a film depicting a love that stood the test of time. Images of Stephen and Jane swirl around the grounds of Cambridge with love in their eyes and desire in their hearts – a love appearing to survive whatever time told.
The previews couldn't have been more wrong.
Stephen's first love was physics. He prided himself in being one of the smartest lads in his classrooms. Nothing could stop him from proving the existence of time and everything else – turn back the clock to the time he fell while strolling through campus, and doctors discovered he possessed motor neuron disease. Jane and Stephen began dating shortly before his diagnosis, after which Stephen ignored her and demanded her to leave him, but she didn't.
The film depicts portions of the Hawking couple's life: marriage, first child, second child, PhD approval, adaptation to a wheel chair, professorship, third child and so on. With every second passing, Jane's pressures of having to take care of her husband and three children began to take a toll on her. She found comfort in her choir director at church, Jonathan – a resting place Stephen knew he could never provide her.
It wasn't Jane and Stephen's romantic love that was the equation to solving their theory of everything; it was their companionship. Stephen cared so much for Jane that he let her go.
"I have loved you. I did my best," Jane said.
While the film wrestled with Stephen's theories, it also tussled with his views of religion. There were times in his life when he denounced God's existence, acknowledged God or determined God was irrelevant. When Jane and Stephen first met, he inquired what she believed, and she replied she believed in God. But, in the film, Jane never forced her beliefs on him and neither did Stephen with her.
They respected each other, but Jane struggled with her faith when she was with Stephen – not that she believed and then didn't believe off and on, but his disbelief made it harder for her to love Stephen on a deeper level. Jane cared for Stephen. She knew in the moment when she first learned of Stephen's ailment that he would need her, and when he didn't, she left.
"The Theory of Everything" is far from a romantic film. Redmayne's performance of Stephen was uncanny and brilliant. He captured Stephens's digression seamlessly and performed the professor's humor with no error – worthy of the Best Actor in a Leading Role Oscar. Jones resonated Jane's dedication, determination and struggles – a depiction that had viewers feeling her laughs, chills, smiles and tears. "The Theory of Everything" is worth seeing, but be warned: this movie isn't about love.
Jacob Jardel
Assistant Managing Editor
@JJardel_Writing
Though entrenched in science, "The Theory of Everything" was truly a work of art.
The movie starred Eddie Redmayne as the famed physicist Dr. Stephen Hawking and Felicity Jones as his wife Jane Wilde Hawking. Redmayne and Jones worked together to bring the relationship between the couple to the big screen.
The beginning of the movie established the relationship between Hawking and Wilde as he began his soon-to-be astronomical rise to fame with his physics prowess. As they courted, news of Hawking's motor neuron disease shook the foundation of their relationship.
Throughout the rest of the movie, their relationship evolved through highs and lows as both the disease and Hawking's career progressed. The introductions of Jonathan Hellyer Jones (Charlie Cox) and Elaine Mason (Maxine Peake) added further dynamics to their lives.
Overall, the two technical themes most evident in the movie were light and cinematography.
Though not always wrought with symbolism, the color choices added certain vibes to the movie that almost cued viewers into tonal shifts and focus changes. This spin on the use of color added a nice dimension to the already dynamic story.
The cinematography as a whole also brought many scenes to life. The various camera sweeps and visual effects brought many of Hawking's brilliant thoughts to life, while the jump cut transitions used throughout the movie added a juxtaposition to the longer scenes.
Furthermore, the final scene of the movie provided a rewound montage that wrapped up the movie fantastically, playing on the concept of time both in the realm of physics and in the field of memory perception.
In addition to the visual aspects, the music of the movie added a depth to many of the scenes. Almost completely orchestral, the score set the mood for the scene – whether the scene conveyed that mood immediately or built up to it.
However, the most outstanding part of the movie was the acting. Redmayne and Jones beautifully acted out their roles. Redmayne portrayed Hawking's humor and mental capabilities with pinpoint accuracy, while Jones displayed Wilde's rollercoaster of emotions associated with taking care of the famed physicist.
More notably, both actors exhibited a chemistry that showed in everything from their dialogue to their micro expressions. Viewers could see the connection and love between them in the beginning transform into the frustration and eventual disconnection that led to their eventual divorce. Whether intentionally trained or naturally expressed, both actors conveyed their parts phenomenally while creating a character out of their relationship itself.
The other actors also provided strong performances in support of the two leads, but Redmayne and Jones truly stole the screen in roles worthy of their numerous award nominations.
Overall, from story to cinematography to acting, "The Theory of Everything" was truly an artwork worth watching built from the essence of scientific method.

The Theory of Everything Ratings:
Rating by Kaley -

7/10

Rating by Jacob -

8/10
You may also like...
Sorry - Comments are closed