CU Student gaining followers on Instagram for photography work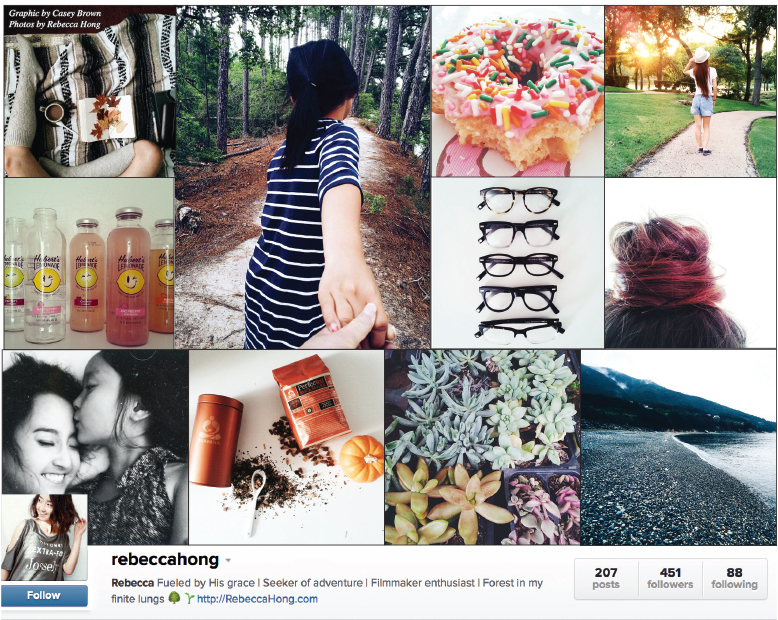 Vicky Smith
Copy Editor
@pinkwritinglady
Founded in 2010, Instagram is a community of more than 200 million people who share more than 60 million photos every day.
People who live in all corners of the world use Instagram for their own unique purposes.
According to its online profile, "Instagram has become the home for visual storytelling for everyone from celebrities, newsrooms and brands, to teens, musicians and people with a creative passion."
Cameron sophomore Rebecca Hong, who majors in public relations, is one young woman who unleashes her passion for creativity on an Instagram account for all followers to see.
When Hong downloaded the popular app in 2011, she was unaware of the influence it would have on her life.
"I think I got it [Instagram] because I didn't know what it was," Hong said, "and I like staying updated with apps … then I started to like it."
Hong, motivated by her new camera and other Instagram users, decided to take up photography as a hobby last summer.
"I started following these artistic accounts that post aesthetically pleasing photos," she said, "and I'm like, 'Wow! That's really pretty! I didn't know you could do that with your phone,' so then I started doing that, and that's when I got into it [photography]."
Hong said Instagram users can learn from one another's photos.
"There's so many creative people on Instagram," she said. "You can ask them for advice. You just get a lot of inspiration from them … and just understand what style you want for your photos."
In particular, Hong follows Darling magazine.
"This [account] is so cool," she said, "– creativity, and they're embracing it."
Hong hopes to encourage other people through the photos she posts.
"Right now," she said, "[my account] it's more geared towards, I guess, the Christian community because I talk about faith and my walk with God a lot … I'm really open about it on my Instagram.
"I just want to show them the little things I enjoy in life – just showing that joy I have for life and maybe hoping that it goes to them, like they feel that joy too."
Although Hong takes photos for fun, she would like to build a photography business that could serve as a side job.
"Ever since this summer," she said, "I've been wanting to build a portfolio, so I asked my friends to take their photos for free, so I could build it because nobody's going to pay because I don't even have any experience yet."
Since word of her photos has circulated, Hong said people are now offering compensation for her photography services.
When Hong has a vision, whether it's her own or someone else's, she wants to reveal it through a visual image.
"When you have an idea," she said, "you want to make it come to life. Before a photo shoot, I like to see what I want: what kind of mood I want – what kind of poses … I just look at a photo, and I'm like, 'I want this,' [but] when someone pays me … I want whatever idea they have to come to life."
Hong's photos feature everything from tiny trinkets to wide landscapes to silhouettes of her friends.
Hong featured one of her best friends, junior biology major Lyrics Goins, in two of her photo shoots.
Goins said she doesn't usually like being in the spotlight, but she knew her friend wanted some photography experience.
"I knew that she had a lot of potential," Goins said, " and she just kept saying that she didn't have any practice, so I was like, 'I know – you can practice on me. Everyone will see how great they are, and then they'll ask you to take pictures with them.'"
In one photo, Goins said she was surprised the girl in the picture was even her.
"There was one particular one where I just thought I looked so fierce," she said, "like something completely unlike me, but it was good. It was really good."
Goins said she could see Hong as a photographer in the future who captures a person inside the world of nature, "even if there's a person just standing" in the middle of an open atmosphere.
According to Goins, Hong's photos have a recurring theme: they each send a powerful message.
"They seem like they have a story behind it," Goins said, "but it's really just one picture."
To see Hong's photos or to book a photo shoot with her, visit her Instagram account, rebeccahong, or contact her online on her personal website at rebeccahong.co
Tags Vicky Smith
You may also like...
Sorry - Comments are closed