Convocation: celebrating excellence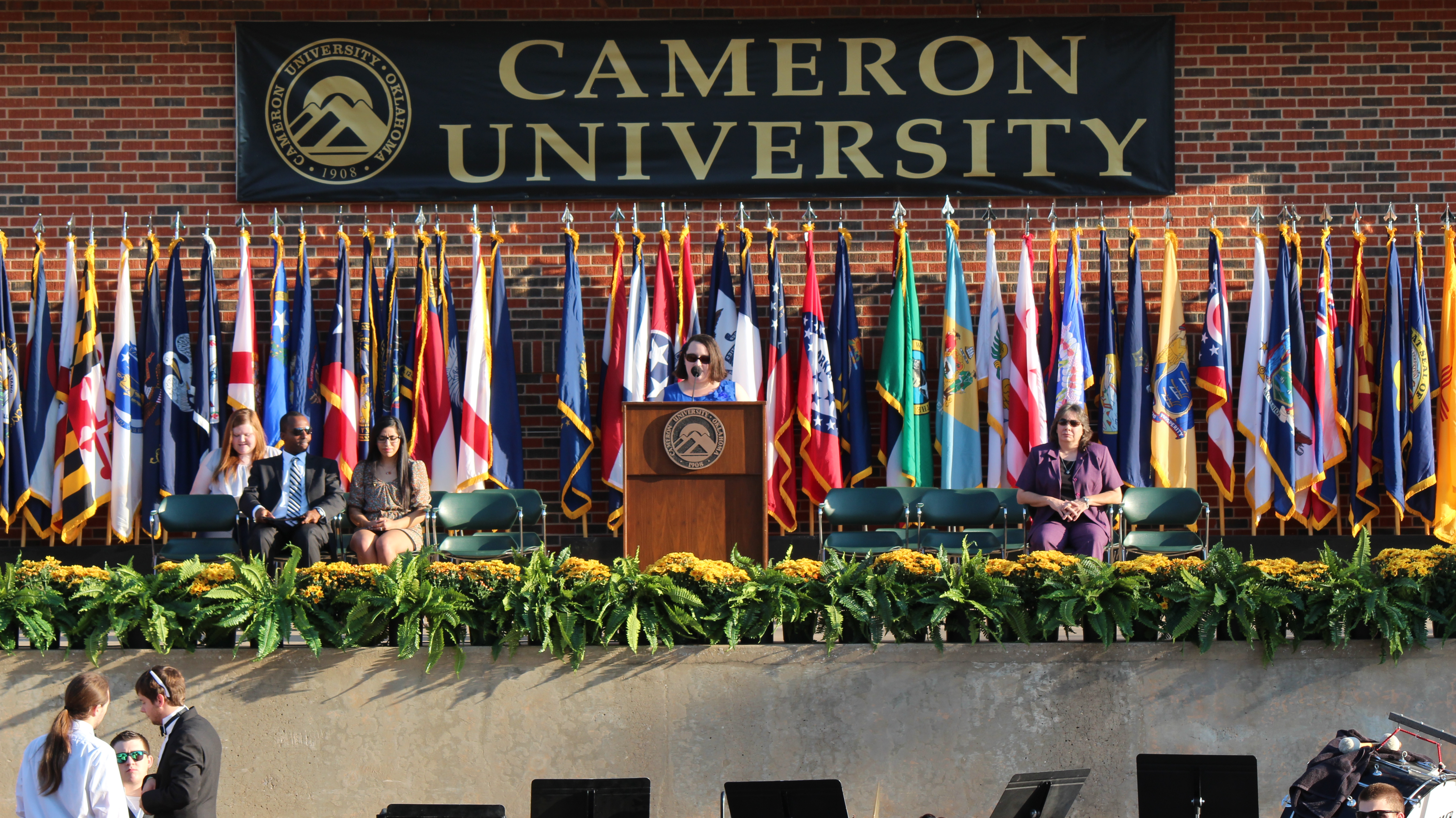 Kaley Patterson
Copy Editor
@KaleyKayPatt
Faculty clothed in academic regalia and students dressed to the nines gathered to celebrate Cameron's academic excellence at Convocation at 10 a.m. on Sept. 26 in the Fine Arts Courtyard.
Cameron University holds the annual Convocation to appreciate faculty and staff and to honor the year's scholarship recipients and honor society members.
Academic Services Coordinator Lani Malcolm, the chair of the Public Exercises Task Force, provided general oversight and direction over the ceremony. She said Convocation is a special event.
"It's a joint enterprise between faculty, students and staff," Malcolm said, "so everyone on campus is literally coming together to celebrate Cameron's commitment to academic excellence and the role that each of us plays in it."
When planning for Convocation, Malcolm worked with all the different units across campus to put together, coordinate and carry out the event. Every department and honor society was represented at Convocation.
"It's that one time of year where we're all coming together to celebrate what the university is really here for and what it's all about," Malcolm said.
Over the years, Convocation has had an array of speakers, but Malcolm said Cameron has chosen to highlight students by selecting student speakers for the past few years.
Deans are asked to carry out a nomination process with their faculty. They submit names along with biographical information and reasons why they feel the student would be an excellent speaker. The deans filter the nominations and then give them to Vice President of Academic Affairs Ronna Vanderslice to be evaluated by an executive council.
"This is a student event," Vanderslice said. "This is a student celebration, and we want to take advantage of the opportunity for students to tell their story."
On the morning of Convocation, scholarship recipients and honor society members lined up in the lawn next to music building. Faculty assembled across the pavement from their students and gathered behind the gonfalons from their respected departments.
The gonfalons represented departments that award degrees – 17 undergraduate departments, three graduate programs, one for interdisciplinary studies and one for organizational leadership. Each department selected a student to carry their respective gonfalons.
The Cameron University Concert Band started to play and the procession began. The platform party, including Cameron University President John McArthur, Vanderslice, CU SGA President Sidney McCormack and this year's four student speakers – Thierno Sadou Diallo, Angelica Lopez, Rhiannon Poolaw and Michele Hess – lead the procession into the Fine Arts Courtyard.
Scholarship recipients and honor society members followed suit while the gonfalon carries and faculty trailed behind.
The Cameron Army ROTC Color Guard presented the colors and Alyssa Yates led the singing of the National Anthem.
McArthur welcomed students, faculty, staff and guest to this year's Convocation – his second as President. He expressed his gratitude to those in attendance and applauded the achievements of the students and faculty they were honoring that day.
Vanderslice initiated the call to Convocation and voiced that the day's celebration was about and for the students. Vanderslice encouraged students to not be afraid to take chances, even if they may fail.
McCormack led the recognition of honor students, which highlighted 26 honor societies, 15 distinguished scholarship programs and multiple departmental scholarships. When the student's honor society or scholarship was called, they stood up while McCormack gave a brief description of the program or scholarship.
Each student speaker gave the audience their stories about their time spent at Cameron. Diallo spoke first, followed by Lopez, Poolaw and Hess. The four represented different university schools, Business, Educational and Behavioral Sciences, Liberal Arts and Science and Technology, respectively.
McArthur wrapped up Convocation by applauding the student speakers and all those who were in attendance. Convocation concluded with the Alma Mater led by Kirk Prucha and the retirement of the colors.
You may also like...
Sorry - Comments are closed