Cameron Gold Mine: Hot off the press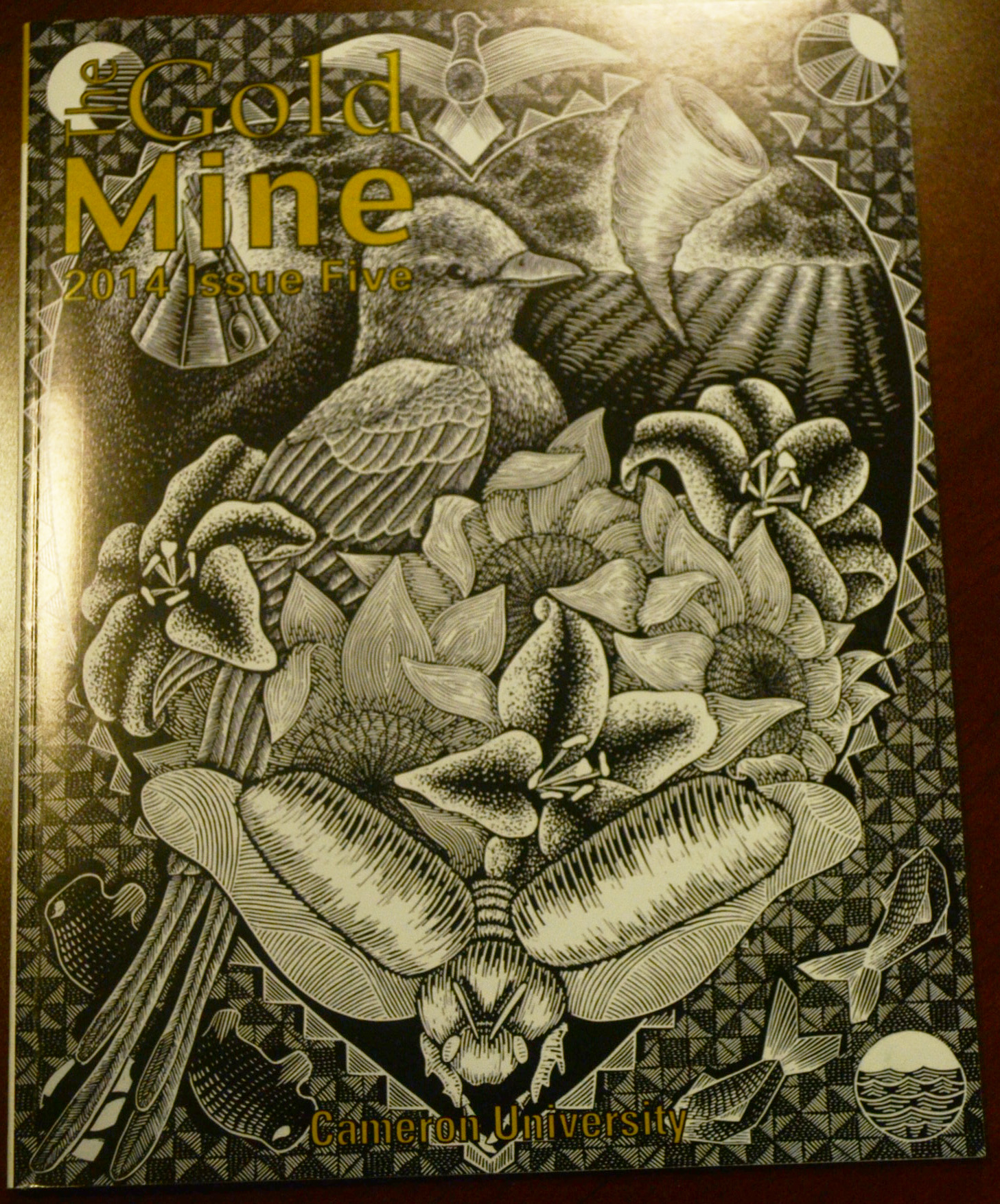 Casey Brown
A&E Editor
@CaseyBrown_CU
Issue Five of "The Gold Mine," CU's art and literary magazine, is now on stands.
The year long publication process recently reached its final stage. Over the course of the 2013-2014 academic year, students from the English and Art departments wrote and created art for the in-house publication.
The magazine includes poems, short stories, creative nonfiction essays, linocuts and photographs from several CU students from across campus.
In addition to general submissions "The Gold Mine" showcases the winners of three creative writing scholarship contests: the Leigh Holmes Creative Nonfiction Scholarship, the Matt P. Haag Scholarship and the John G. Morris Poetry Prize.
Issue Five features Rhiannon Poolaw's winning creative nonfiction piece "Roots: Warrior Woven," Kathleen Guill's first-place fiction piece "Struggles of the Heart" and Rose Welch's champion poem "Nightlife."
Faculty Adviser and Associate Professor of English and Foreign Languages Dr. Hardy Jones said the publication was established as a platform for Cameron students to show off their creative works.
Jones was responsible for the genesis of "The Gold Mine" five years ago.
"We didn't have any kind of art or literary journal," Jones said. "So, I wanted a place where students could display their work but also get practice with doing layout and design and editing and being able to read through submissions to have to learn to [decide] 'this one is good, and this is why' or 'this one isn't, and this is why.'"
The skills the students develop while working on staff  transition into their future careers as writers, artists or editors, Jones said.
"[Student editors] get to see behind the curtain and see what is really going on, so when they send stuff out, they kind of have an idea of what is going on when they send stuff out to a journal," Jones said. "Hopefully it demystifies part of the experience."
The publication process takes at least seven months.
Students can begin submitting during the fall semester; the finished product hits stands late summer or early fall each year.
When the staff receives the submissions, they read each submission, choose which ones to include and finally organize and layout the journal, Jones said of the yearlong process.
"Generally we get in the neighborhood of 50 submissions between the art and the writing," Jones said.
It is a yearly publication, and such magazines are fairly common at schools with strong undergraduate creative writing programs.
According to Jones, President John McArthur uses the publication to show prospective students what types of projects they can be involved with as Aggies.
"It isn't just going to class and writing papers," Jones said. "They can actually get hands-on experience doing something creative."
Copies of "The Gold Mine" are available throughout Nance-Boyer and on "Cameron Collegian" news stands.
Tags Casey BrownFeatured
You may also like...
Sorry - Comments are closed