Aggies lose beloved therapy dog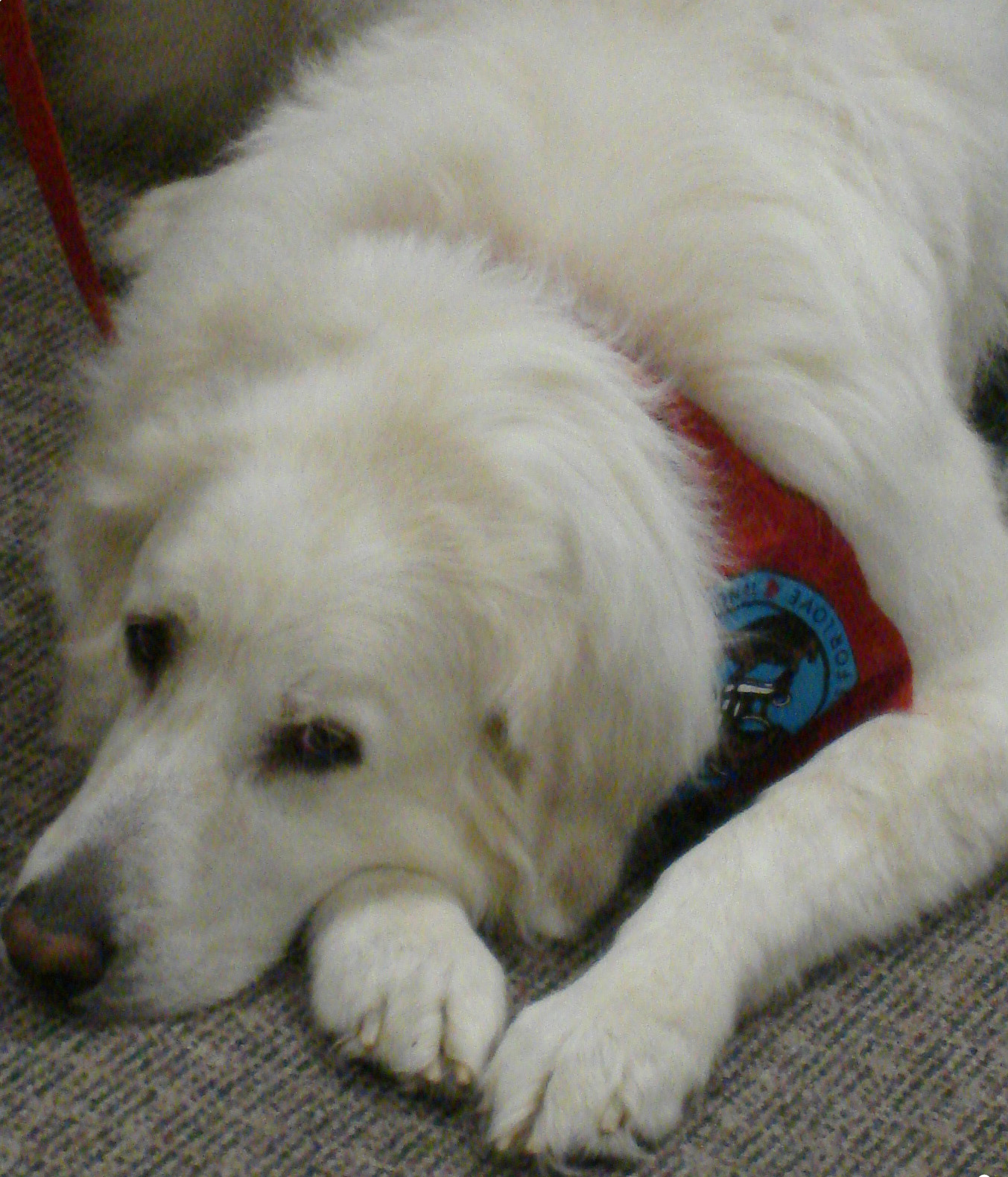 Kaley Patterson
Copy Editor
@KaleyKayPatt
The beginning of the fall semester has been filled with loss for Cameron University.
Vice President for Student Services Jennifer Holland and Associate Vice President of Enrollment Management Jamie Glover will be leaving CU, and Tulip, one of CU's Student Support Services' beloved therapy dogs, has passed away.
Sympathy cards, long hand-written notes and pictures of Tulip cluttered the office door of Director of Student Support Services Doreen Thomas, Tulip's owner.
Tulip was a Great Pyrenees and Thomas rescued from the OKC Shelter. When Thomas found her, she tested positive for heartworm and had also came down with cancer.
"I knew it was going to be impossible for her to get adopted out to the right home," Thomas said. "So I just decided to keep her myself."
Tulip survived the heartworm treatment, and she had her bottom left jaw removed due to the cancer, forcing her to learn how to eat again. Tulip's strength allowed her to encourage others who were going through or had gone through similar situations.
"I would take her to cancer centers and rehab centers where people were either going through cancer treatment because she was a good spokesman of 'Okay, she can survive it, you can survive it,'" Thomas said, "or I would take her to rehab centers where people had lost a limb or something and having to deal with that."
Although Tulip kicked two major ailments, she recently came down with hip dysplasia. Two weeks ago Thomas had to put her down. Tulip was going on 12 years of age and had been a therapy dog at Cameron for two years.
"She was a good spokes-dog to take around and gave people a lot of encouragement," Thomas said. "So she was a survivor, that's for sure. She just couldn't kick the hip dysplasia."
Tulip left behind not only Thomas and those she encouraged but also her friend Lily, also a therapy dog for Cameron. Lily is an eight-year-old Great Pyrenees and, like Tulip, is a rescue dog. Thomas said someone had thrown Lily away, so Thomas rescued her.
"I found her living under a bridge over by my house," Thomas said. "She was very skinny and in very bad shape. I tried to find whom she belonged to. She wasn't micro chipped or anything. After awhile when no one came forward to claim her, I kept her."
Tulip and Lily may have been the same breed, but they both had different personalities. Tulip was more out-going, Thomas said, and she would walk up to people, sniff and greet them. Lily on other hand is more shy and timid, Thomas said.
"Sometimes she [Tulip] would get up and walk around the floor," Thomas said. "Whereas Lily, she'll just stay in here with me all day."
Thomas has recently inherited another dog that will potentially become a therapy dog. He's a miniature schnauzer named Bo, and he belonged to a good friend of Thomas who passed from bone cancer last November.
"No one could take care of him, so I took Bo," Thomas said. "I think he's got the making of becoming a therapy dog, but we will see. Come November he'll be finished with the first part of his training then he has to do his therapy dog certification training. So maybe by January he'll be certified and I can bring him."
Thomas said that it has been hard losing Tulip – for the students, those she encouraged and even Lily.
"She still looks for her," Thomas said. "But I'm hoping with time we'll both get closure."
Aggies lose beloved therapy dog
Tags Kaley Patterson
You may also like...
Sorry - Comments are closed