Sigma Tau Delta: English Awards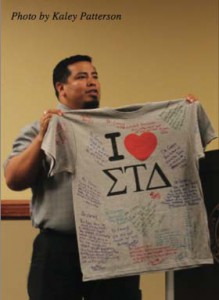 Kaley Patterson
Staff Writer
The Cameron University English department hosted it annual end of the year awards banquet at 6:30 p.m. on April 5 in the CETES Conference Center
Chair of the English and foreign languages department John Hodgson complimented the department on a fantastic year filled
with outstanding writing produced by their students.
The first honors of the night included the induction of the new members to the English
Delta. A student must have completed nine hours in the english department and have a 3.0 English and overall average GPA in order to be considered for the honor society.
The night's initiates were Ashleigh Balog, Amelia Barr, Nicholas Brush, Breanna Holley, Tammy Hornbeck, Sara McLaughlin, Mikayla Riddles, Zoie Timothy, Rose Welch and Whitney Wilding. Sigma Tau Delta
also named next year's officers – Brush (President), Timothy (Vice President) and Rhiannon Poolaw will be Secretary.
Associate Professor for the English and Foreign Language Department Dr. William Carney is the faculty advisor for Sigma Tau Delta.
"It serves to give English majors an opportunity to know each other, to socialize, to become active in the community and to hang out with like-minded people," Carney said.
Along with the initiation, the department also gave out multiple awards and scholarships to students based on their writing and academic achievements.
Professor Emeritus of English Dr. Leigh Holmes presented Rhiannon Poolaw with the Leigh Holmes Prize for Creative Nonfiction for her piece "Roots: Warrior Woven."
Professor of English Dr. John Morris presented the John G. Morris Poetry Prize to three individuals. Rose Welch received first place for her poem, "Nightlife." Brush received third place for his poem "Have
Someone You Hate How To Make A Grilled Cheese Sandwich?" Carson Stringham received third place for his poem "Traveling North on I-83."
Associate Professor Dr. Hardy Jones presented the Matt P. Creative Writing Scholarship Award to Kathleen Guill for her piece "Struggles of the Heart."
Assistant Professor Dr. Bayard Godsave presented the Association of Writers and Writing Program (AWP) Nominees. Sara Rios received honors in fiction for her piece "Hotbox" and non-fiction for "Born to Exist." In poetry, Brush was honored again for his poem "Have You Ever Been So Angry That You Taught Someone You Hate How To Make A Grilled Cheese Sandwich."
Carney recognized those who had participated in internships and student research this past year: Temilade Adelusi, Ashleigh Balog, Breanne Holley, Gilberto Nunez, Rhiannon Poolaw and Kaitlyn Stockton.
There are only three areas the internships and student research are conducted – department study for international students, software development with the Multimedia Department and the City of Lawton, and grant writing. Carney said that next year
the department will be doing all those same things but will also be working with the Salvation Army, the Lawton Food Bank and the Detty Homeless Shelter.
Towards the end, Hodgson recognized the scholarship recipients for the past
Rhiannon Poolaw received the Jessie Mae Hines Language Arts Scholarship. Jessica Ingrum received the Lawton Shakespeare Club English Scholarship, and Lutricia White received the Lawton Shakespeare Club Award. Casey Brown, Abbie Lambert, Cheyenne Madrid and Krista Pylant each received an English Tuition Waiver.
Assistant Professor Dr. Sue Tyrrell presented the OCTE Geraldine Burns Award to LeAnn Williams.
To end the banquet, Hodgson recognized the graduating seniors in attendance. Carson Stringham was among those, but before the night could conclude, he stole the microphone to give a special gift to Carney. Through
the grapevine, Stringham and some other Sigma Tau Delta members heard that Carney would be stepping down as their adviser. Stringham presented Carney with a special Sigma Tau Delta t-shirt covered in signatures and notes praising Carney and bidding him farewell. The honor society also gave Carney a delectable Edible Arrangement.
Carney addressed the rumor and said that he would continue as Sigma Tau Delta's faculty adviser for another semester and that Jones would replace him after he steps down.
"I think it's good to rotate talent through that [Sigma Tau Delta]," Carney said. "The internships are becoming more and more a full-time job for me. I think at this point in time, it's something that I'm interested in. That's where my, if I have any, talents lie."
Tags Featured
You may also like...
Sorry - Comments are closed