Cameron crowns first Mr. CU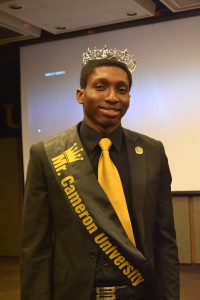 Ekanem Ekpenyong
Staff Writer
At 7 p.m. on April 12 in the Shepler Ballroom, three male contestants competed for the first ever Mr. CU crown. Cameron University's Ebony Society crowned Chemistry Senior Joel Ogan.
Ogan said he decided to take part in the pageant to make history.
"I just thought it
was something fun
to compete in," he
said, "plus it was the
first time it was ever
done on campus, so I
wanted to be among one of the first set people to participate, and to just gain some experience from being part of a pageant."
The contestants for the pageant included Owen Sesser, a junior majoring in history, Charles Webber, a senior majoring in Chemistry and Joel Ogan.
The theme of the event was "The Distinguished Gentlemen," as the competitors were taking part in something they were not familiar with.
Karyn Clashing-O'Reilly, the mistress of the ceremony said that all the contestants worked very hard to make the event possible, and would be judged based on three criteria: talent, onstage question and fitness wear and formal wear.
Ebony society member Ja'lyn Yarborough performed a special spoken word piece for the event.
Sonia Chukwudozie, former Miss Black CU and emcee of the event introduced the judges.
The judges for the event were Cameron Communication graduate Ashley Del Ciello, Jeff Larson, Cameron University's Video Media manager and Kim Garner, Producer and Host of "Let's Talk," a Cameron University's student entertainment Television show.
After the contestants introduced themselves and walked in their fitness and formal wear, they were invited individually to draw a question.
Ebony Society Vice president and Mr. CU event coordinator Morgan Thompson said that the event was to create an opportunity for the guys to show their talents.
"After Miss Black CU, a lot of guys were asking us about Mr. CU," Thompson said, "So we decided to put on Mr. CU so the guys could show off their talents and some of the abilities."
Thompson said the contest was also geared towards giving the winning contestant a cash prize.
The prize for winning was a $200 cash gift and the position of being Cameron's first Mr. CU.
Ogan said he was happy to win the pageant because he competed with two other qualified contestants.
"It's a pretty intense feeling," he said," I am happy and overwhelmed at the same time. I am glad I won. Its not about winning because I had great competitors, congratulations to them too because they put great effort into doing everything."
Ogan said although he has no plans for the money yet, he is proud of being part of starting out a legacy for the next Mr. CU and looks forward to giving the Ebony society support with future Mr. CU events.
Thompson said she was very pleased with the turn out and support on their first Mr. CU pageant, and the Ebony society hopes to host a Mr. CU pageant annually.
Tags Featured
You may also like...
Sorry - Comments are closed