Art student showcase final display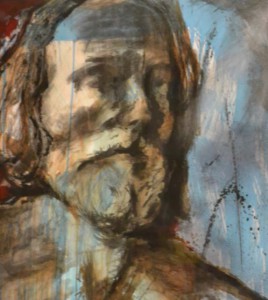 Kaitlyn Stockton
Copy Editor
Cameron University's Suny Stanfield and 18 other senior art majors exhibited their artwork in the Thesosophia Senior Art Exhibition. From 6:30 – 9:30 p.m., CU students welcomed the public on April 5 to the show's opening night at the Museum of the Great Plains.
Stanfield, a Fine Arts major with a concentration in graphic design, said the exhibition is unique as her class consists of students with a variety of concentrations from painting to printmaking to graphic design.
"It is a celebration of learning," she said. "We are dedicating the show to our willingness to expand our knowledge."
While her fellow seniors worked on separate tasks for the show, Stanfield created the designs for the poster and postcards for Theosophia.
"I jumped into the design part of it," Stanfield said. "For two weeks, I was constantly working on it. I was averaging four hours of sleep a night. I don't know how many times I have reconstructed the thing."
Stanfield said she has traveled far to find the field that she loves, moving from Biology to Computer Science, before finally finding her home.
"A long time ago I took a painting class, so I thought 'why not try art again?' I didn't know what I wanted to be," she said. "I went to the Art Department and found out we had a graphic design program. The next thing you know, I fell in love with it."
Stanfield's exhibition featured a range of styles and mediums, that included graphic design pieces as well as a mixture of sculptures and other traditional forms.
"I treat it like a study," she said. "I try to use different mediums. I try to fuse styles. I try off-color schemes that most people won't use. It turns out to be quite beautiful and people can see there is a fine arts perspective in graphic design."
For Stanfield, her favorite mediums lie in opposing worlds. While the artist said she loves creating artwork by hand drawing her pieces in Illustrator, the charcoal-lover also uses her favorite traditional medium in many pieces including her self-portrait.
"You get messy. It's frustrating, but you can produce some beautiful work," she said. "I got lost in it. You can see every crease and every gradation. I think I spent at least three or four hours on each finger."
According to Stanfield, the inspiration for her artwork changes often. While she created her favorite piece "Korean Travels" with her mother's country in mind, her emotions transform many of her other works.
"My emotions are a huge drive when it comes to me," Stanfield said. "My self-portrait is quite sad. I was depressed at the time. It was my escape, my way to escape reality. I was inspired to draw. Each one has their one specific meaning. If I am not into it, you can tell."
After her graduation, the artist hopes to move closer to her heritage.
"I want to move to the west coast," she said. "I always wanted to go to San Francisco or Los Angeles, some city in between Korea and here. I am looking for corporate jobs to do graphic design."
The artist believes everyone should keep an open mind as she found her true passion by doing so.
"Don't close your mind because you never know what is going to inspire you," Stanfield said. "I kept my mind open, and I am now in a field that I really enjoy. I can start a project and next thing you know, it is 13 hours later. It's what happens when you love what you are doing."
Stanfield's art and her fellow senior artists' work will remain on display the Museum of the Great Plains' Theosophia exhibition until May 4.
Tags Featured
You may also like...
Sorry - Comments are closed