Twitter connects CU: Unconventional bridging of the gap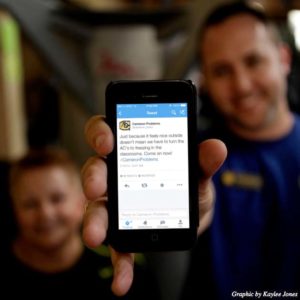 Ekanem Ekpenyong
Newswriting Student
Twitter accounts have created a way for CU students to express themselves about affairs they find annoying or irritating as well as Cameron jokes.
Several Twitter handles — such as Cameron Problems and the Geese of Cameron — have been created by anonymous individuals to educe responses from students. These individuals post identifiable tweets and inside jokes unique to CU.
The tweets on these pages have been favorited and retweeted by students who can relate to the issues or stories being told, and have even gained more popularity through the use of hashtags.
Cameron Problems is an account dedicated to talking about issues and comical moments seen on campus.  These issues range from late responses from the University's maintenance department, to frustration about grades being posted late. The account also tweets anonymous confessions Cameron students send privately through direct messaging to the Cameron Problems account holder.
Tweets from the account include dissatisfaction with the Cameron Public Safety Department, uncomfortable classroom temperatures, complaints about the University's lack of a football team, irritation towards early morning fire alarms in the dorms, and so on.
Overall, the Cameron Problem page has students tweeting and expressing their worries or relatable vexations about certain problems.
Damola Ogunmade, a sophomore Business major said she has favorited a couple of tweets by Cameron Problems because of the relatable content.
"I like the tweets," she said, "because it shows me that I am not alone in the way I feel about certain things on campus."
Ogunmade also said she is thankful for the page because it is a way of bringing Cameron students together through similarly shared jokes and problems.
The second page, the Geese of Cameron University, has been created for the frequently seen geese around campus. In the bio, the Cameron Geese clearly state, "Irritating students in CU is our main goal in life."
Bola Adebayo, a senior Biology Major said she found it hilarious when she saw that the geese at Cameron actually have a twitter page.
"I was weak, like wow, seriously? [Who] does not have a twitter account these days?" she said. "But I still followed the page because I found it interestingly funny."
The account looks at the world through the eyes of the geese at Cameron. Even though the number of followers for the Geese of Cameron is not as high as that of the Cameron problems account, it does get retweets from students as well.
Janet Williams, the University's Director of Media Relations said Cameron University has no control over unofficial Cameron sites and pages.
"The University is aware that non-official Cameron sites/pages exists on social media such as Facebook, Twitter, etc.," Williams said. "Cameron personnel have no control over these sites, nor do we monitor them on a regular basis."
Twitter did not only pave a way only for Cameron University students to vent their frustrations, but also for students to get help with their future careers, updates, alerts and status information.
Pages like Cameron ITS HelpDesk, Cameron Housing, Career Services and Cameron Library were created to support Cameron University Students and Alumni in different ways.
[vimeo]https://vimeo.com/88808269[/vimeo]
Tags Featured
You may also like...
Sorry - Comments are closed