Cameron Debate team dominates state competition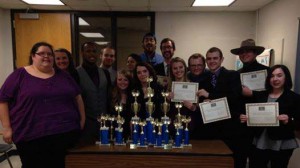 Kaley Patterson
Staff Writer
On Feb. 21, the Cameron University Forensics team traveled to Oklahoma City University to compete against 17 schools from four different states in the Oklahoma Intercollegiate Forensics Association Tournament.
Director of Forensics Sarah Collins said, in the past, the competition had only been open to universities in the state of Oklahoma. However, in the last three or four years, the tournament opened up to other states to allow more schools to compete in order for a competition to count.
Collins said this year's tournament had the largest number of schools. Students from Oklahoma, Texas, Missouri and Kansas entered the competition.
"We competed in all the different individual events," Collins said. "The team had an incredible weekend."
According to Collins, the Cameron team received State Champion in two Sweepstakes categories. State Champion means a team or individual received first place. Sweepstakes categories consider how all the students on the team performed compared to other teams.
Cameron won first in Debate Sweepstakes and Combined Sweepstakes, which are individual events and debate combined. Cameron also won Tournament Champion in Overall Sweepstakes, beating out the University of Oklahoma, Wiley College and Kansas Wesleyan University.
Collins said many CU students won State Champion in their individual events: freshman Danny McQuarters in the Lincoln Douglas debate, senior Skylar Williams in Impromptu Speaking, freshman Curry Coleman in Dramatic Interpretation and freshman Johnathan Good in After Dinner Speaking.
Good also earned State Champion in Duo Interpretation along with freshman Savanna Sanders. Junior Katelynn Wright received State Champion for Informative Speaker, placed sixth in Extemporaneous Speaking and won second in Pentathon (Individual Student Sweepstakes).
"It's a very, very young team," Collins said. "For them to be able to do that, it was a very successful weekend."
Many other Cameron teams found success. The team of junior Steven Haber and freshman Savannah Price made it to the elite eight round in Parliamentary Debate. Haber and Price are both in their first year of college competition. Price was named fifth place speaker in Parliamentary Debate. The team of junior Zakariya Rajpari and Williams made it to the final four round in the same category.
"I just do [debate] because I love the activity," Rajpari said. "That's why I do the camp in the summer. That's why I coach high school teams. I just really like debate, and I like what it's done for me and my career and education."
Rajpari also reached the elite eight round in the Lincoln Douglas Debate along with first semester competitor sophomore Diana Reyes. In the same debate, junior Nick Pasternak took fourth place speaker, and freshman Amber Smith received sixth place. Sophomore Kynzie Pierce traveled with the team and contributed to the team's Sweepstakes awards.
Collins said this time last year, there were only three students on the team. This year, 14 students represented Cameron, the majority of them in their first or second year of college competition.
"To win first in the state is a huge accomplishment for this group and a testament to their hard work and dedication in the last several weeks," Collins said. "We've worked incredibly hard preparing for the state tournament, and it paid off. I couldn't be more proud of them."
Over spring break, the Cameron Forensics team will travel for 12 days straight to compete at two more competitions. Their first stop will be Hutchinson, Kan. for JV Nationals, where students who are in their first or second year of competition will compete. Four of Cameron's students will participate.
The team's second stop will be in Indianapolis, Ind. for the Phi Kappa Delta National Tournament, where the entire Cameron Forensics team will compete.
Tags Featured
You may also like...
Sorry - Comments are closed