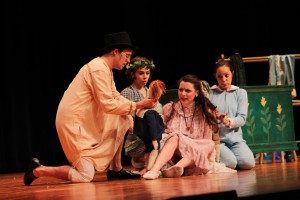 Kaley Patterson
Staff Writer
On Feb. 7, the touring company Theatreworks USA made a stop at Lawton's McMahon Memorial Auditorium to perform a production of "Peter Pan."
The City of Lawton, The Lawton Arts and Humanities Counsel, the National Endowment for the Arts and the McMahon Auditorium Authority sponsored the event.
Theatreworks USA is a company from New York, NY. Its mission "is to create, produce and provide access to professional theatre for young and family audiences nationwide, including disadvantaged youth and under-served communities."
"Peter Pan" is about a boy who never wants to grow up. He lives in a place called Neverland, which is "the first star to the right and straight on to morning!" Wendy, John and Michael are three siblings who encounter Pan in their room one night. Pan was looking for his shadow with his fairy, Tinker Bell. Pan convinces Wendy, John and Michael to come to Neverland with him. With a happy thought and a little pit of pixie dust, they're off to Neverland. While in this new land, the kids encounter Pan's adversary Captain Hook and his sidekick Smee.
Rafi Levavy is the stage manager for "Peter Pan." He has been with the company for 12 years and on tour with 20 productions. This is his third time to tour with the show.
"Theatreworks does excellent shows that are great for adults and kids," Levavy said.
Levavy admitted to attending other Theatrework shows that he is not involved in simply because he enjoys them. He said often times Broadway talent write Theatreworks productions, including Kevin Del Aguila.
The stage manager said he has enjoyed his experience with this current tour of "Peter Pan" and has a great group of actors.
"We're all New York professional theatre folk," said Levavy. "[The actors] are relatively young; most of them are in their twenties. They're all professional actors."
Theatreworks' production of "Peter Pan" had only six cast actors. Some of the characters played two parts. Jack Herholdt played not only Mr. Darling but also Hook. Mary C. Davis played Mrs. Darling and Hook's sidekick, Smee. Ethan Spell played John and a puppeteer for one of Pan's lost boys. Spell also dressed up as Hook's greatest fear, the ticking crocodile. Jennifer Margulis played Michael and a puppeteer for a lost boy.  Anna Stefanic played Nana, the dog nurse to Wendy, Michael and John. Stefanic also played Peter Pan with Patti-Lee Meringo as Wendy.
The cast not only had to switch between roles, but also did their own set changes. The story starts in Wendy, John and Michaels' room. When Pan arrives, the children receive their pixie dust and begin to fly. The actors had dolls and stuffed animals to represent them. When they began to fly, they would lift them up in the air and run about the stage. The production allowed children and adults to use their imagination.
Right before the audience's eyes, the actors changed the stage to their destination of Neverland. Pan intended for Wendy to be his and the lost boys' mother. He wanted her to read them stories. Captain Hook soon found out about Pan's new mother and decided that he wanted her as his own.
Hook and Smee kidnapped Wendy, John, Michael and the lost boys. The change to Hook's ship, complete with  a big blue sail. Pan came to the rescue, fought Hook off with an umbrella and knocked Hook off his own ship and into the mouth of the ticking crocodile. Then, Pan returned Wendy, John and Michael to their parents. Beause he refused to grow up, he said his goodbyes.
After the Lawton performance, Theatreworks's production of "Peter Pan" will head to the West Coast to wrap up its tour.
If students are interested in Theatreworks USA, they can find more information at theatreworksusa.org.