Outstanding Aggie of Tomorrow: Kicking axe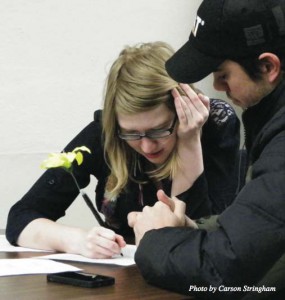 Carson Stringham
Staff Writer
Cameron University recently started taking nominations for the Alumni Association's two "Outstanding Aggie of Tomorrow" Awards.
Started in 2009, Jennifer McGrail, Director of Alumni Relations, said the Alumni Association gives a number of awards out as part of Homecoming. She said the award recognizes two outstanding alumni under the age of 40 who best exepmlify what it means to be a Cameron Aggie.
The Alumni Association will recognize the winner at the Aggie Family and Friends Awards Lunch on March 1, 2014.
McGrail said, "What we realized over the years is that we have students who were doing exceptional things and representing the Aggie spirit really well while here at Cameron, but the Alumni Association didn't have the means to recognize that initiative in our students."
To fix that problem, the Alumni Association created the Outstanding Aggie of Tomorrow Award.
McGrail said the criteria for this year's nominations were much more flexible: in the past, there had to be a male and female junior winner and a male and female senior winner. This year, there will be a minimum of two winners, but gender and classification no longer matter.
McGrail said the Alumni Association hopes that by changing the nomination criteria there will be an increase in the number of submissions.
"The Alumni Association takes nominations for the awards from Cameron faculty and staff only because they are the ones who interact daily with the students," McGrail said.
Once the cutoff for submissions has been reached – this year it was Jan. 27 – a committee comprised of at least two Cameron Faculty/Staff members, one alumnus or alumna and one representative appointed by the Alumni Relations Office will sort through the nominations and pick the winners.
While nominations are allowed to be submitted by individual members of the faculty and staff, the English and Foreign Languages Department decided to pick one woman in particular to be its champion: Kaitlyn Stockton.
Stockton is a senior English major, with a focus in Literature, and Journalism minor. Her academic achievements on campus include being a member and officer of the English Honors Society Sigma Tau Delta; an English tutor in the Center for Writers; Copy Editor and Staff Writer for the "Collegian"; a member of the Interdisciplinary Honors Society Phi Kappa Phi and Freshman Honors Society Phi Eta Sigma.
She has been nominated for the "Who's Who Among Students in American Colleges" Award and has participated in numerous technical writing internships on campus, including being a technical writer/editor for the Computing and Technology Department for the past two years.
As part of her work with the Computing and Technology Department, Stockton has helped the Lawton Police Department's Gang Unit create a database to track local gang members and their associates.
Off campus, Stockton continues to flex her journalistic muscle by working as a Staff Writer for "OKIE Magazine."
Stockton said she was surprised by her nomination for the award, but feels a sense of satisfaction in knowing what the award stands for.
"I wasn't very involved in first two years here at Cameron," she said, "so it's really amazing for me to look back and see how I have grown and what I have accomplished in such a short amount of time."
She said she also feels honored to be chosen by the English and Foreign Languages Department because it illustrates her professors' acknowledgement of her hard work.
"The English Department is like my family, so to have them nominate me feels awesome," Stockton said. "To know that my professors and my boss think I am worthy of the award makes me feel like I am doing a good job here at Cameron."
Tags Featured
You may also like...