CU hires new volleyball coach. Aggies hopeful for upcoming season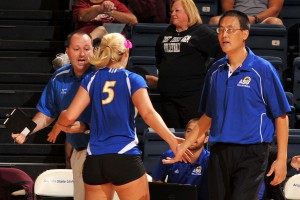 CU Sports Information
LAWTON, Okla. – Qi Wang (pronounced CHEE Wong) has been named the 12th Head Volleyball Coach at Cameron University announced today by Athletic Director Jim Jackson.
"This was an important hire for us, as all of them are but when we go into a national search we try to find the best candidate possible and the best coach possible that fits into our system," said Jackson. "We are very fortunate to find Coach Wang; he has Division II experience, head coaching experience, and assistant coaching experience. Coach Wang has been extremely successful throughout his coaching career, and on top of that he knows the Lone Star Conference after being at Angelo State the past four seasons."
"We are blessed; we are fortunate, and very pleased that he was available to be our volleyball coach.  I look forward to him getting relocated here, getting started, and rebuilding our program back to the top of the Lone Star Conference where it belongs," added Jackson.
When the Aggies step onto the floor this fall, Wang will be inside the top-50 nationally in active coaching victories and in winning percentage. Wang has also reached the NCAA Division II National Championship Game in 2002 and 2004, and was National Coach of the Year in 2002.
Wang has over 400 coaching victories and seven NCAA Tournament appearances in 17 years as an assistant and head coach at the Division II level.
After four seasons at Angelo State, Wang was the program's number-one assistant and helped the Rambelles archive over 100 wins, a Lone Star Conference regular season title, and three NCAA South-Central Regional berths.
Prior to his four years at ASU, Wang led Florida Tech (2007-08) to 21-12 and 20-14 records in his two seasons from the school's previous season record of 2-31. He marched Tech to an 11-0 start in 2007, and tied the school record for wins (21) overall.
Wang also spent two winning seasons at Northern Michigan (2005-06) after an impressive eight year stay at Truman State (1997-2004) splitting his time as both assistant and head coach.
During his tenure at Truman, Wang was 133-17 (.887) overall and led the Bulldogs to three MIAA regular-season crowns, two MIAA tournament championships and three South Central Regional titles. Under his leadership, Truman advanced to the NCAA II Elite Eight three times and played in the championship match twice.
In 2004, Wang led the Bulldogs to a program best 37-1 record, with the team's only loss coming in the championship game; he was also awarded AVCA South Central Regional Coach of the Year accolade three times in 2001, 2003 and 2004.
Wang has coached eight All-Americans including two first-team members. Sarah Shearman, the 2003 AVCA National Freshman of the Year was one of his recruits and stand-out student-athletes. In four years as the head coach at Truman, 12 of Wang's players earned all-region honors, while also capturing 24 all-conference awards. Twice, he had a player named the MIAA Most Valuable Player, while also coaching two players to the MIAA Freshman of the Year award.
Wang earned his undergraduate degree in sports science with a specialization in volleyball from Beijing Sports University of China in 1983. He continued on, earning a master's degree at Beijing in teaching theory and methods in volleyball in 1987. Wang also played volleyball collegiately and on China's elite professional level. Wang came the United States and earned his second post-graduate degree at Eastern New Mexico University in 1997, receiving a master's degree in the coaching of sports.
He has published and presented more than 20 scholastic and scientific papers relating to volleyball, sports science and physical education in leading Chinese and international professional journals and at conferences. Wang had articles published in Volleyball and Science which has been recognized as one of the most valuable training guides.
Tags Featured
You may also like...