Aggies shadow future careers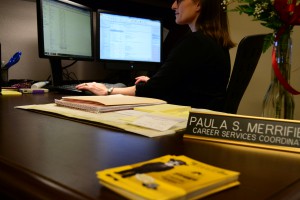 Kaitlyn Stockton
Copy Editor
Twenty-three Cameron University students will soon be venturing into the real world.
CU's Take an Aggie to Work Day has returned for its fifth year to provide students with the opportunity to spend a day in the life of their future career. After a reception at 2:30 p.m. on Jan. 31, students will visit and network with local businesses during the first week of February.
Career Services Coordinator for Career Services Paula Merrifield said she is excited to host Take an Aggie to Work Day for the first time. Although Merrifield is new to Cameron, she is interested in continuing the mission of the event.
"Take an Aggie to Work Day is for students to job shadow in a field of their choice to gain hands-on experience in a profession," Merrifield said. "It is the next best thing besides an actual internship."
However, the event offers more than experience. Through this program, students have the chance to connect with future employers.
"They get to apply the knowledge that they have learned in their classes. They also may be able to eliminate a profession. They have networking opportunities and may even get hired eventually."
Director of Student Development Dr. Jennifer Pruchnicki is assisting Merrifield in her first program. She said Take an Aggie to Work Day is held in February to coincide with Groundhog Day. Just as the groundhog sees his shadow, the mentors will also find shadows following them throughout the day.
"We started this back in 2009 as a way to give students a taste of a main course, a sample before they take on a career," Pruchnicki said. "Hopefully, we will get everyone kick-started on thinking about their careers."
Merrifield plans to make this year's event the best by far by allowing more time for Career Services to connect with local businesses and organizations. The new coordinator also intends to contact local media outlets for coverage of the students' day.
"[Merrifield] knows a lot about it without ever having to see it. She has been really working hard on it," Pruchnicki said. "This year, we had the deadlines for applications due sooner so that we could take some more time to match them with businesses."
Before students are sent into the real world, Merrifield and Pruchnicki plan to prep students with tips on how to "wow" their mentors and even receive possible job offers. The participants will then meet their advisers in a reception titled "Me and My Shadow."
"We invite the businesses to come out to meet with their shadows. This gives them the time to let [the students] know anything they need to prepare for the day," Pruchnicki said. "I feel like this gives the mentors and students the opportunity to meet and discuss what the day is going to look like instead of just throwing them into the job."
The women currently have 23 students interested in a range of careers from a retail pharmacist to a mortician.
"Our requests vary," Merrifield said. "We have marketing. We have medical. We have graphic design. We even have higher education."
Both Merrifield and Pruchnicki advise students to take advantage of the opportunities Cameron offers.
"I didn't have this opportunity as a student, and there weren't a lot of internships," Merrifield said. "Cameron is working very hard to provide more learning opportunities, Capstone projects, internships, and job shadowing events. We are trying to prepare students for the transitions into careers as well as exploring their majors and what they want to do."
Career Services will also hold its annual Red River Career Expo on Feb. 20 to provide students with even more chances to meet with community leaders and experts in their fields of study.
"In the real world, you are not going to have everything presented to you so neatly," Pruchnicki said. "You are going to have to seek out opportunities for yourself."
You may also like...