Alpha Kappa Alpha celebrates sisters in style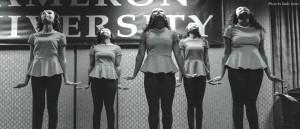 Kaitlyn Stockton
Copy Editor
On Nov. 22, the Alpha Kappa Alpha sorority hosted its Neophyte Coming Out Show at 6:08 p.m. in the Shepler Ballroom. The evening allowed the newest members of the sorority to ceremoniously reveal their transformations from initiates into official sisters.
According to Ifeoluwa Egbeyemi – the president of the Xi Iota chapter of Alpha Kappa Alpha sorority – a neophyte refers to a new member joining a sorority. The sorority has not held an event similar to this in years. Egbeyemi, herself, did not receive such an opportunity when she joined and thought it was time to celebrate her new sisters in style.
"We had a coming out show to reveal all our new members to the Cameron University community," she said. "The event was just about greeting other divine nine fraternities and sororities and also greeting the chapter members that were present."
The show started by having the five neophytes sing and march from South Shepler into the Shepler Ballroom. All dolled up in pink, the new members wore masks while they greeted fellow CU students, members of the sororities and fraternities on campus and alumna Alpha Kappa Alpha sisters. The five new sisters then performed a dance for the audience until it was time for their reveals.
"It was amazing the first time they took off their masks during the show because now they were able to reveal themselves as sorority members to their friends and their families," she said.
Senior Jamie Hatcher – a new member of Alpha Kappa Alpha – said she enjoyed the opportunity to remove her mask in order for her family and friends to see her after her initiation and transformation.
"I felt like a new person," Hatcher said. "I felt like someone new, someone better."
While the show required hours of time and effort for the five new girls, Hatcher said it was all worth it to join her sisters.
"There were times in the rehearsals where it got stressful, but it was all worth it. I can't wait to see what Alpha Kappa Alpha has next," Hatcher said.
After the performance, the women posed for pictures and took part in the after party – the Ivy Takeover. In both events, the five neophytes joined their sisters as official members of Alpha Kappa Alpha.
Egbeyemi said she recommends for women to consider joining the sorority. Besides offering students opportunities for extracurricular activities and more, the sorority's members focus on the importance of education.
"Every intelligent and goal oriented female student of Cameron University should be interested and excited about joining the sorority because we put academics first which is what we all, as students, are here for."
While its members prides themselves on their dedication to their studies, their sisterhood promotes participating in community projects in order to provide service to man and womankind.
"Our interest in college life and building amazing relationships between college women, in alleviating problems concerning young girls and in being of service to all people makes us different from other organizations on campus," Egbeyemi said.
Tags Featured
You may also like...