Enactus: showing passion through action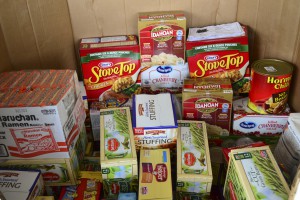 Kaylee Jones
Assistant Managing Editor
Cameron's Enactus recently demonstrated their motto "passion in action," holding a food drive from 10 a.m. to 6 p.m. on Oct. 26 and 27 at Sam's Club.
The food drive is the first Enactus has held for the 2013-2014 academic year.
Enactus members Tony Rapalo, a freshman Biology major, and Sheniqia Haynes, a senior Biology major, greeted shoppers at the front door and informed them of the drop boxes by the exit.
On the other side of Sam's Club, Enactus' Project Manager for food drives, Brian Sibley, watched over two large boxes, where community members had nearly filled one box with donations.
Medicine Park residents Susan May and her husband, Lewis Litwack, were out for some afternoon shopping when they were handed a flyer about the food drive.
"I think it is a nice way to uphold your community and show that they have your support," May said, after donating several boxes of food. "Not everybody is in a good situation, and if everybody could do their part and do a little to help, then it's a wonderful thing."
After two days, the Lawton Food Bank picked up the donations and weighed them.
Enactus collected 1,484 pounds of food along with $576 in cash donations.
The food drive was the first of three events scheduled for the month of October, followed immediately on the 28th by "Kindness Week 3."
"[Enactus] is about taking an entrepreneurial point of view and really helping people," Haynes explained. "Our motto is 'passion in action,' so we do random acts of kindness: washing windshields, opening doors for people, giving out Gatorade at the Rec Center. It's just about being nice to people. Everyone needs a smile every now and then."
Haynes said her teacher Dr. Theresa Billiot encouraged her to join Enactus.
Billiot, CU's Assistant Professor of Marketing, acts as the faculty adviser for Enactus.
Recruited from his Intro to University Life class by Enactus President Jenna Mercer, Rapalo added: "To me, Enactus is an organization that wants to help and better the community and wants to make it a better place for different people and all people."
The name, broken down en-act-us, stands for entrepreneurial – "having the perspective to see an opportunity and the talent to create value from that opportunity," action – "the willingness to do something and the commitment to see it through even when the outcome is not guaranteed" and us – "a group of people who see themselves connected in some important way; individuals that are part of a greater whole."
According to their website, Enactus is "an international organization that brings together student, academic and business leaders who are committed to using the power of entrepreneurial action to enable progress around the world."
Sixty-two thousand students currently participate in Enactus programs around the world. Cameron is one of 1,600 universities to host their own Enactus team.
Students interested in joining can attend Enactus' monthly meetings, posted on its Facebook page at CU Enactus.
The next food drive held by Enactus will take place on Nov. 16 and 17, followed by another on Dec. 14 and 15.
Tags Featured
You may also like...