Biology Club spooks spirit into students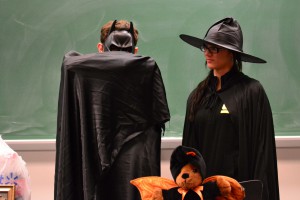 Sadie Jones
A&E Editor
Cameron University's Biology Club kicked-off their Halloween festivities early with board games, refreshments, music and a costume contest at 6 p.m. Oct. 28 in the Science Complex.
Senior Biology major and Biology Club President, Samantha Ristedt and Treasurer Aaron Bevington organized the event and encouraged all Cameron students to attend.
"The party is open to everyone," Ristedt said. "Originally, this was supposed to be a game night, but since it's just a few days before Halloween, we decided to include a Halloween theme and costume contest to make it more fun."
The idea for a Biology Club Halloween party began two years ago.
"We had a meeting a few years ago that took place the day after Halloween," Ristedt said. "So for the meeting we all came dressed up and had a costume contest — that is really where this idea came from — we wanted to do something fun like that again."
The party took place in classrooms on the first floor of the Science Complex.
The first room Ristedt decorated was the "Mourning" room. The classroom was filled with haunting antique photos as well as black tablecloths and candles to give it an eerie feel. This would be where students played games and had refreshments.
The second classroom was the "Voodoo" room and was decorated with candles, fake body parts and a dressed up skeleton.
"We mainly borrowed decorations from the MCC, so most of this is their stuff," Ristedt said. "And we were allowed to borrow decorations from the Science Complex as well, so Erin and I used whatever we could find."
After students had refreshments and viewed everyone's costumes — the games began.
"We have several different board games," Ristedt said. "We have a Big Bang Theory and NCIS Trivial game, Apples to Apples, card games and old-school video games that we're going to play."
Ristedt said the get-together is a great way for Biology Club members — as well as non-members — to get together, have fun and to take a break from their regular meetings.
This semester, Ristedt said she has been pleased with students' willingness to be involved with the Biology Club
"We've had great attendance from students this year," Ristedt said. "The officers and I have been pretty happy and excited with the number of people who show up for the meetings and events we have."
Ristedt said the organization's events are varied throughout the year. The Biology Club includes weekly meetings with activities and guest speakers as well as convention trips.
To be a member of the Biology Club, students pay a $5 fee. Meetings are held at noon every Friday in room 105 of the Science Complex.
You may also like...