Aggie Madness: slam dunk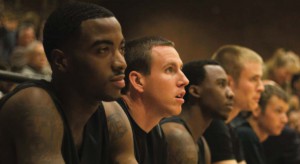 Kali Robinson
Sports Editor
Cameron basketball fans filled the bleachers at 7 p.m. Monday Oct. 26th in the Aggie Gym.
Guests were greeted with free pizza and raffle tickets to participate in the mini games for prizes.
Nate Gamet, men's basketball coach, has organized this event since it began.
"It's a great time for our fans to get out, see some of the athleticism that we have and see some of the excitement we will be able to bring to each and every game."
Court lights dimmed and conversations died down as the announcer introduced the 2013-2014 men and women's basketball teams. Players ran out when their names were called and threw shirts and other prizes into "one of the best crowds we've ever seen," Gamet said.
"We had a lot of good prizes to throw out. There were a lot of good things about it."
The event, which occurs at the begining of every Aggie basketball season, features everything from a dunking contest to musical chairs on the court for prizes to a men vs. women dance contest.
Ted Owens, coach with the most wins in basketball at the University of Kansas from 1964-1983, stayed to help judge the dunking contest.
Fans cheered "One more try!" as Charles Joy (Chuck), small forward, prepared for his last dunk.
He backed up to the rail of the bleachers as fans grew louder. Joy ran jumped and slammed the ball through the net.
[vimeo]https://vimeo.com/78012771[/vimeo]
Players practiced layups between games and prepared for the men vs. women's dance contest.
The women, who went first, walked out onto the court and lined up facing away from the audience. The Lady Aggies played "What does the fox say?" and jumped out of line one at a time to do a dance, then all jumped around flailing their arms in unison. They grouped in a circle and fell to the ground to the beat. Fans and students cheered.
Team members got up and marched off of the court. Next, the men's team walked out. The first three who were in the middle sang a slower song, then the rest walked in.
They slow danced to a country song as the crowd laughed, then did a group performance and fell to the ground in unison at the end. The announcer asked the audience to cheer for the team they think did the best, and the men won the contest.
Players handed out prizes and thanked everyone for coming. Students filtered out as a few stayed for the women's basketball practice.
The men's basketbasketball team will play their first game at home Nov. 8th at 6 p.m. against Oklahoma Panhandle. The women's team will play OU in Norman on Nov. 2nd at 7 p.m.
[vimeo]https://vimeo.com/78015653[/vimeo]
You may also like...