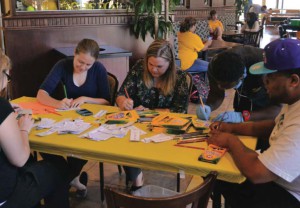 Casey Brown
Staff Writer
Cameron University students used colored pencils and other art supplies to brighten the days of many children at the "Get Crafty with Your Service" event from 11 a.m. to 2 p.m. on Sept. 24 in the MCC.
Sponsored by Student Activities, this month's event was to color bookmarks for local elementary students.
Student Activities Specialists Leslie Cothren and Megan Canfield hosted the event.
"You can color a bookmark, and we will donate it to a local elementary school to encourage the wee ones to read," Cothren said.
Cothren said she came up with the idea from her coworker's suggestions. She looks for events that take some time and effort.
Next month's event will consist of writing Christmas cards for military veterans. The following month students will "get crafty" by making hats and scarves without knitting or sewing.
Students who participate in the "Get Crafty with Your Service" events earn points for any student organizations that they are involved with.
Cothren said that she wants students to be able to devote time to the community in between their busy school schedules.
"I like projects that are stop-by projects, the ones that take a little bit of time for students but not too much. For this event, I printed designs from online on cardstock," Cothren said.
Tevin Rhodan and Roseanna Hamilton are two students who donated their time to the cause.
Rhodan, a sophomore Sports Fitness and Management major, participated in the event because he likes to help.
"I realized it was for a good cause because what kid reads without a bookmark," Rhodan said. "It was excellent to color a bookmark."
Hamilton brought her experiences with color as an Art major to the table.
"I saw my friends here coloring and saw it as an opportunity to be creative," Hamilton said. "I like to help. I think that it is a great idea because I think we need to inspire children at all times, and art is a great way to do that."
Hamilton, a senior, said that as a child, she read a lot. She likes the idea of mixing community service with creativity and was reminded of how she received bookmarks as a child.
"When I was younger, I read and got bookmarks as rewards," Hamilton said.
Cothren enjoys bringing together freshmen, sophmores, juniors and seniors from different departments for community service.
"Students keep you on your toes," she said. "I like to see them grow from the time they are freshmen. [This job] is different every day."