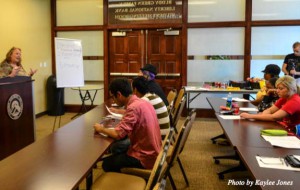 Kaylee Jones
Assistant Managing Editor
Jill Melrose, Director of Cameron University's Student Wellness Center, knows how to manage conflict.
As part of the CU Succeed lecture series for the fall, Melrose spoke over conflict management at 11 a.m. on Sept. 18 in the Buddy Green Room.
The CU Succeed workshop was held with the standard refreshments and a raffle.
Taylor Thompson, CU's Director of Diversity Affairs, and Suncha Baptiste, a Cameron grad student, directed students to sign in before taking a seat.
The room filled, save for a couple of seats, before the lecture started.
"When we talk about conflict management, what we're talking about is communicating," Melrose explained. "I've worked in the mental health field for 23 years, so I've dealt with lots and lots of conflict."
Melrose received her masters in psychology and is a licensed professional counselor.
When it comes to dealing with conflict, "I'm kind of an expert," Melrose joked. "Ask my husband."
Melrose distributed handouts around the room as she spoke, asking students if they thought themselves to be good communicators.
"What I want you to think about today is the way you verbally fight," Melrose said.  "Most of us learn how to verbally argue and fight by our families; we learn by example."
While there was not a lot of audience participation at the beginning, as Melrose spoke, more students began raising their hands and providing feedback to her questions as the lecture continued.
Taking to her whiteboard, Melrose explained the three types of communicators: aggressive, assertive and passive.
She then asked students to envision which type of communicator they each play in conflict situations, with aggressive and passive both being bad, and assertive being the best form of communication to use.
"When we're talking about emotions," Melrose said, "the passive person is just not dealing with their emotions at all, the aggressive person has been letting their emotions rule the argument, so the assertive person is the one rising up against all the emotions and talking on a rational level."
Referring to her handouts, Melrose covered some roadblocks to communication, the difference between "I" and "you" messages, "feeling" vocabulary and active listening techniques, in addition to the three types of communication.
After reviewing her materials, Melrose advised students experiencing conflict to: "Weigh the benefits. Relax and rehearse. Don't over-apologize or over-explain. Don't get sidetracked and don't let your partner get sidetracked either. Keep the goal in mind, and focus on the behaviors, not the person."
Melrose stressed the importance of learning conflict management skills as a student.
She said: "I think a lot of Cameron students are coming to that place where you have to do things in an adult way, and maybe they haven't always. It's important to learn how to be a rational adult."
Summarizing her advice, Melrose said, "Learn to be assertive and stand up for what you think is right. To me, if you get aggressive, you lose the argument."
Melrose invited workshop attendees to seek out the services of the Student Wellness Center if ever in need of counseling on how to better manage their conflicts.
For Wellness Center hours, along with a complete listing of services offered, students can consult Cameron's website at https://www.cameron.edu/wellnesscenter.
[vimeo]https://vimeo.com/75069226[/vimeo]