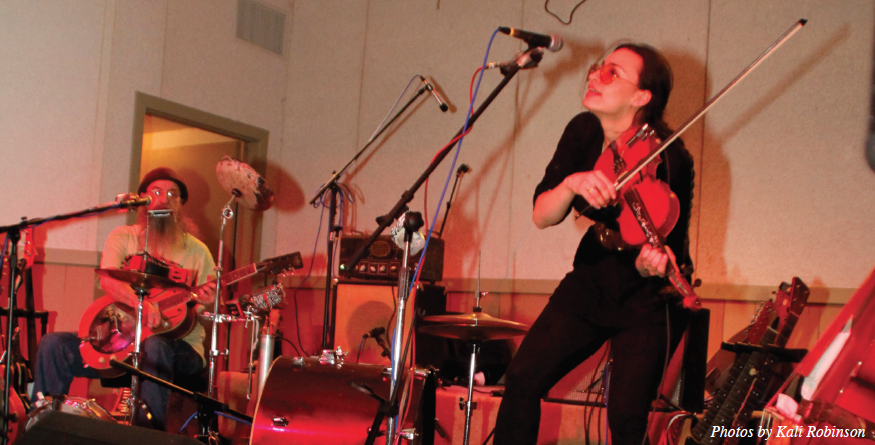 Kali Robinson
Staff Writer
Music shook the ground at 5 p.m. Sunday, March 24, during "Park Stomp" in Medicine Park. Listeners gathered with drinks, lawn chairs and even hula-hoops to listen to Rachel Ammons and "Smilin' Bob" Lewis perform as Tyrannosaurus Chicken.
The folk rock/blues hybrid hailing from Arkansas concluded the three-day spring break festival that began at noon on March 22, following up artists whose musical roots ranged from bluegrass to rockabilly to funk.
Ammons said they came up with the name when watching a PBS show about scientists manipulating reptile genes in a chicken to give it scaled feet and claws. She explained that the chicken must look how she pictured their music to sound.
Although this reptilian-poultry group lacked feathers and scales, fans said it did not disappoint for entertainment. Many of the people in the crowd returned because they had seen the artists perform before and liked their sound.
Emceed by Joe Mack and Carter Sampson, the locally sponsored 2013 "Park Stomp" was free to the public and featured other locally acclaimed bands like Whistle Pigs and Grassland Caravan.
Artists performed live on an outdoor stage as well as inside the Medicine Park Music Hall so fans could take a break from the wind and enjoy different genres. Local vendors lined the streets, offering cold beverages and hot food to the concert-goers.
"This is our third year playing here," Lewis said as he changed a B string on one of six stringed instruments he and Ammons would play throughout their set.
Ammons shifted a violin case and sat down to adjust the height on her hi-hat as they set up for the show.
"We've been a band for four years," Ammons said. "Almost five," Lewis added. The two adjusted, tuned and tested the sound on everything from the two bass drums each of them used, to an electric cello to a cigar box made in Medicine Park. The two multi-talented artists displayed their skills, playing a string instrument, kick drum, hi-hat and harmonica at the same time.
"It's almost 'What doesn't she play?' She doesn't play the saxophone," Lewis said, referring to Ammons who began practicing with her first stringed instrument twelve years ago. "She plays cello, violin, banjo and guitar."
The group greeted incoming fans, new and returning, as they filtered in with boots and T-Chicken t-shirts, settling under the string lights in Medicine Park's Music Hall. After the first three songs, a man got up and started stomping and spinning in front of the stage.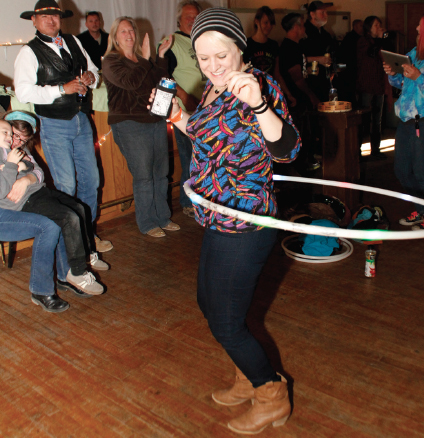 Even Medicine Park's Mayor Dwight Cope joined in on the festivities, laughing as he hula-hooped with the other concert-goers between songs.
"We have quite a few events like this," Mayor Cope said about "Park Stomp." "We would love to have more Cameron students come out and join us."
A few more people wandered onto the f loor until half of the crowd was on its feet clapping, stomping and singing. Lewis said that this is one of the most rewarding parts of the experience.
"People in a group came from St. Louis and Ft. Smith to see us in Tulsa. We play all over the country," Lewis said. "We're starting to love everywhere."
Ammons said a fan had once told them, if the duo's musical talent was not enough to attract the crowd, Lewis' beard was.
"'Never shave this,'" Ammons said, quoting the fan. "'In Russia, you would be a God.' That's when Bob decided that we would go to Russia," Ammons laughed.
"People think I'm Phil from Duck Dynasty as it is," Lewis said. "My mother, she's 90 years old, she actually bought me a t-shirt that had Phil's picture on it. She didn't know that it wasn't me."
Regardless of identity, Phil or "Smilin Bob," fans approached him after the show for autographs and pictures.