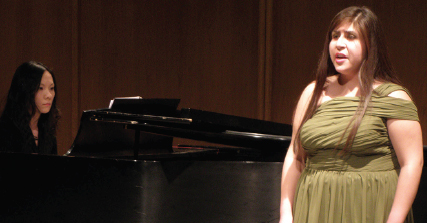 Sadie Jones
Staff Writer
Senior Vocal Performance major Melissa Delgado showcased her vocal ability at 7:30 p.m. on March 12 in the McCutcheon Recital Hall.
Delgado represented the Cameron University Music Department through her senior recital with the assistance of vocalist Clint Williams, accompanist Yiuka Chan and Assistant Professor of Music and Vocal Instructor, Dr. Gregory Hoepfner.
Delgado began to prepare for her senior recital during the beginning of the 2012 fall semester. However, she began selecting her pieces for the recital two years ago.
"I began rehearsing with Yiuka last semester," Delgado said. "But I chose the arias I wanted to perform two years before my senior recital — I selected them early because they require constant practice and revision."
Delgado said the reason the recital required so much preparation is because most of the pieces she performs are in Italian.
"It doesn't start off easy," Delgado said. "I thought I had Italian down — but I had to work hard on pronunciation. All of the languages are challenging and it takes a lot of practice."
Delgado began her recital with F. Schubert's arrangement, "Lied der Mignon," consisting of three poems — "Bid Me Not Speak," "So Let Me Seem" and "Only He Who Knows Longing" — written by Johann Wolfgang von Goethe.
Immediately following was Ralph V. William's "Four Last Songs." This piece began with the slow, melodic and tragic poems titled "Procris," Tired, "Hands, Eyes, and Heart" and "Menelaus."
For her third piece, Delgado performed G. Rossini's complex, upbeat and romantic arrangement, "Una Voce Poco Fa (II barbiere di Siviglia)," a story of betrayal, longing and true love. For the following performance, Delgado performed three different poems. The first was "Reve d'amour," written by G. Faure, the second was E. Chausson's "Le Colibri" and the third was the French piece Delgado said was her favorite, "Adieu Forets" from "The Maid of Orle'ans" by P. Tchaikovsky.
The following performance was another piece written by G. Rossini titled, "Ai Capricci Della Sorte" from "L'italiana in Algeri." Delgado and fellow CU student and Composition major, Clint Williams, performed the comical duet that resulted in laughs from the crowd as Williams endured a slap across the face by Delgado.
"The piece I performed with Clint was something that I studied while I was in Italy last year," Delgado said. "I loved the piece and knew that I wanted it to be included in my recital and Clint was willing to perform with me."
The final piece for the evening was G. Rossini's "Non Piu Mesta" from "La Cenerentola." Delgado said this piece was the hardest to perform.
"The last piece of my recital was very difficult for me," Delgado said. "It was such a fast piece and the range was ridiculous."
Overall, Delgado said she was very pleased with her recital. She said she was very thankful for those who were involved in planning and helping her prepare. She concluded her recital by presenting everyone involved with flowers — including Dr. Jan Logan, who was Delgado's vocal teacher in the past.
"Dr. Jan Logan was my vocal teacher for four years up until her retirement a year ago," Delgado said. "Dr. Hoepfner has been my vocal teacher this year and has helped me put the program together, critiqued me specifically with my stage presence and has given me guidance on what to work on."
Delgado has been training to be a vocal performer throughout her education at CU but that does not mean she is immune to the pre-concert jitters.
"I always get very nervous before I perform," Delgado said. "But I try my best to turn it into energy for the performance."