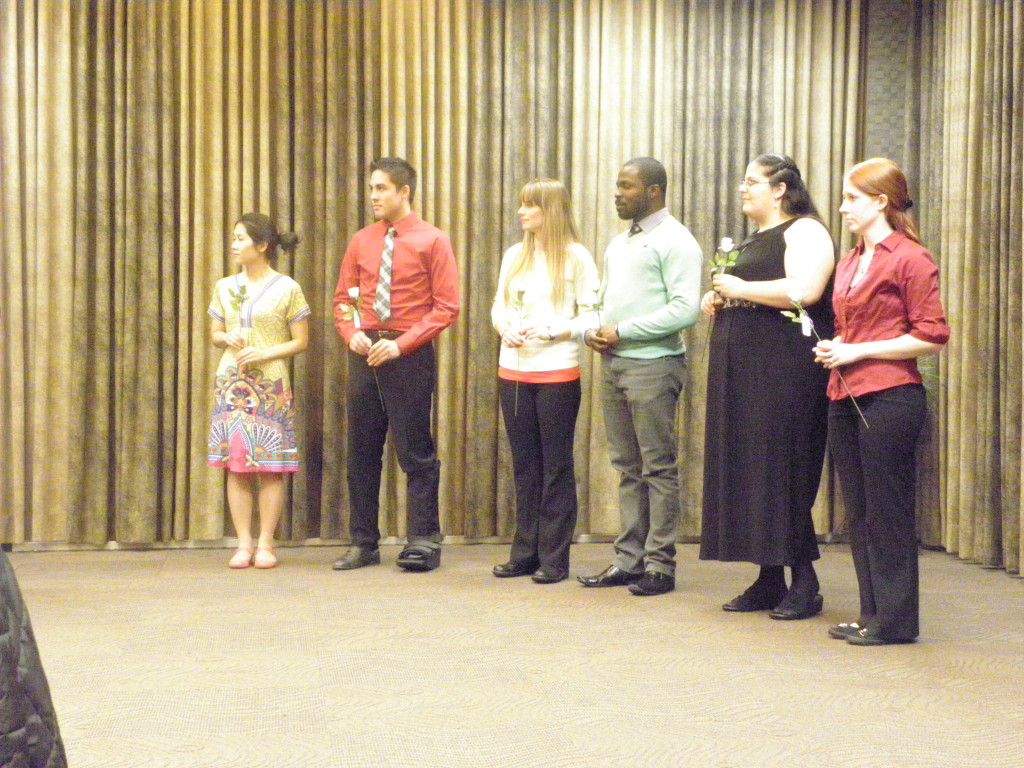 Story and photo by Sadie Jones
The Cameron University members of the of the Delta Rho Chapter of Phi Sigma Iota —International Foreign Language Honor Society — hosted an initiation banquet at 6:30 p.m. on April 4, 2013, in the Shepler Center Ballroom.
The banquet was a time to celebrate the 25th anniversary of the chapter and to induct 9 new members into the organization.
The Spring 2013 initiates were announced by Phi Sigma Iota's Chapter Advisor and Professor of English and Foreign Languages Dr. Teresa Lubrano. They included Briar Bohach, Christopher Burrus, Tamara Ford, Xiao Hengbi, Dr. Hardy S. Jones, Jr., Coreyy Medley, Ami Moore, Crystal Muschara and Charlene Warren.
Dr. Lubrano served as the chapter advisor since CU members installed the organization on Nov. 3, 1988. Phi Sigma Iota is an International Honors Society that recognizes accomplishments in the study or teaching of the academic fields related to foreign language, literature or culture.
"Phi Sigma Iota is available to CU juniors and seniors who have declared majors or minors in Foreign Languages," Dr. Lubrano said.
Dr. Lubrano began the 25th Anniversary Banquet by welcoming guests and members in attendance. Immediately following — the 2012-2013 Vice President of Phi Sigma Iota — Ashley Winfery called for members to step forward for the post initiation sequence. The initiates signed the roster, received congratulations from Dr. Lubrano and returned to their seats.
Following the post initiation sequence, Dr. Lubrano announced the new Phi Sigma Iota officers for the 2013-2014 school year: President Coreyy Medley, Vice President Geraldine Brady and Secretary – Treasurer Misael Santiago.
Members and guests enjoyed an Italian meal following the declaration of new officers.
At 7:30 p.m. the Initiation Banquet concluded with the presentation of scholarships and awards. There were three scholarships available to selected members, and Dr. Lubrano said donations funded each scholarship.
The first scholarship awarded to Vivian Arroyo and Geraldine Brady was the Delta Rho Benke Scholarship. The donor — Mrs. Lahoma E. Benke — was a founding charter member of the Delta Rho Chapter.
The Flocci Non Faccio Scholarship — given by Bill and Brenda Honeycutt — was awarded to Athena Gonzalez and Addison Rachler.
Emily Hamm received the Graziella Scholarship. Funded by Dr. Lubrano, the Graziella scholarship was awarded to one student who she believed showed perseverance in the face of adversity along with academic excellence.
In addition to the scholarships awarded to Phi Sigma Iota members — alumni members, current members, faculty, staff and friends of Delta Rho Chapter — received Certificates of Appreciation. The certificates were presented to: Betty Aliff, Vivian Arroyo, Dr.Marie-Ginette Baillargeon, Geraldine Brady, Jutta Carter, Donna Clopton, Mrs. Colette Danilavez, Giselle Greenidge, Emily Hamm, Susan Hall, Susan Hill, Branda Honeycutt, Jongduk "Bill" Joung, Petra Keller-Benner, Dr. Yingqin Liu, David Lopez-Thiel, Sherry Newell, Misael Santiago,Wendy Tunnessen and Roberto Valentin.
The Phi Sigma Iota Banquet encouraged and awarded members for their hard work and academic perseverance; however, that is not the only focus of the chapter.
"During the school year, we participate in Box Tops for Education — a school fundraiser," Dr. Lubrano said. "Our alumni member, Betty Aliff, collects and donates them to the St. Mary's Catholic School."
Dr. Lubrano said she wanted to encourage Phi Sigma Iota to be a service organization as well as academic.