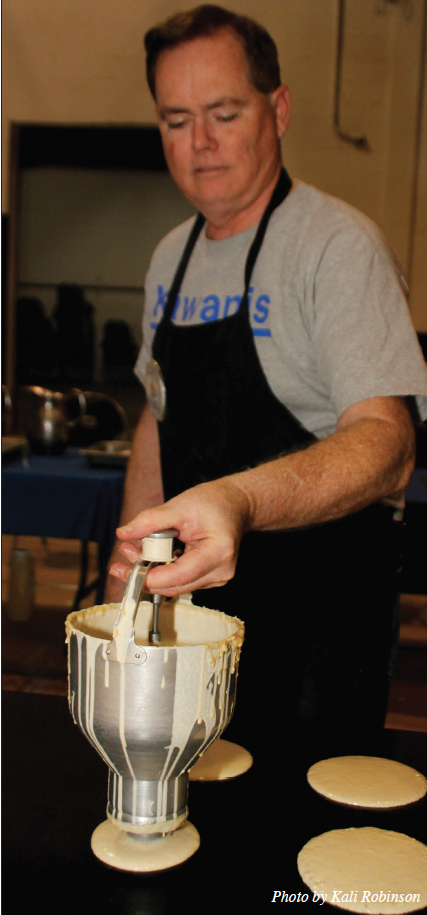 Dianne Riddles
Crossroads Editor
Many around Southwest Oklahoma know about Pancake Days and support the Lawton Downtown Kiwanis club each year as they serve up pancakes, eggs and sausage along with coffee, milk and juice at the Great Plains Coliseum.
However, many are not aware of the many other functions and events in which the Kiwanis are involved daily to help and promote the children in this community.
According to Dede Armes, a Kiwanis member and past president of the Lawton Downtown Kiwanis club, children are the one concern of the club.
"Basically everything we do is about children," she said. "Some of that is locally and some of that is worldwide."
"We have been working with Kiwanis International on an initiative to get rid of Malaria, which is a great thing," she said. "Although, I am much more about what we can do locally."
Armes said that the community support for and the proceeds from the annual Pancake Days allow the Kiwanis to support local youth club projects.
According to Armes, the Kiwanis support youth clubs, organizations and projects such as Lawton High, MacArthur High and Eisenhower High School Key Clubs; Comanche County 4-H Premium Sale; Lawton Food 4-Kids Program; Armed Services YMCA; Salvation Army Bell Ringing; the Salvation Army Boys and Girls Club Fishing Derby and provide 21 college scholarships to area students.
"One of the things that we've done is at the county livestock show," she said. "We give money to the kids who show pigs that don't make the sale, because when you don't make the sale, you don't get any premium money."
"We ring the Salvation Army bells every year for a day; we provide scholarships; Salvation Army Boys and Girls Club Fishing Derby, which is one of the big things that we do," she said.
The annual fishing derby for the Boys and Girls Club of Lawton provides an afternoon of fishing, cooking out and outdoor fun for several children and veterans at the Lawton-Fort Sill Veteran's Center lake.
"We go out to the Vet Center and our co-op partners help us with that and the veterans also get to come out and fish with us."
Armes said Pancake Days is the Lawton Downtown Kiwanis only annual fundraiser.
"We usually make between $18 and $20,000 at our pancake days and that's really the only fundraiser we have annually, so it funds all of these things that we do," she said. "When people think about Kiwanis, they think about pancake days, but we would like to be known more for the fishing derby, scholarships and the high school Key clubs."
According to Armes, Goodwill Industries worked in partnership with the Lawton Kiwanis for the annual Downtown Kiwanis Pancake Days this year, marking the first time Goodwill teamed-up with the Kiwanis. Anyone who donated three tall kitchen garbage bags full of new or used goods received one free ticket to Pancake Days.
"We were real happy with how it turned out," she said. I feel like we will probably do more with Goodwill in the future."
Armes said the Downtown Lawton Kiwanis is a non-profit service organization, in which a member can be as active as he or she wants to be and new members are always welcome.
"I just feel like Kiwanis is an organization that has a lot to be proud of and doesn't make the demands on me so immense that I can't participate," she said. "We meet once every week — every Thursday — we have a speaker and we meet and have lunch at the Coliseum."
For more information about the Lawton Downtown Kiwanis membership and projects for children, anyone is welcome to attend the weekly lunch at the Great Plains Coliseum on any Thursday at noon