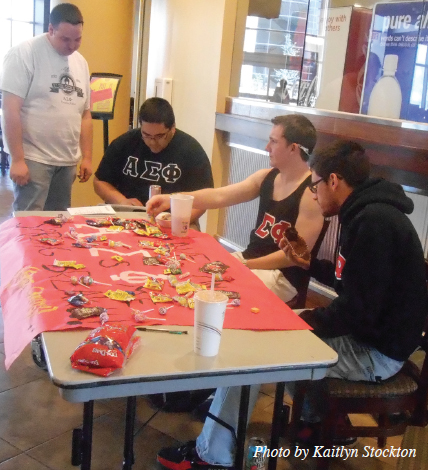 Story by Kaitlyn Stockton 
Video by Moses KipKosgei
Recently recognized fraternity Alpha Sigma Phi sent Cameron University students to spring break with a sweet treat.
Alpha Sigma Phi members wished students and faculty a safe and fun spring break by handing out candy from 10 a.m. to 2 p.m. in the MCC on March 14.
Alpha Sigma Phi member Dalton Matthews said his fraternity is a social group on campus focusing on classroom performance as well as community.
"We are a social fraternity here on campus," Matthews said. "We like to put an emphasis on academic performance but also just on the social aspects. We try to put on events for everybody and get exposure for our new fraternity."
While the group has been around campus for a few years, Matthews said the university recognized the fraternity semester.
"We had one of the guys start the fraternity a few years ago. We had a colony here for a couple of years. However, Cameron didn't recognize us until this semester," he said. "We got our official recognition in the Spring 2013 semester."
Twenty-year-old Matthews said he hopes events like this will allow his fraternity to branch out on campus. He also said he and his fellow members are willing to answer any questions that students may have about their group.
"Not many people know about us yet," he said. "Hopefully with events like today, we can start to get our name out there and grow. We are not actively recruiting today, but if people ask, we are not going to turn them away."
[vimeo]http://vimeo.com/63051199[/vimeo]
Matthews said he enjoys working with his fellow brothers as well as the student body.
"We all really enjoy being out there and talking to people," he said. "It is always really fun whenever we all get together. We enjoy each other's company; it just makes for a good time."
Matthews said the goal of the event was to wish his fellow students and faculty a safe break as well as send them off with a sweet treat.
"We just really wanted to wish everyone a happy spring break and for everyone to be safe and come back in one piece," he said.
Fellow member Steven Feldman said he had been enjoying the event and was surprised at its progress at its halfway point.
"We have already gone through about four sacks of candy," he said.
Senior Feldman said he has been proud of his fraternity's progress in the past few months — the fraternity has not only participated in more events this semester, but the group's numbers have also increased dramatically.
"This semester, everything has just shot off like a rocket," Feldman said. "We quadrupled our recruitment numbers and are about two steps away from becoming an actual chapter instead of a colony."
The 24-year-old said he will answer questions students may have about his fraternity, but the event was not designed as a recruiting opportunity. He said he was happy to just send fellow students to break with a smile.
"We are doing it as a way to get our name out there," Feldman said. "and to just send everyone out there with a smile and some candy."
Feldman said he was fine making continuous candy trips to Wal-Mart for the event's cause.
"We are just wishing everyone to have fun," he said.