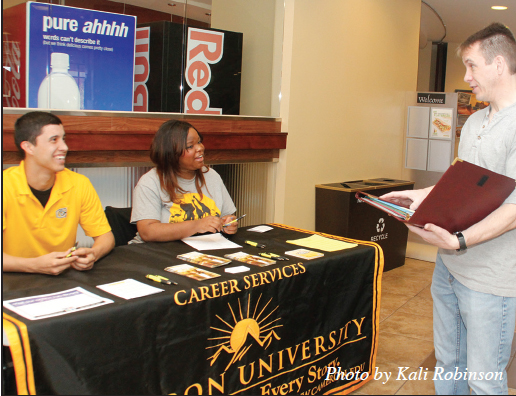 Story by Tyler Boydston
Video by Moses KipKosgei
Cameron University seniors were treated to events throughout the first week of April as a part of CU's Senior Week.
The week began with a resume review at 11 a.m. on Monday, April 1, in the MCC. Another resume review would take place on Friday for those who were not able to go to attend the first review.
Director of Alumni Relations Jennifer McGrail said the event helped current seniors prepare for careers post-college. Another event within the week preparee them for the job interviews, as well.
"The office of Career Services brought in their staff and different volunteers that they had to take students' resumes and sit down and work with them and make sure they were appropriate for the next step in life," McGrail said. "A lot of time what we have found is students will come in and, in their freshman or sophomore year, as a part of one of their writing courses they will have to do a resume. That resume and what they'll need in college are different from what they'll need in the real world. This is an opportunity to take that resume and have someone with expertise sit down and help them with the wording and how to change the format up a bit, and one of the more exciting things we did in connection with that is the office of Career Services also put on an interview round-up where they had different individuals from the community come out and do mock interviews in a wide variety of formats."
[vimeo]http://vimeo.com/64030832[/vimeo]
According to McGrail, the interview round-up, which took place at 11 a.m. on April 3, presented different types of interviews for the students to participate in.
"There was a group that did panel interviews, an individual that did one-on-one interviews, there was someone sitting in their office across town that did phone interviews and even did some skype interviews as well to give students real world, practical experience and to get feedback from individuals that make those hiring decisions day in and day out," McGrail said.
The office of Alumni Relations is also still currently working on the class of 2013 gift campaign, which had a table set up in the MCC throughout Senior Week. The gift campaign is a way for the students to give back and donate to CU.
"The class gift campaign is managed by our Office of Development, which is a part of the Cameron University foundation," McGrail said. "Each year the class gets to select what they would like to make their contribution back to. This year the class of 2013, with our development director Athena Jarvis, has selected Veteran's Grove. Any donation made to that class campaign will go back to help with the construction and completion of that project. "
On April 4, the Senior Send-off reception took place in the MCC Ballroom and acted as a networking tool for the seniors, connecting them to different members of the community.
McGrail said she was excited for the CU seniors to meet leaders of the community.
"The senior send-off was such a fantastic event," she said. "We had members of the Cameron University Alumni Association board of directors, and the Cameron University foundation board of directors along with different deans, directors and chairs from here at Cameron. It was a great opportunity for us to be able to introduce our graduates to the community. It was also a great event to be able to let them start making some networking connections. As a student would come in we would try to find out what major they have and introduce them to members of the community that were within that same area of expertise or even maybe the same major they graduated in."
According to McGrail, Senior Week has involved a culmination of different departments on campus, all working together to put together the events.
"We've been working on this for about six months now, and it was truly a representation of lots of different departments on campus," McGrail said. "There was the committee that puts on commencement and graduation participated, and almost every other office on campus had some type of involvement, and we had an entire senior week committee that sat down and planned what we thought we would like to see, and then as we worked through the events, we've taken suggestions and recommendations and we look forward to making changes and making the event even bigger and better next year."