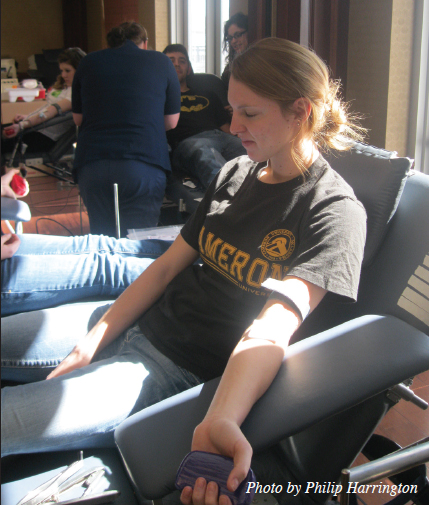 Story by Philip Harrington
Video by Brad Johnson
As part of the homecoming week's festivities at Cameron University, the Oklahoma Blood Institute held a blood drive on Tuesday Feb. 19 in the McCasland Ballroom.
The blood drive ran from 10 a.m. to 4 p.m. and was open to the public, but the emphasis was on student participation.
"We know that students are healthy and interested in making a difference," Community Relations Director for OBI Leslie Gamble said.
Gamble said that giving blood was a good way for cash strapped college students to give back to their community.
"We know that college students don't have a lot of money, and blood donation is a way for them to have a huge impact for no money at all," Gamble said.
According to Gamble there is a need for blood donations is great.
"It means the difference between life and death for people across our state," Gamble said.
Gamble said that the blood collected by OBI is used for people battling cancer, premature infants, surgeries and injuries.
"Many times its people that had no idea the day before that they would need blood," Gamble said.
Gamble said that the blood they collect at these blood drives is used by hospitals all over the state to treat their patients.
"Around 140 hospitals in Oklahoma depend on us for blood for their patients," Gamble said.
[vimeo]http://vimeo.com/60406211[/vimeo]
This dependency means that OBI needs to collect a lot of blood from a lot of different people.
"We have around 40 blood drives a week around the state," Gamble said. "We need about 700 donors a day to keep up with need."
A few of the students who were trying to help meet that need, by either donating time or blood, were 21-year-old junior Psychology major Lacy Reink, 19-year-old freshman Biology major Megan Medlinger and 20-year-old sophomore Criminal Justice major Dalton Matthews.
Reink said that she had donated blood twice before in her life. So when she found out about this blood drive she wanted to donate.
"I saw the sign downstairs and thought I would come donate because it is for a good cause," Reink said.
Medlinger, however, knew about the blood drive in advance. She said she learned about the blood drive on Aggie access and made a special trip just to donate blood.
"I have been giving blood since I was in high school," Medlinger said. "I have always thought that giving blood is a good way to help out."
Though Matthews was ineligible to give blood at the blood drive due to a prior blood donation, he still wanted to help out. He was there volunteering his time — something he said is important for Cameron students to do.
"I donate blood every four months," Matthews said. "Giving blood helps give back to a broader community. It is a way for Cameron students to literally save a life."
If students missed the blood drive and still want to donate, Gamble said that they can still donate at a donor center, one of which is in Lawton.
"Our donor centers are a great place for people to donate, and they are open 6 days a week," Gamble said.
Gamble said there are some things that potential donors should keep in mind before donating.
"You should eat a good meal and drink plenty of fluids before you donate," Gamble said. "It is also important that you get a good night's sleep before donating."
There are a few things that Gamble said could keep someone from being able to donate blood.
"Health factors, transplant recipients and certain travel can keep you from donating," Gamble said. "But if you are over the age of 16-years-old and in good health on the day of donation, you should be able to donate."
Gamble wanted to stress that a potential donor should not rule out the chance of donating without trying first.
"Even with the restrictions, more people are eligible to donate than think they can," Gamble said.
Because of the need Gamble, said that everyone who can give blood should give blood and often.
"You can give red blood cells every 56 days and platelets as often as every 7 days," Gamble said. "It is literally a matter of life and death for some people," Gamble added. "You can't live without blood."