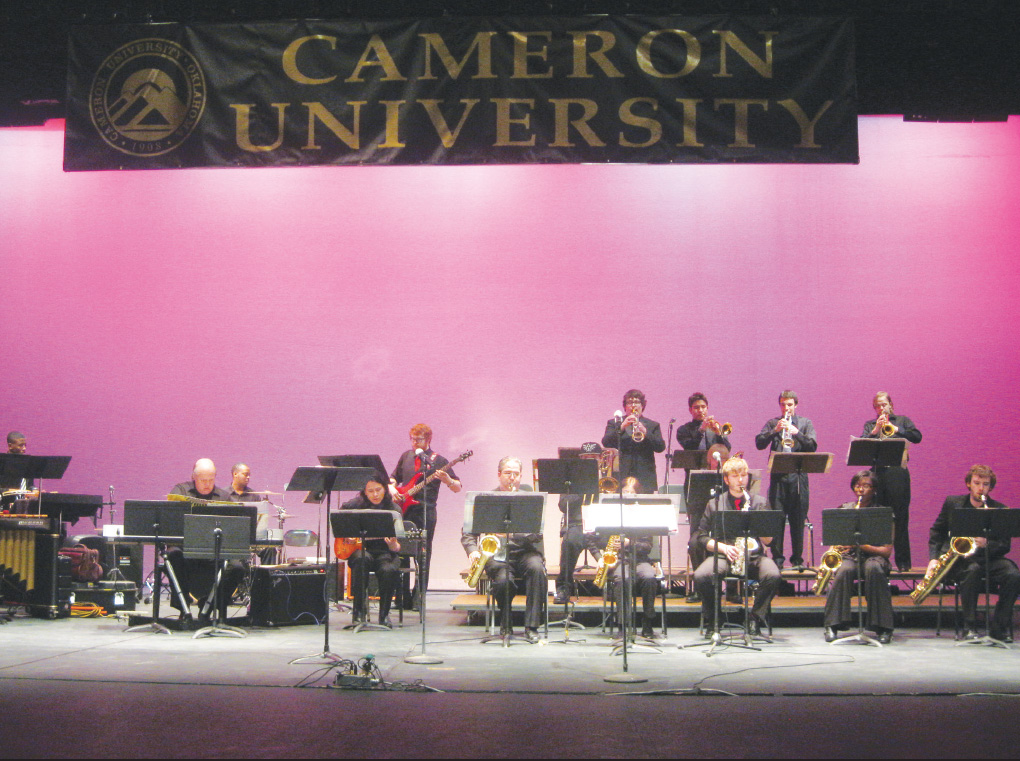 Philip Harrington
Staff Writer
The sound of some serious saxophone was heard at 7:30 p.m. Feb. 28 in the University Theatre when the Cameron Music Department held the Cameron University Jazz Festival Concert.
This year, the concert featured 1983 Cameron Alumnus Dr. Michael Cox. Professor Dr. Michael Compton, a professor in the Music Department, hosted the concert and directed the two jazz ensembles that accompanied Dr. Cox.
The Cameron University Jazz Ensemble, a group made up of Cameron students, and the Cameron University/ Lawton Jazz Ensemble which included members of the community as well as Cameron students performed at the festival.
Dr. Compton said the jazz festival is an annual event at Cameron that dates back decades.
"It has been going on every year for over 35 years from my understanding," Dr. Compton said.
Dr. Compton was in charge of this year's concert for the first time. He said that, like this years featured artist, he will continue to look for musicians that can connect with the students.
"You want to get someone high profile who can relate to both high school and college students," Dr. Compton said.
Dr. Cox is a career educator who has taught at Capital University for 23 years. Since 2008, Dr. Cox has served as the coordinator of the Master of Music Education-Jazz Pedagogy degree at Capital.
Even though he has made the commitment to teach full time, Dr. Cox has maintained a full schedule as a freelance musician. He has performed with a number of orchestras and musical groups as well as occasionally leading his own trio or quartet, focusing on jazz standards, originals, and crossover styles.
Dr. Cox said his interest in music started at an early age.
"I have been playing music since I was 12 years old," Dr. Cox said. "I was always sneaking into my older brother's band practice and trying to play drums."
He said his fondness for jazz developed from the beginning.
"I actually remember one of the first things I tried to play was a bad version of 'When the Saints Go Marching In,'" Dr. Cox said.
Dr. Cox said his love of jazz extends beyond just the sound of the music.
"I suppose I love the feel of it," Dr. Cox said. "Because jazz comes from the blues and gospel, there is emotion to it. It is that direct stimulus of emotion that I think we need as humans."
Dr. Cox said the music and accolades are only part of what drives him at performances.
"You always get the immediate reward from the audience when you perform," Dr. Cox said.
He said that immediate gratification wasn't what necessarily motivates him any longer.
"My mission in my 20's was to be the best musician I could be. But now that I am in my 50's, I want to use music to bring people together."
Dr. Cox said he felt he had achieved that mission to some degree with this festival.
"We got a lot of people together tonight that might not have been together otherwise," Dr. Cox said. "For me, it's not about getting people to love jazz — just to love music."
The evening's performance was the finale to events that included a workshop with area jazz bands from Western Oklahoma State College and Eisenhower High School.
Dr. Compton said he thought the workshop portion of the festival was a success.
"I thought it went really well," Dr. Compton said. "Each group got an hour, and then Dr. Cox and I critiqued them."
Dr. Compton said this festival has historically included many more local school jazz bands, but the number has dwindled in recent years.
"When the festival got started, most of the area high schools had jazz bands," Dr. Compton said. "But through the years, budget cuts and other factors have caused most of them to go away."
Dr. Compton said he hopes that the festival can be used to change that trend.
"Eisenhower High School performed here today, and they just started a jazz band program," Dr. Compton said. "I hope that, through this festival, we can help reinstate jazz bands in all of the local schools."