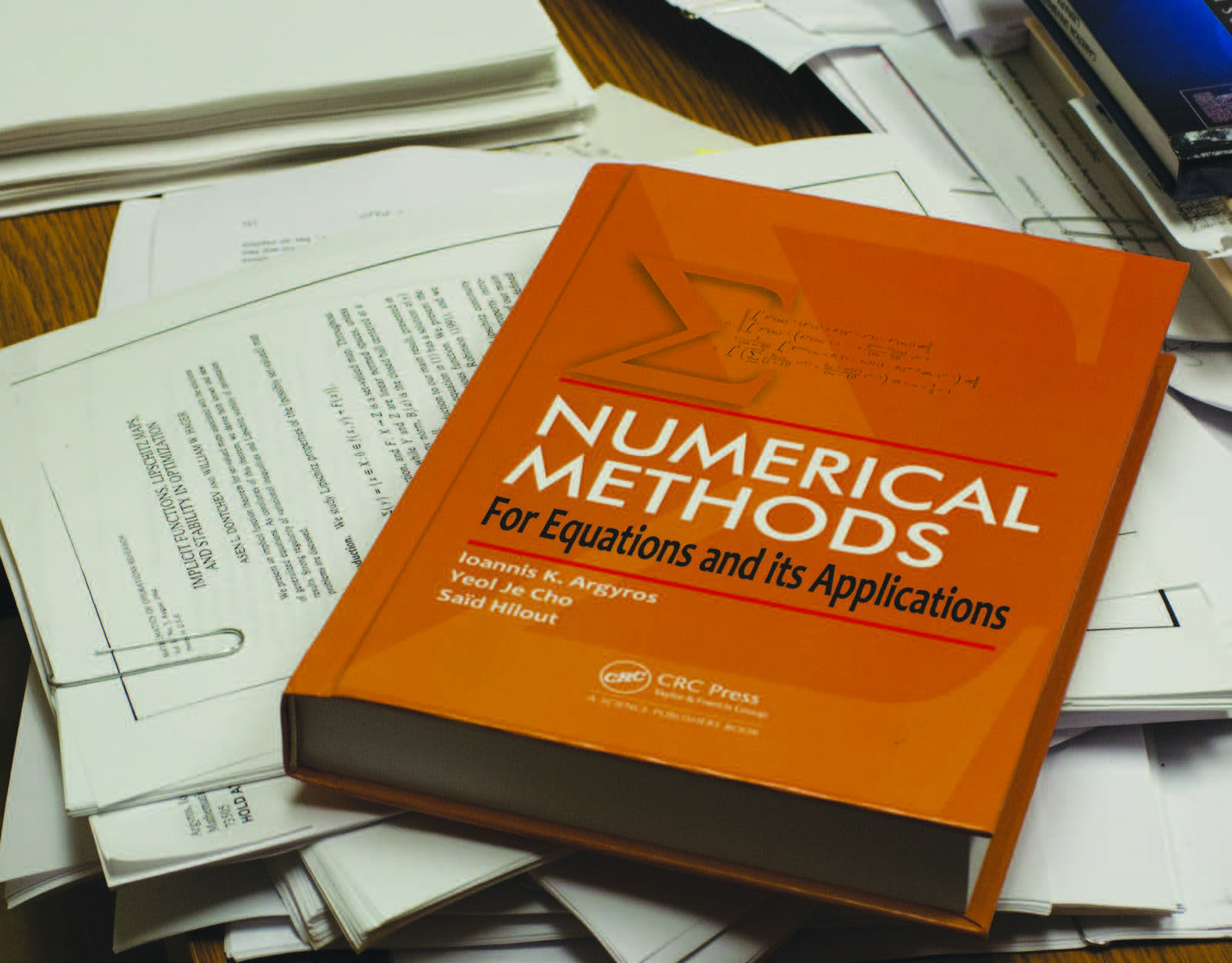 Kaylee Jones
A&E Editor 
Dr. Ioannis K. Argyros, Professor of Mathematical Sciences at Cameron University, co-authored the book "Numerical Methods for Equations and its Applications."
CRC Press released the book in 2012. It was co-authored by Yeol J. Cho of Gyeongsang National University and Said Hilout of Poiteiers University.
According to CRC Press, the 474-page work was created to introduce advanced numerical-functional analysis to beginning computer science researchers.
Dr. Argyros said CRC Press approached him to write a book involving computational mathematics. He explained that the publishing process is a long one.
"It takes an average of two years to write it all down and a year or two to have it published," Dr. Argyros said.
Portions of the book are used in Dr. Argyros' upper-division math classes. Students are expected to have basic courses in numerical analysis, computer programming, computational linear algebra and an introduction to real, complex and functional analysis.
Dr. Argyros said students are sometimes involved in the creation of his books.
Shobhakhar Adhikari, a Cameron alumnus, assisted with the research for Dr. Argyros' latest work, and later authored a paper based from the book in addition to creating a poster to present at Oklahoma Research Day.
Daniel Ijigbamidge, a junior Mathematics major, also coordinated with Dr. Argyros to create a poster for presentation at the 2013 Oklahoma Research Day.
Dr. Argyros said he often recruits students to participate in such pursuits.
"Part of a teacher's job is to identify a particular talent of the students and direct them accordingly," Dr. Argyros said.
He added he hopes the inclusion of student research in his books will encourage more involvement among undergraduate students.
"I would like to use this opportunity to encourage students to conduct undergraduate research in our department," Dr. Argyros said.
Dr. Argyros said that he was fortunate to have good, well-educated math teacher in high school who would approach students to pursue a career in mathematics.
Dr. Argyros said his teachers played a major role in his decision to further his studies in math.
"I think that if I did not have those high school teachers at the caliber that I had, "Dr. Argyros said, "I may have been still confused as to what to do with my life."
Dr. Argyros received his Bachelors in Science from the University of Athens in Greece. He then received both his Masters in Science and Ph.D. from the University of Georgia.
The book marks the 22nd publication for Dr. Argyros, who has been a part of Cameron's faculty since 1990.
Preceding "Numerical Methods for Equations and its Applications," Dr. Argyros authored "Advances on Iterative Procedures" through Nova Science Publishers in August 2011.
"I would like to thank my wife for supporting me, the University for supporting me and the scientific community for requesting through the publisher for me to write this book," Dr. Argyros said.
Considering publishers limit the amount of pages for a particular work, Dr. Argyros said he plans on writing a continuation of the book in the near future.
A full listing of Dr. Argyros' Curriculum Vitae can be found at www. cameron.edu/~ioannisa/