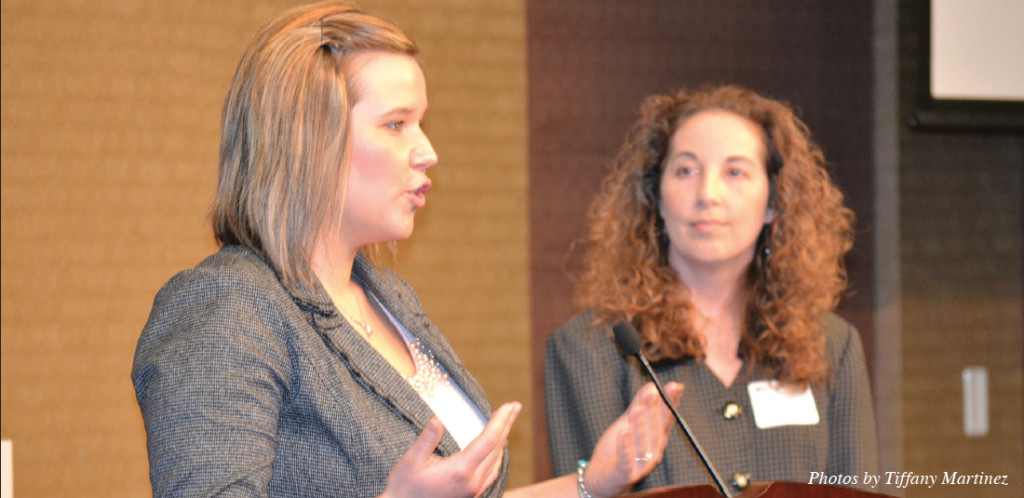 Tiffany Martinez
Managing Editor 
Cameron University hosted a Scholarship Donor Appreciation Dinner on March 5 at 6 p.m. in the McCasland Foundation Ballroom at the McMahon Centennial Complex.
The event was planned months in advance, requiring all attendees to call or email in order to reserve their seats.
A reception preceded the dinner just outside of the ballroom where art students on scholarship were able to show off the product of the funds they had received.
Twenty-year-old Art major Amanda Coates stood alongside her personal composition during the reception.
"My painting is called 'Confinement,'" she said. "I drew it to relieve some stress I was experiencing a while ago. It took me about six and a half months."
Coates said she appreciated the chance to put her talents on display, and explained that a predominant inspiration behind her piece was her long-time favorite artist, Clive Barker.
After the 30-minute reception, guests piled into the ballroom at previously-arranged tables. Appetizing salads and deserts, decorations and pamphlets brightened approximately 30 tables around the room.
Vice President of University Advancement Albert Johnson, Jr. took the podium first to welcome the students, faculty and donors of the event.
"This dinner gives us an opportunity to match our students with our donors," he said. "The opportunity that our donors provide our students is something that we are extremely proud of."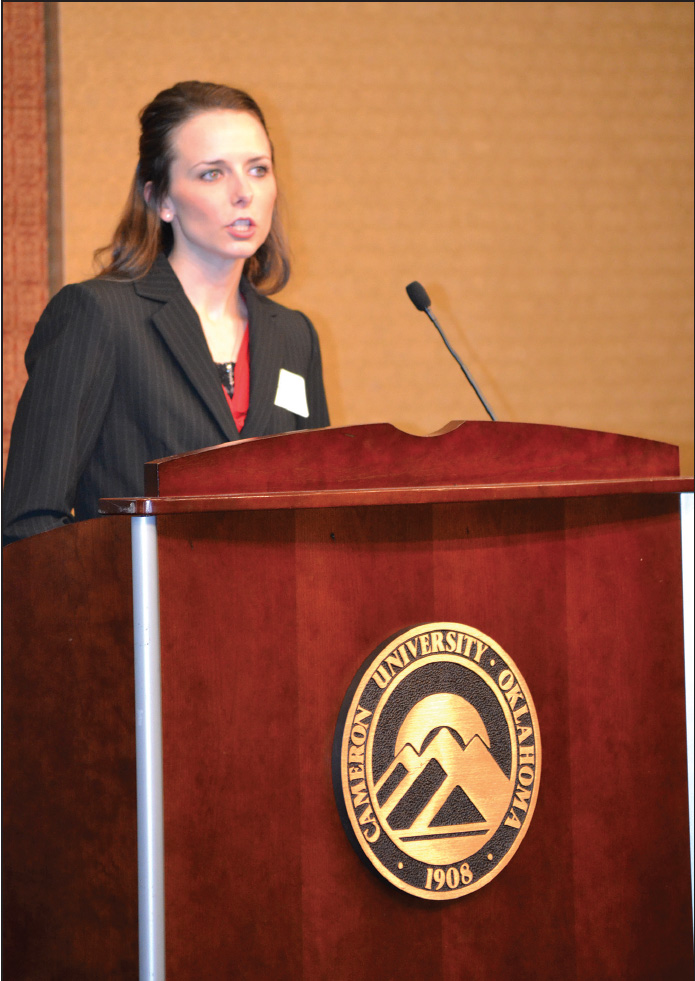 Vice President Johnson went on to introduce several prominent figures involved in the CU scholarship programs. Dinner was served shortly after he spoke.
Bacon-wrapped asparagus and fried chicken atop buttered mashed potatoes was plated and served as the main entrée of the night while faculty and donors mingled with students throughout individual tables.
President Cindy Ross then addressed the audience while attendees continued to work on their dinner.
"This is an opportunity for our students to say thank you to the individuals who have provided them scholarships and it's an opportunity our donors to see the impact of their generosity," she said.
President Ross asked the students and recipients of such scholarships to raise their hands.
"These are the recipients of your generosity," she told the donors, "Students whose lives have changed because of you."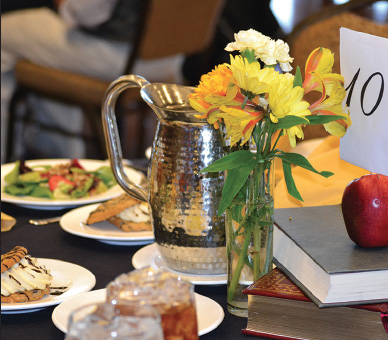 President Ross expressed gratitude toward individual donors while speaking. She said she accredits much of the continuous rise of enrollment and affordability of the university to their spirits of giving.
Students were then cast into the limelight, carrying out words of appreciation and musical performances.
Presidential Leaders and University Scholars (PLUS) scholarship recipient and senior Biology major Anna White was one of several students who were featured during the event.
"I have been honored to receive the PLUS scholarship for the duration of four years," she said. "Not only did the scholarship assist me financially and will allow me to graduate without any debt but, more importantly, my scholarship has provided me with great opportunities throughout my college career."
She said that the contributions of scholarship donors are very much appreciated, and it was because of the funds provided to her through them that she made the ultimate decision to attend CU.
Chairman of the Cameron University Foundation, Dr. Wayne Johnson wrapped up the evening, thanking all who attended and voicing his pride in the notion that CU now has over 70 endowed scholarships.