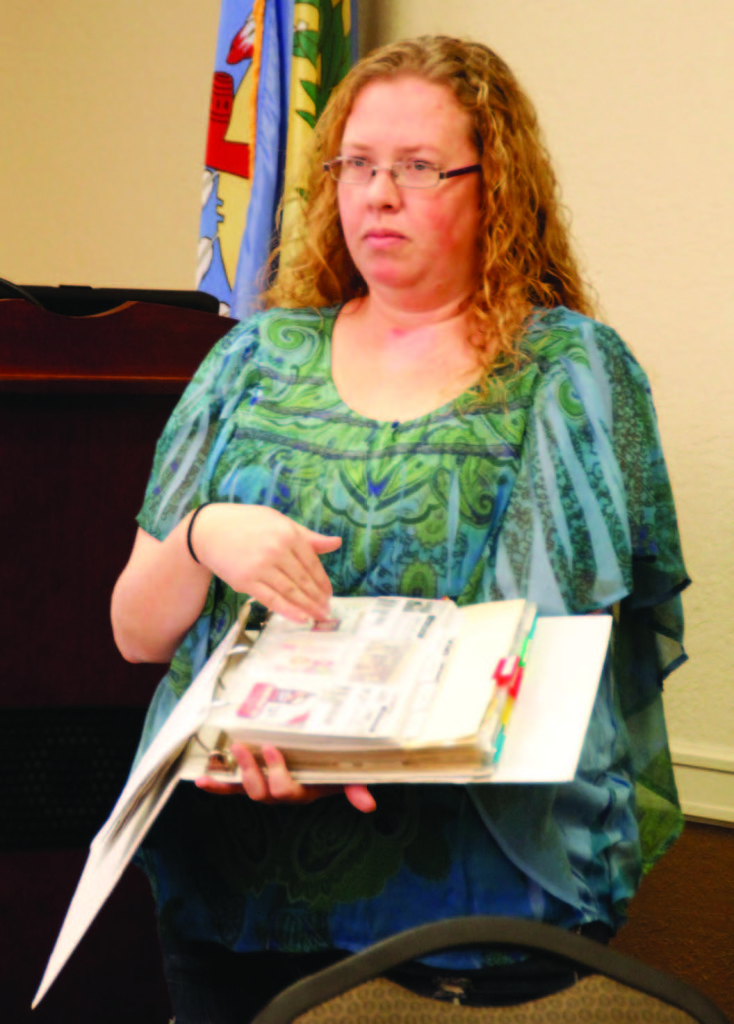 Story by Kaylee Jones
Video by Cassidy Morgan
Students looking to save money or earn extra Pickaxe Points attended the CU Succeed Workshop series presented a lecture entitled "Extreme Couponing" at 11 a.m. on Jan. 30 at the Centennial Room.
The lecture was the second installment of a 15 part series for the spring semester. The workshop featured Lisa Jones, Academic Advisor and Tutor Coordinator of Student Support Services, as its primary speaker.
Taylor Thompson, Coordinator of Student Affairs, led off the event with a brief introduction as Jones distributed a coupon closet shopping list.
As Jones ascended from the stage, she introduced herself, joking that she felt as if she were at a support group meeting. Jones shared the story of how she began couponing.
"A couple of years ago," Jones began, "a girl I worked went to church with a woman who said, 'Oh my goodness, I just bought 24 rolls of toilet paper for $3 at Walgreens.' And I was like, 'I don't have time to do that.' I have six kids."
Jones said she eventually started listening to the woman and decided to try for her husband's support.
[vimeo]http://vimeo.com/58725368[/vimeo]
She said her first trip was discouraging because she saved only two dollars. Since then, however, her biggest couponing success was acquiring $400 worth of groceries for $88.
Jones added that small successes are cause for celebration as well, as her measuring stick for money saved is gauged in Sonic's happy hour drinks.
"Three dollars saved is equal to three days of Sonic happy hour drinks," Jones said.
After a humorous mash-up of popular TV show mentions of coupons, Jones began her lecture, answering questions such as: why to coupon, where to find coupons and how to organize them once a person has begun collecting.
Jones said couponing gives a person a sense of accomplishment while saving them money. She advised looking to the Sunday paper as well as various social media sites, such as Facebook, for coupons.
She explained the art of couponing through breaking down techniques such as "coupon stacking" and the "48 hour rule."
Jones said she always keeps to her 48 hour rule; she cannot use her coupons until after 48 hours of finding them so that she avoids being wasteful.
Jones concluded her lecture by introducing her tutoring mentor, Tasha Viruet, a senior Sociology major at Cameron.
Viruet shared her personal experience for becoming involved with couponing along with a couple of her techniques. She explained that it is not just the coupons that save money, but the skills learned while couponing.
"Couponing, I think, opens your eyes to so much more," Viruet said. "I start looking for deals. When I first started college, I was just buying my books, and now they have rent-a-book. They have half.com. I get my books a lot cheaper. I've not spent over $200 on books in a semester."
Jones opened the floor for discussion as students dispersed for free cookies and additional couponing advice.
Other topics included on the Spring 2013 calendar include: plagiarism prevention, dressing for success and making a good first impression. Refreshments and door prizes will be provided at each event.